Some of the wonderful places that we have been to in Monmouth County, NJ! We have loved each and single one of these, and there is just so much to see there! I hope you like going on our adventures with us, or go out there and enjoy some on your own!
Here are some wonderful Hunterdon County destinations to check out with your family!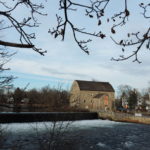 Winter 2019
Clinton, NJ
This is a very cute town, with two museums to check out, a lake nearby you can swim in and some great hikes in the area.
There was so much to see on the Columbia Trail. The hike was not too long, and fairly easy. The little kids had no trouble completing it at all.
Rollerskating is a relatively new activity for us. The kids absolutely love it, and we have tried two different rinks so far. Join us as we explore the different roller rinks in NJ.
This particular trip is tricky: it is both in NJ and in PA. That's why I have it listed on both pages. It is a wonderful place, and I highly recommend you check it out. If you're in need of a vacation, even if it is just for one day, come down to New Hope and Lambertville. Many things that we would want to find while vacationing we have found there in abundance.
Over the years we have tried several places in NJ, but we love Spruce Run. It is clean, family friendly, has a playground, beach with a beautiful lake, rangers that help you in time of need, decent bathrooms, and a good crowd of families with kids.
There is so much fun to be had at this wonderful historic farm. My boys learned about managing farm animals, crops and so much more. The docents are really friendly and make sure to stop and explain everything to some very curious kids.