Every so often inspiration strikes and I suddenly decide that I must make a bunch of sparkly felt crowns, or cut up close to almost every t-shirt in the house for a rug. Most of the time I will do it with my kids, but let's face it, when I feel like making shiny things, I am on my own. A slightly nutty woman with scissors and a glue gun.
In any case, I make different crafts all the time. I think often it is a form of stress relieve for me. When I am too busy, and too stressed out to do a painting, or too lazy to get my jewelry supplies out, I turn to fun little, frequently sparkly, crafts. Sometimes my boys join me, and sometimes not so much. Here they all are, some wonderful craft tutorials to do with your kids, or on your own!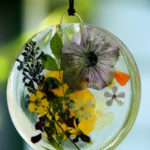 I always wanted to try preserving plants in casting resin. It is a lot of fun, though a bit fussy.
Is it a kitten? Is it a mermaid? No! It is a Merkitten. These adorable clay merkittens were a hit with the kids on Valentines!
Everything you need to know about making your own stamped and hammered earrings.
This summer, I surprised a friend by populating her house with oven baked clay fairy garden creations. I made a bunch more and of course created a tutorial.
Making our own happy ornaments and decorations during the holiday season is one of my favorite things to do.
I fell in love with felting when I tried it a friend's house (peer pressure at it's best). Introduction to felting, and how to make a felted doll tutorial.
Step by step instructions on how to make this fairly accurate embroidery hoop star map. Fairly easy, though a few mistakes were made, and makes a great gift!
For some reason I already had everything needed to make this at home: rolls and rolls of pink sparkly tulle, a jar of gems… I just had to make something with it! This was easy enough to make, and unlike many crafts, the supplies were very inexpensive.
Instructions for how to make a tiny witch hat made out of felt with felt flowers. After all, who doesn't need a tiny witch hat for their everyday errands.
This is a great easy project, especially for someone just starting out to play with polymer clay. It is made from left over pieces of clay and some other odds and ends.
This is a very easy way to make a dog toy out of a few of your old t-shirts. It is a great way to recycle a t-shirt, and will make your furry four-legged friend very happy. Before going to get a new toy for you pup, give these instructions a try!
Learn how to make the world's most magnificent sparkly felt crown. Awesome sparkly sequin felt crowns. Great for any day of the week. Wear them around the house or while going grocery shopping. Or you could just make them with your little ones, for fun, on a cold winter day. Makes an awesome birthday crown.
Easy step by step instructions on how to make this awesome and great Piñata. It is not difficult to make and will bring so much fun to the party. It is also much bigger, cheaper and sturdier then the ones from the store.
After Sandy knocked our lights out, I made a bunch of these for the candles. A wonderful way to use those sea shells found on the beach during the summer. They are fun, quick and easy to make. You can make them as simple as you want, or get more creative and try different things with them. The possibilities are endless.
I always see some amazing things that awesomely creative people make out of paint swatches. Here is what I usually make: Magic Wands. Because who doesn't need a bit of magic here and there. These are made from recycled wooden skewers and free paint swatches. They are very easy, quick and fun.
For the kids craft market day we made a bunch of these adorable little notebooks. You can make them teeny tiny or much bigger, you could make them for kids, adults, boys, girls, video game players, cooks, gardeners, and so much more. They are really easy to make and make a cute little gift.
Easy step by step instructions on how to make this beautiful seashell picture frame. It is a great summer time activity and a wonderful way to preserve the treasures you found on your beach vacation.
I love recycling t-shirts into crafts, and have explored many different ways to make t-shirt flowers. So far this is my favorite way to do it. Once I got the flowers down, I attached them to hair bands, pins, and more! I also made a few easy bracelts from leftover fabric.