New Hope, PA and Lambertville, NJ
We go there so often, that I just couldn't put a date on it.
We haven't gone away on vacation for quite some time. Between little kids, finances, dog, house, grandparents it is just a little difficult. We do, however, have a favorite local spot to which we go every few months to get away. It's the Lambertville NJ – New Hope PA area. Many things that we would want to find while vacationing we have found there in abundance.
The two towns are separated by a bridge: one is on the Pennsylvania side, and one is in New Jersey.  When you cross the bridge there is actually a line painted on the pavement which indicates the border between the states.  I think it's awesome.  I am grouping the towns together, as they are really a one time visit.  If you are visiting one, you are visiting the other!
There are lovely and charming Bed & Breakfast places to stay in all over the towns. We have only done so once, but we live close enough where we can drive in for a day.
There are quaint, and sometimes plain weird little shops there. Many sell unusual things and are often kid friendly. Most are family owned and have friendly and caring staff. It is just fun to go and browse and do some window shopping. If you have someone that needs a gift and has everything, this is a place to go. There is theater, history, art, great food, nature, education and so much more all wrapped up into a caring and vibrant community.   Something to keep in mind is that many stores and restaurants there come and go. They might be great, but open one season and not there the next. There are quite a few that have been there for a long time, and are hopefully going to stay there for a long time!
With so many good places to eat it is hard to try them all. Over the years we have had quite a few, but we're especially fond of The Landing, especially when it's warm and you can sit outside right on top of the beautiful Delaware river. The food is continental, but good. It's priced from moderately and up. Like everything else they have a WEBSITE where you can find the address and hours.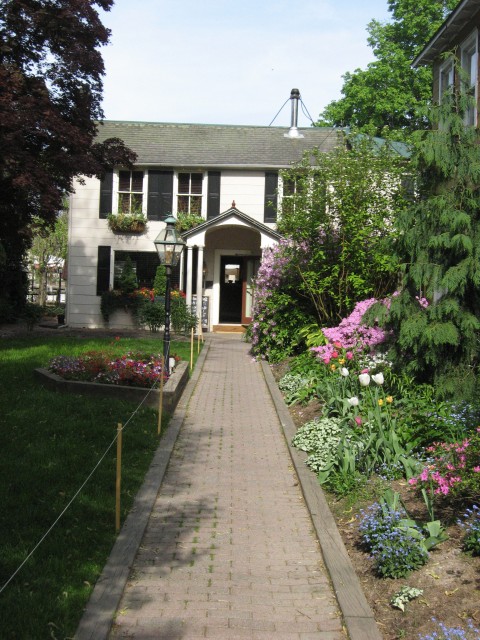 For dessert, Nina's Waffles has the best waffles you have ever tried, and really delicious ice cream.  Read more about them HERE.  I recently found out that they close the store after New Years and until March or April. It is best to call ahead and make sure they are open during those months.
Another favorite of ours is Spatola's Pizza (82 S. Main Street). They recently rebuild the entire place, and made the seating much more spacious and convenient. There are a few tables outside and you can people watch on a warm day. Their pizza is really good. If you want a quick lunch without spending too much, this is a place to stop at. HERE is the website for them!
On the way home we always stop at the Lambertville Trading Company for some coffee.
There are hundreds of shops, and they are all amazing. You really have to go and explore one at a time. We do have a few favorites that are definitely worth a mention. Our current favorite is "Heart of the Home" store.  They have a kid friendly atmosphere, USA made toys, clothes, home decor, and so much more!! Plus the people that work there are super friendly and wonderful. We love this store!  You can find their website right HERE.  There is Sojourner if you're crafty: it's on the Lambertville side.  The Three Cranes on S. Main Street, right next to Spatola's, is excellent as well.  Christmas Post, where there is Christmas year round, recently moved to16 W Bridge St, New Hope, PA, and is definitely worth checking out. Don't forget to stop at Type B, a tie dye studio (110 A S. Main St.). Truly, this is just a tiny part of the plethora of interesting and entertaining shops in these two towns.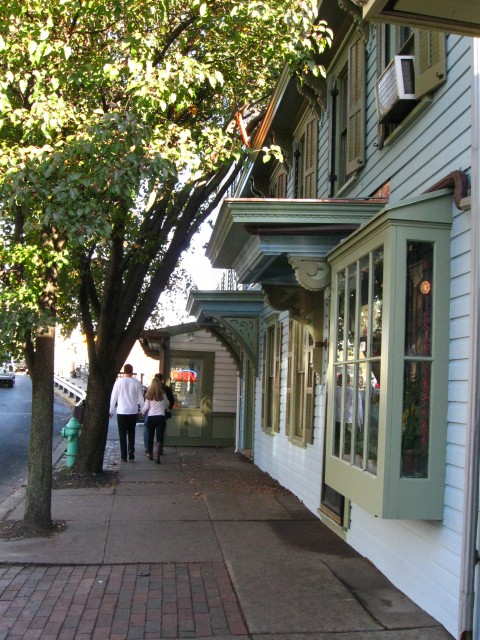 There are a number of historical buildings, museums and tours all throughout the towns. The Parry Mansion Museums runs tours during the weekend. There is a lot of information on the New Hope Historical Society WEBSITE.  Right next to New Hope downtown area you will find the Washington Crossing State Park, you can read more about it HERE. This is where Washington's Army crossed the Delaware on a Christmas night and went into Trenton in 1776. While in New Hope, don't forget to visit the Bucks County Playhouse Theater. Located in the heart of the New Hope downtown area it offers many performances at great prices, as well as many educational opportunities for kids and adults.  Find out more about the performances right HERE.  There is also the historic New Hope and Ivyland Railroad that takes you through the Buck's county beautiful countryside and has different trips available.
For the nature lovers there is the Bowman's Hill Wildflower Preserve and the Bowman Observation tower right outside of town. A short drive North and on the NJ side you will find French Town. There they have bike rentals available and you can go riding a bike on the trail along Delaware all the way to New Hope. It is a lot of fun. If you take Rt. 29 North to French Town you will pass by the Delaware River Tubing ( http://www.delawarerivertubing.com/ ). They combine the excitement of river tubing (which happens to be one of my favorite things to do) with a delicious lunch.  (I have to say that I will do a separate post for Frenchtown, because it's totally worth it's own post).  If river tubing is a bit much, you can connect with the river on one of the ferry boat rides that go from New Hope ( http://www.newhopeboatrides.com/ ). Across from French town and a bit North you will find a great park: Ringing Rocks State Park. There is a field of giant rocks that ring when you hit them with a hammer. There are also some amazing waterfalls and great hiking trails.
Around the area there are many amazing attractions. A short twenty minute drive you will find Peddlers Village with all the shops and activities that it has to offer. I find that Peddlers Village is a separate trip on its own. If you are there make sure to stop by the Giggleberry Fair with your kiddies. You can find more information on Peddler's Village on their WEBSITE.  There is Howell's Living History Farm nearby on the Jersey side.  Doylestown is a town West of New Hope and is home to many amazing museums and great historical places. Our personal favorite is the Henry Mercer Museum.  If you have young children you absolutely must stop by this playground. It is in Doylestown, very close to New Hope and it is absolutely amazing, WEBSITE HERE.  It is a giant playground, a castle with many floors, levels, slides, nooks and crannies. Kids of all ages will be amazed.
There are several flea markets nearby. The most well known is probably the Golden Nugget Flea Market on the NJ side and Rice's Market on the PA side.  Birchwood Farms (which has really great dairy products, and the best Vanilla Ice Cream in the world) is a short drive away South on the PA side. It is also an amazingly clean farm, that treats their animals like family.
When visiting New Hope make sure to stop by the New Hope Visitor Information Center at 1 W. Mechanic Street for more ideas for your visit. If you're in need of a vacation, even if it is just for one day, come down to New Hope!
In the meantime I hope you enjoyed our visit to New Hope and Lambertville!!