Everyone is familiar with Georgia O'Keeffe's larger then life flowers, and if they are not, they should be! She was an amazing artist: at the forefront of the American Modernism.  Her art career spans decades and is as fascinating as the woman herself.
***This page contains affiliate links.***
When it came down to doing an art lesson for kids I turned to what so many art teachers turn to: the flower paintings.  The kids did beautiful pieces of art, their flowers jumping off the page in vibrant colors.  However, I wanted to try something else.  I have always been in love with O'Keeffe's landscapes. Like the "Out Back of Marie's" and "Pedernal, Blue and Yellow".   You can see much of her art in this WONDERFUL BOOK from the Georgia O'Keeffe Museum.   I was lucky enough to find this book at a library sale for about $1.00.  You can also see her art online. Like on the Georgia O'Keeffee Museum WEBSITE.
As always, lets talk about the artist herself for a bit first.
Georgia O'Keeffe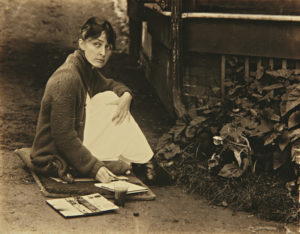 Georgia O'Keeffe was an American Modernist Painter.
She was born on November 15, 1887, and died on March 6, 1986; having lived for 98 years.
She decided to become an artist at the young age of 10.
In her art, she liked the idea of expressing herself through using line, color and shading in a harmonious way.  "Colors and shapes make a more definite statement than words."  Many of her paintings were produced by looking closely and imaginatively at the world.
She lived for a long time, and her art career was long and accomplished: she made more than  a thousand pieces of art.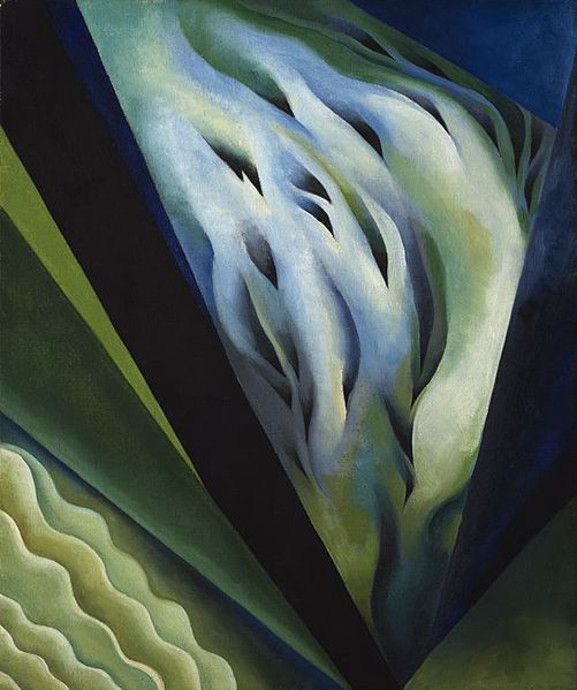 Now let us get back to the landscapes inspired by Georgia O'Keeffe.
Georgia O'Keeffe Art History Lesson For Kids: Landscapes Inspired by Georgia O'Keeffe.
For these landscapes I chose to use OIL PASTELS, as to me they feel closest to oil paint.  For a class full of kids oil pastels are always great.  You will also need some HEAVEY PAPER that can withstand a bit of pressure, and scratching without tearing. You'll also need a wooden skewer or a toothpick.  Honestly, I think I preferred the toothpick.
Here are two different landscapes inspired by O'Keeffe.
First, just sketch the outline of hills, mountains and trees.  Some go in the foreground, and they keep going further into the background. In layers.  Realism isn't important here, instead use your imagination!!!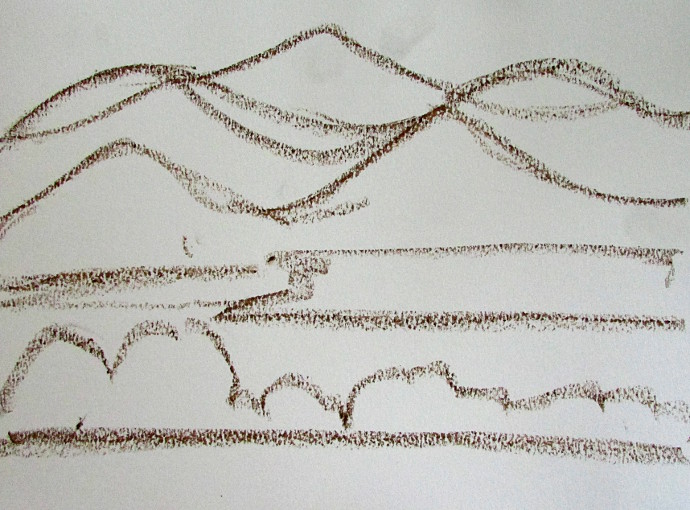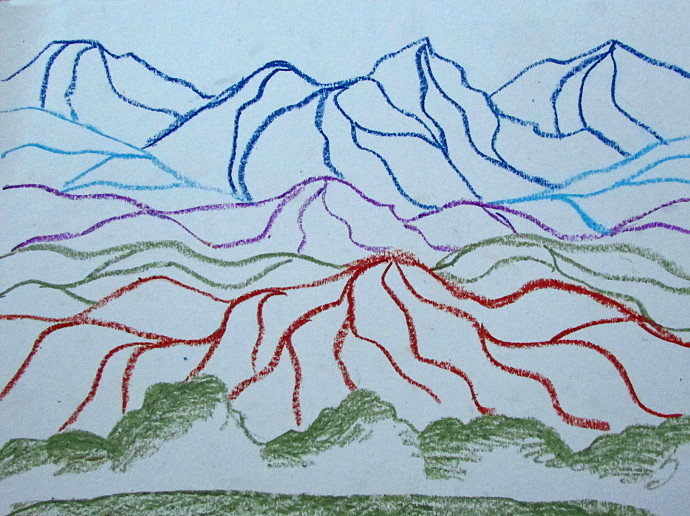 Next begin coloring the spaces in.  At first, just use the pastel lightly and fill in the spaces.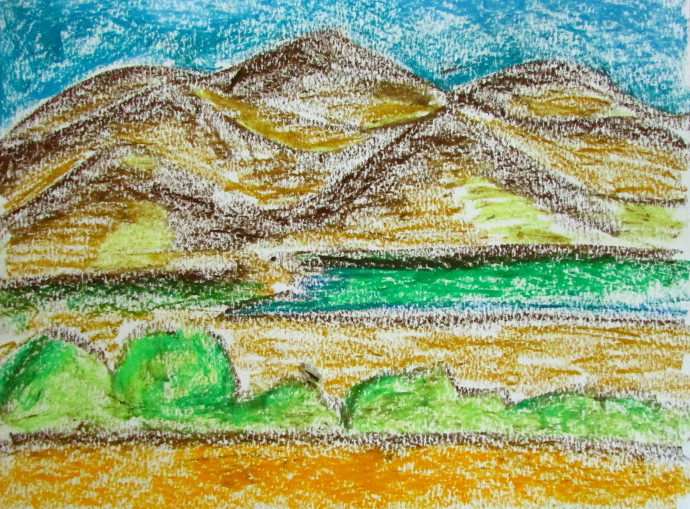 Or you can start by using the darker colors first, and press harder, filling in the areas that you need with a nice thick layer of color.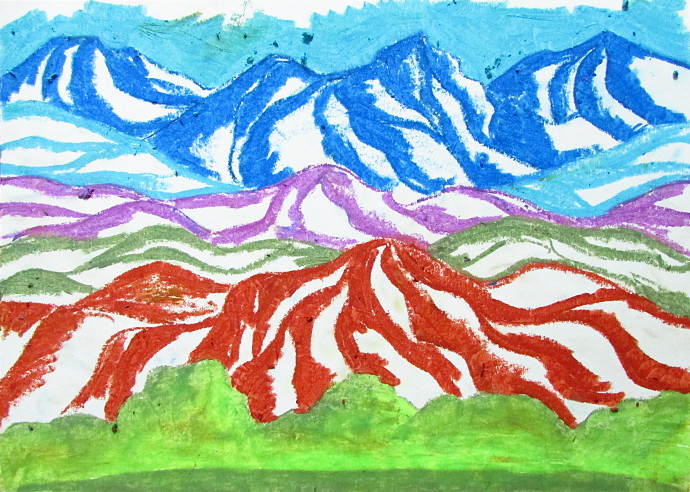 Press on with adding more color.  The idea is to build up a lovely heavy coat of pastels, so that we can scratch away some details later on.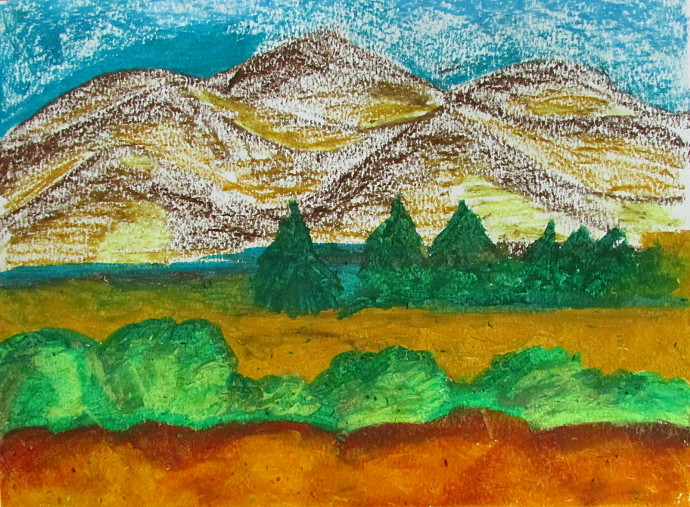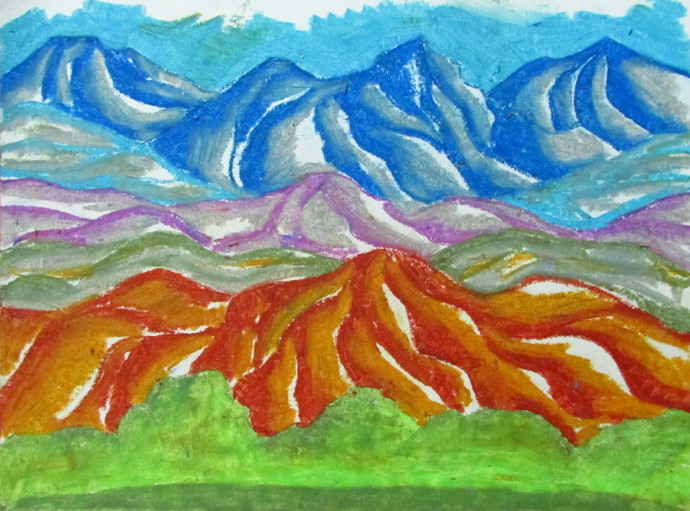 Keep at it until your entire drawing is covered and there are no white spaces showing.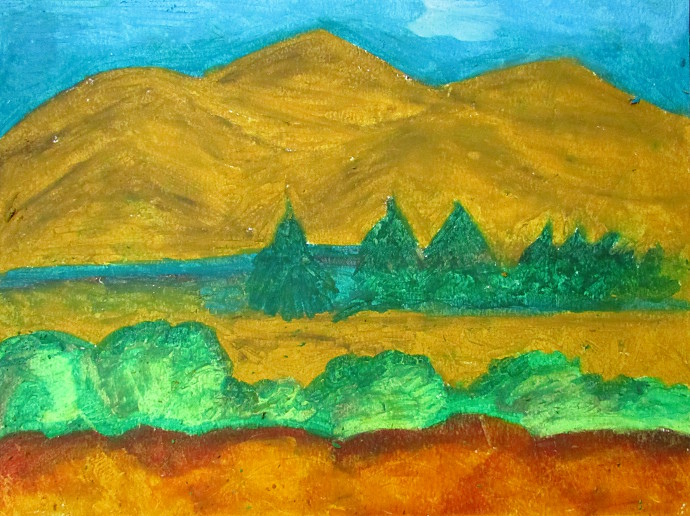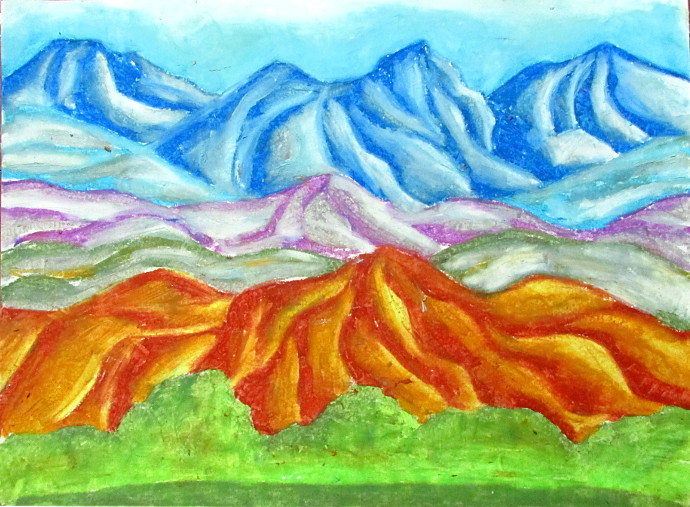 Once everything is covered you can use a dark pastel to add some outlines if you wish.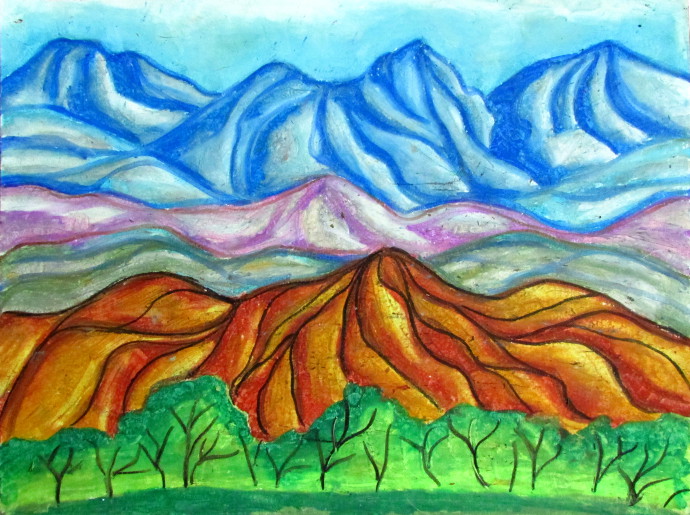 Then using the toothpick begin to scratch away some of the pastels to create a more detailed piece of art.  You can add tree branches, grass, highlights, outlines, clouds and more.  The possibilities are endless.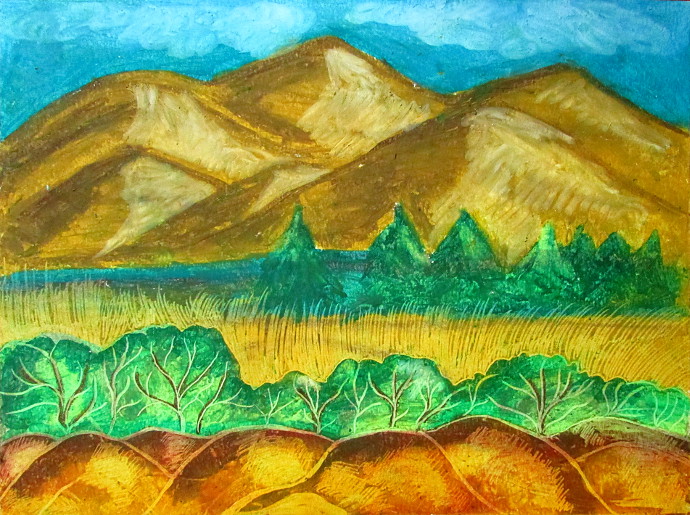 Keep at it until you are happy with the results.
All done!
Of course, I have two coloring pages for this lesson. They are not based on O'Keeffe's paintings, but rather are inspired by her art.
Here is a close up rose: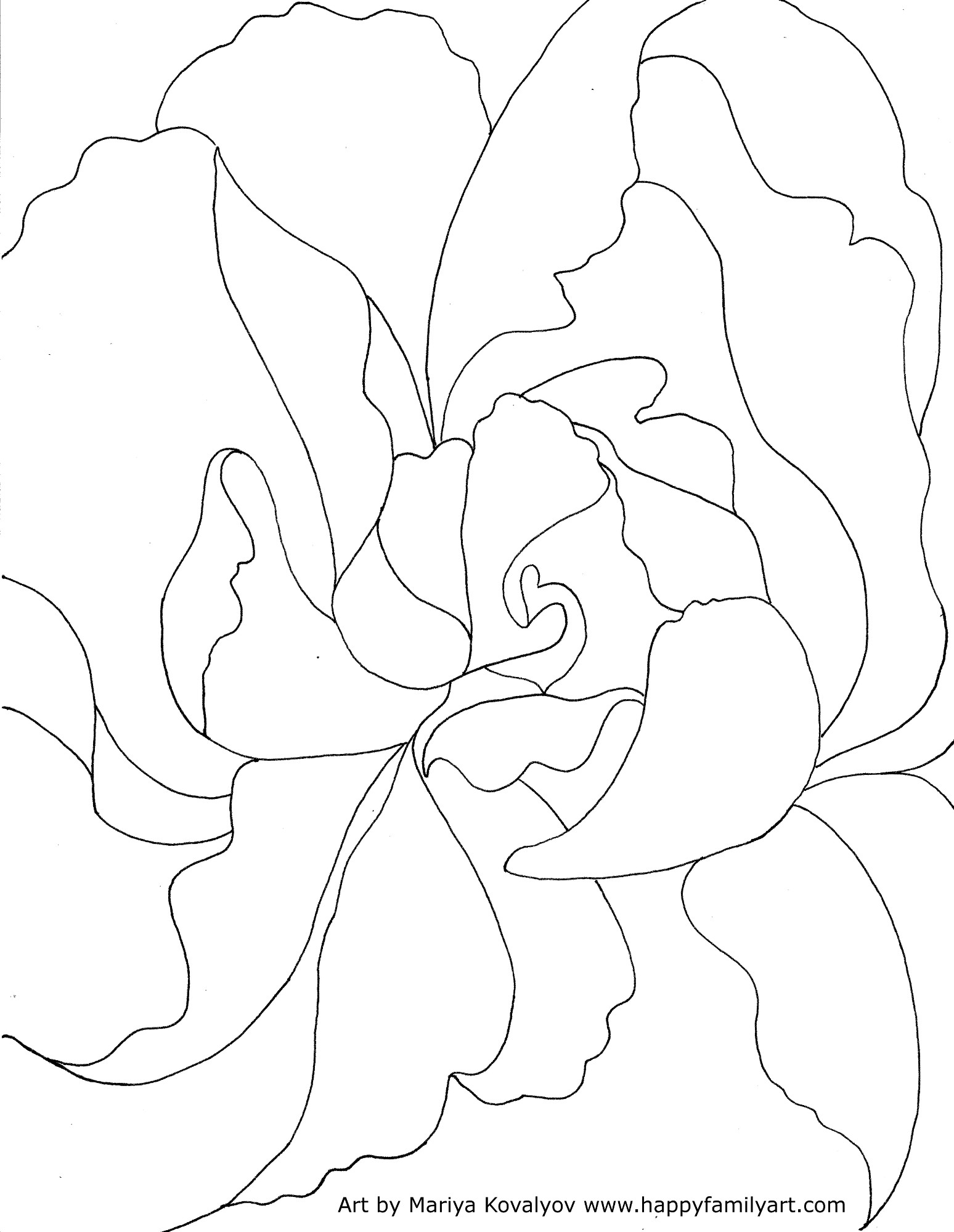 Here is a landscape: