***This page contains affiliate links.***
I love Acrylics.  They have so many wonderful qualities.  Acrylic painting is great for someone just starting out with painting, but also is wonderful for a more seasoned artist.
Not all acrylic paint is created equal.  In the past I have had some that would act funny.  For example, mixing red and blue would produce grey instead of purple.  Over the years, I tried many different brands.  For my paintings I like to use Liquitex brand paints. I like how they mix, among many other things.  I would recommend starting out with a basic set like THIS ONE, and then getting more colors as you get deeper and deeper into it.
When I work with kids, I get a less expensive acrylic craft paint.  I like Folk Art, like THIS ONE.  It is non-toxic, and there is a really big selection of colors.  Usually, I buy this paint when it goes on sale in a local art supply store.  I also have used it for my own paintings on occasion.  Especially when at the end of the year there are many paint bottles with just a little bit of paint left in them.  The paintings came out great, and durable.
You will need a surface to paint on.  Canvas, cardboard, wood, are all great.  Paper is too thin, and if you use acrylic paint on a regular piece of paper, the paper will curl up and lose it's shape.   If you are shopping in a store like AC Moore or Michaels, you have a choice between a stretched canvas or a canvas board.  They both come in a wide variety of sizes: small, big, square, rectangle, circle.  Canvas boards are great for practice when you are starting out, and they are not as expensive as a stretched canvas.  My favorite size to play with is 16×20 inches.  It's not too small, but also not so big, so it's manageable.  HERE is a link to a pack of canvas boards, however you might be able to find them for less in your local art supply store, especially if there is a sale going on.
Of course you will also need some brushes.  I like to browse through and really feel the brushes that I am buying.  You want several sizes.  I like to have one large flat brush, one medium flat, one small flat, a small round brush, and a medium round brush.  You don't want brushes that are too soft for acrylic, because the paint is heavy.  For most of my paintings I find that these brushes are enough: # 12 Flat, # 8 Flat, # 12 Round, # 8 Round, # 2 Round, and a flat brush that measures anywhere between 2 to 4 inches wide. I also enjoy using the following brands: FILBERT , WINSOR AND NEWTON, ROYAL AND LANGNICKEL,  and PROARTE, though I am sure that there are plenty of brands out there that are both great quality and affordable.
You'll also need a palette: something to put your paint out on.  I like to reuse paper plates, Styrofoam containers and other such stuff.  In fact, my favorite is a plastic container from take out or other prepared food, ones with a lid.  I put paint in it, then spray some water in there and close it when I am done painting.  Makes the paint that's already out last a long time.
Alright, that's it as far as supplies are concerned. Here are some awesome step by step instructions for some Acrylic Paintings: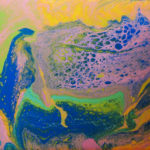 Finally got a chance to try Floetrol, but not only that, we finally got our paintings back after the Covid shut-down.
It should really be called A Glorious Mess! It was so much fun to experiment with Liquitex Pouring Medium at home. Even more fun with 20 or so fantastic kids. I would do it again in a heart beat!
Using acrylic paint, we have completed this fun and easy painting of a tropical beach right on time for the summer.  Complete with a palm tree and a sandcastle.
This is a very detailed step by step art lesson.   It is not just an acrylic painting lesson.  I started with just a sketch, and then I had the crazy idea to do 10 different renderings of the same sketch using all the different materials.  There are two detailed instructions: one for acrylic and one for colored pencils.  Plus, the results of all the other renderings of the same sketch.
These coffee and tea acrylic paintings are fun, simple, and a pleasure to paint. Here you will find detailed step by step instructions with lot's of photos.  Paint one for yourself or give one as a gift.
Actually, this was one of my very first tutorials, and is still one of my favorites.  It is easy to follow and do, and each forest is so unique to the person painting.  As always there is a photo for every step.
I have been seeing different sites with folks doing prints using recycled Styrofoam containers. What a neat idea it is! Before trying it out with the group of kids I do art classes with, I decided to try it together with my kids. Here are the awesome results we got!
Inspired by the first snow of the season I painted these two cute parent and child snowmen. This is an easy and fun to make painting and it is great for the winter season. Get out your brushes and paints and give it a try. It makes a lovely gift for the holidays!
Using recycled brown paper bags and cardboard I made a bunch of these portfolios for kids to paint for Earth Day.  They are very easy to make.  I made one for Earth Day themed art lesson, and the kids painted the back with Earth Day themed paintings using acrylics, but it is also a great way to organize the drawings your kids do at home!
A great project for the youngest artists.  See step by step easy instructions, with photographs, on how to make this easy beautiful painting. Especially a great idea for really young toddlers and kids! Will make them happy and satisfied with their own work.