This particular project took me a while to complete.  At first I just started drawing sunflowers and photographing every step, as I usually do, but once I finished the drawing I wasn't sure what to do with it next.   Then a crazy thought occurred to me: what if I drew ten versions of the same sketch using different medium for each one.  This way you could see the difference between each one and see what you can expect from using, say colored pencils vs. crayons, or oil pastels vs. acrylic paint.  That is why it took me a while, because I actually did 10 drawings/paintings for this project and then some on the computer.  To be honest after all of them were done, I was so tired of drawing the same thing over and over again, but it was worth it to see all of them side by side.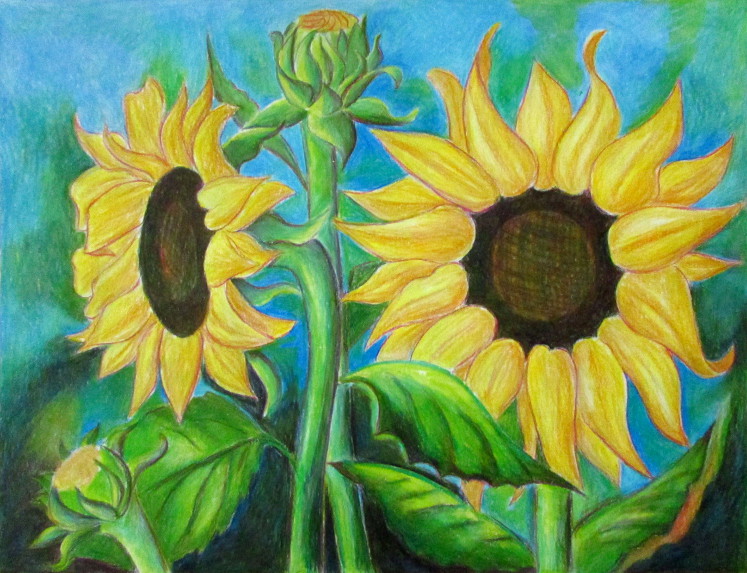 ***This page contains affiliate links.***
The materials I used were: ACRYLIC PAINTS, COLORED PENCILS, OIL PASTELS, REGULAR PASTELS, CRAYONS, MARKERS, INK, regular #2 pencil, WATERCOLOR PAINT, and computer graphics for the last one.
The way this page goes is like this: at first I will put the step by step instructions for the sketch. After which, I will put the step by step instructions for acrylic painting, followed by the step by step instructions for colored pencils.  At the end you will see pictures for all the different ways I colored it in, using all the different materials.
Keep in mind that this sketch is my sketch.  Yours can be yours, different and beautiful in it's own way.  Just use these instructions as a loose guideline for yourself, but in the end it should be your art.
How To Draw Sunflowers
The Sketch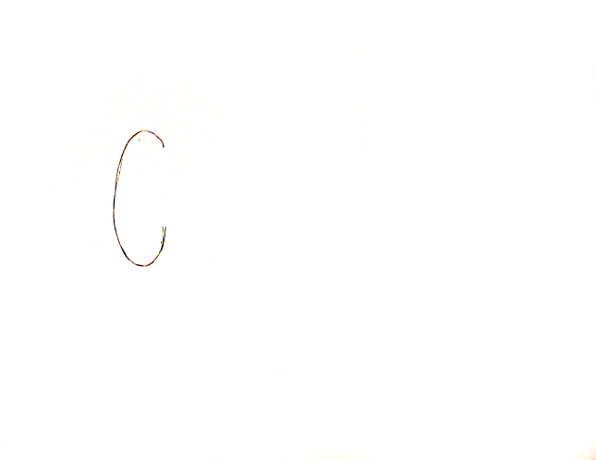 I start with a letter C for the center of the first flower. This flower is going to be facing sideways, so the center is an oval instead of the circle.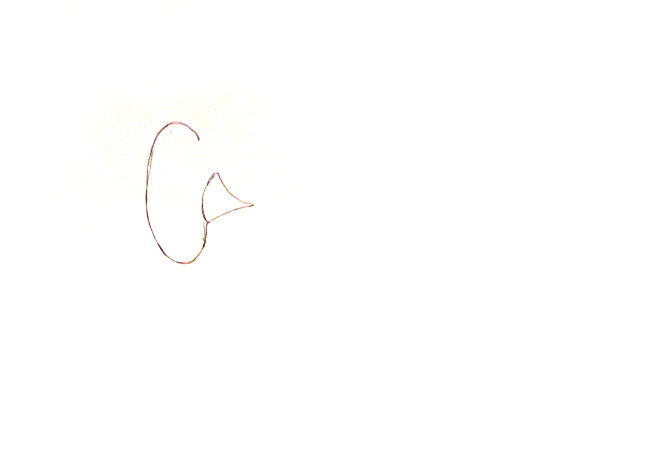 I left bit of space open, that's why it's a letter C, a few petals will go in that space. Now I add a petal. It is a just a triangle with each side curved a little bit.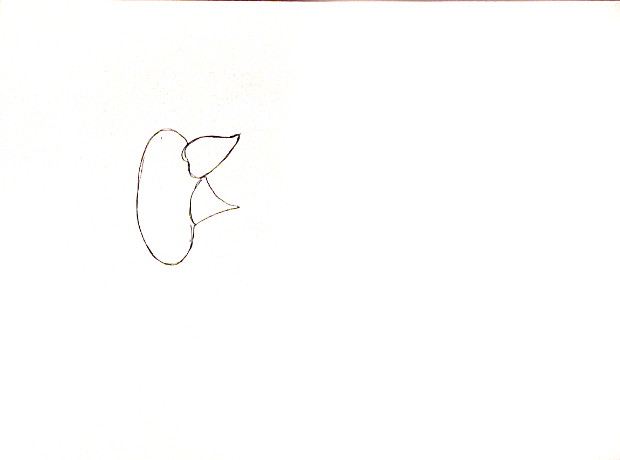 I keep adding more and more petals. They are all triangular in shape, more or less.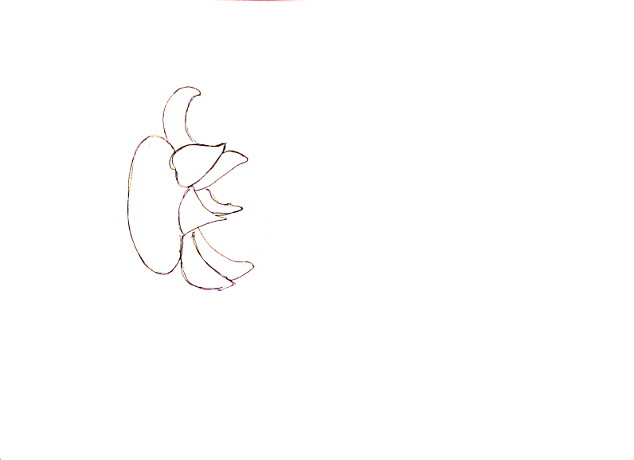 Some are longer, some shorter, some overlap. Keep working around the center.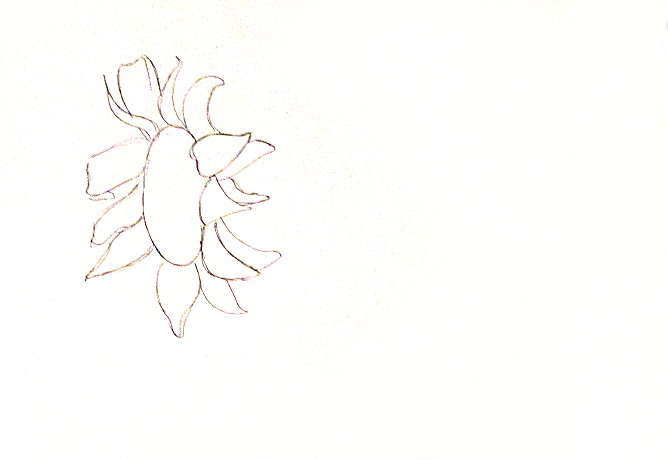 Keep adding petals until you're happy with how the flower looks! Make some bend in on themselves and some you can't see the tips of.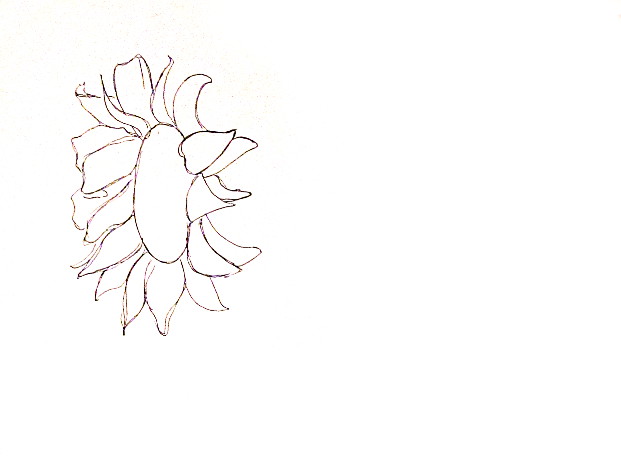 Don't forget that it is just a sketch, so don't worry too much if things aren't coming out as well as you have hoped.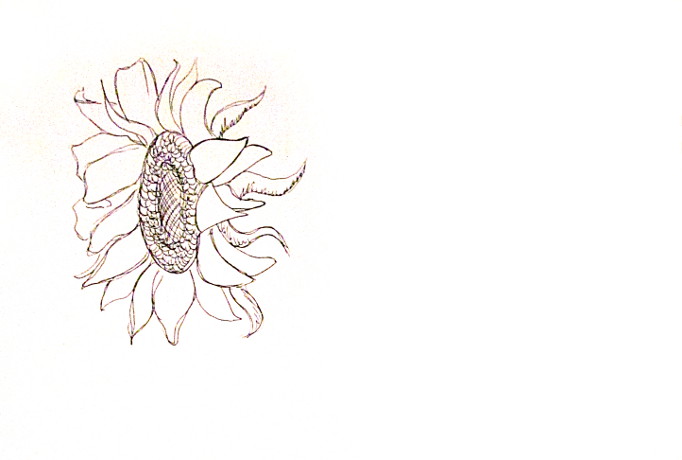 Add the green leaves in the back of the flower (I'm sure there is a name for them, but I don't know what it is).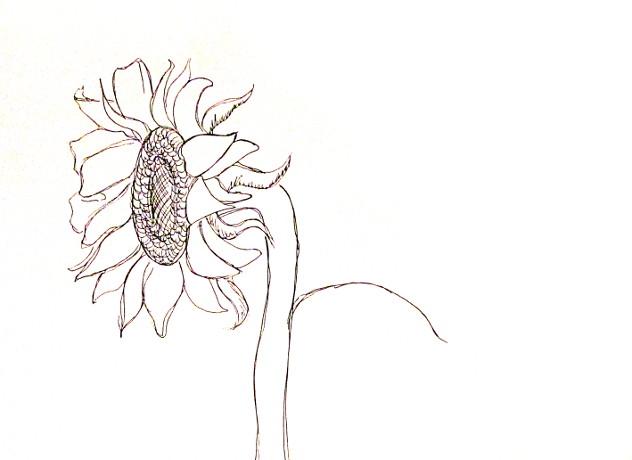 Time to draw the stem and start the leaves. The first leaf begins with a curved line, like in the photo above.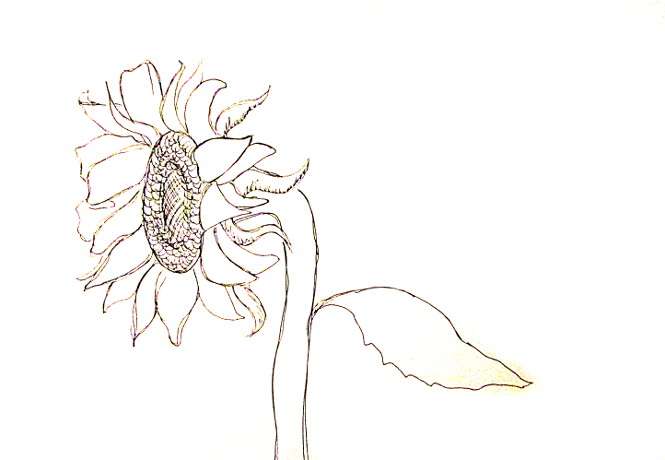 Finish the leaf by putting a line with ridges for the bottom.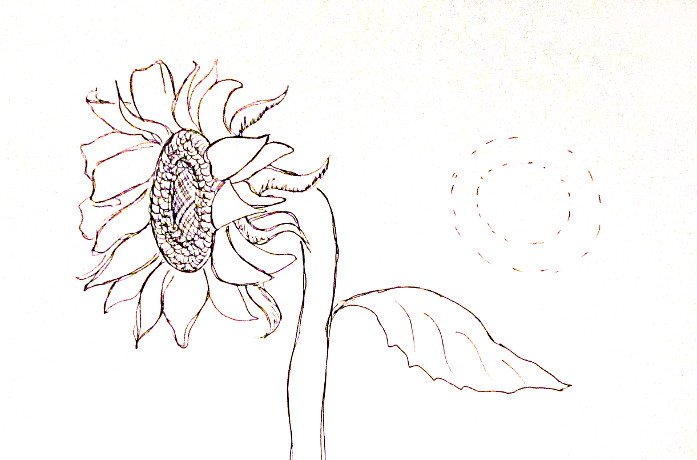 Mark where the center of the next sunflower will be with dotted lines. Don't draw a solid line just yet. This sunflower is facing forward, so the center is a circle.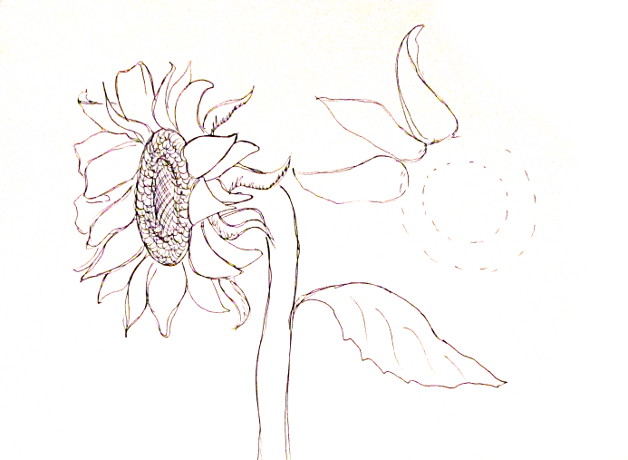 Start by drawing a few petals. They look like misshapen drops. Keep going around until you've gone over the entire circle. They can overlap, or go behind one another, or have gaps in between.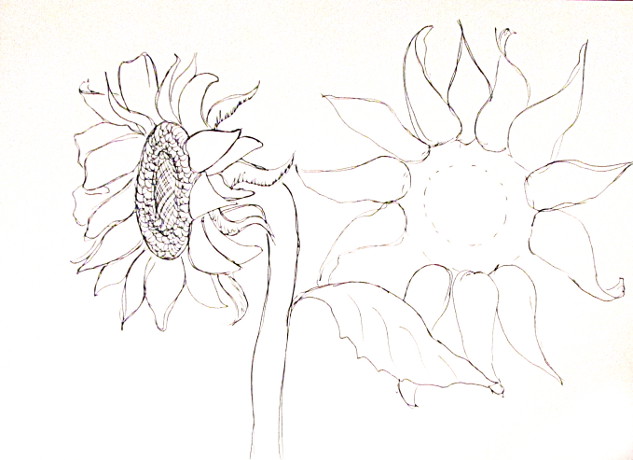 I decided that this sunflower will be behind the first one, so the petals are going behind the leaf of the first sunflower.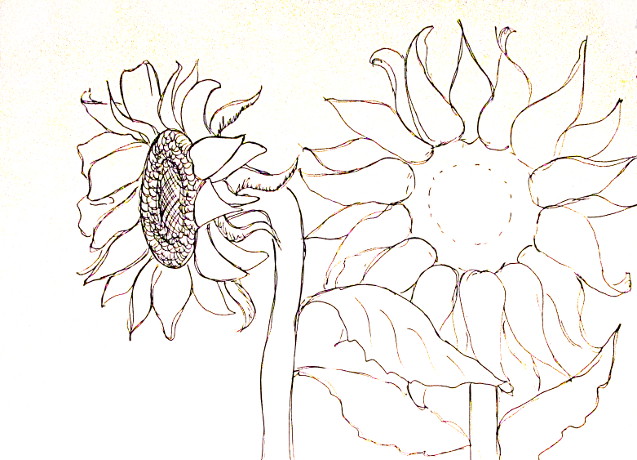 Finish the petals, and add a few more in the back. Draw the stem and the leaves.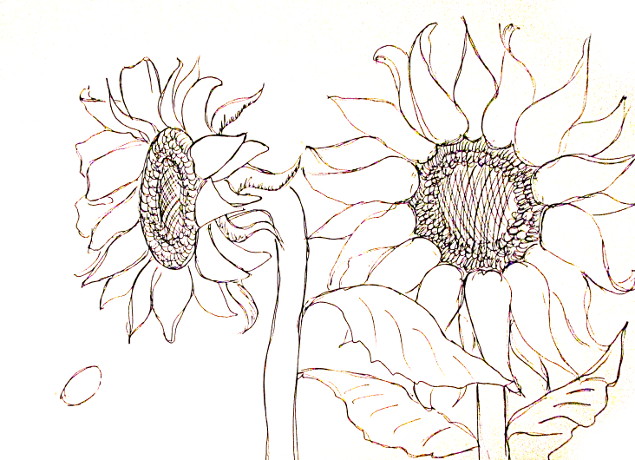 Next, draw a little oval. This is the tip of the little flower bud. Right where the leaves poke out a little bit.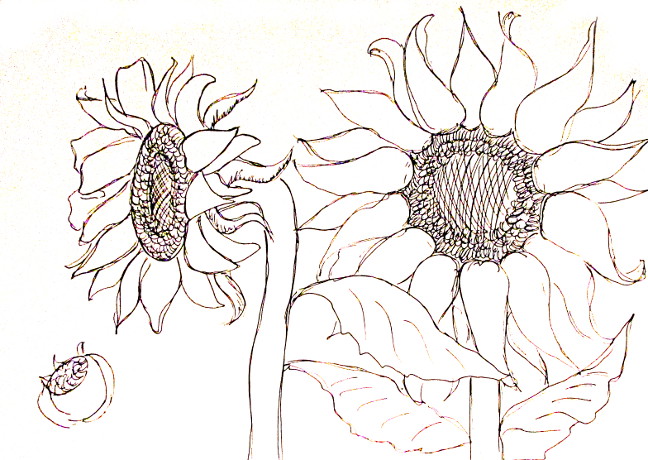 Start working on the bud. First draw a rounded bottom for it, then start adding a few leaves and petals around it.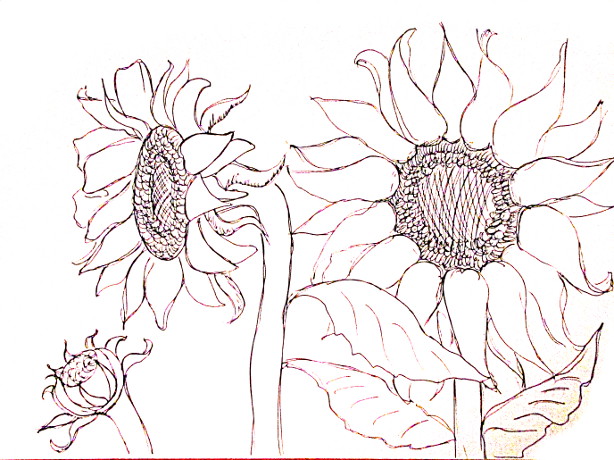 Give it a stem.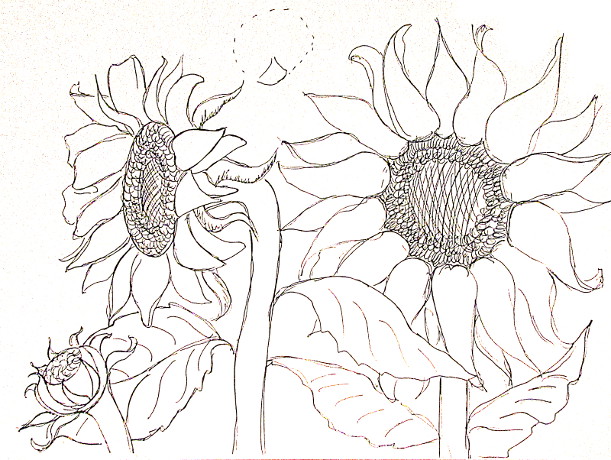 With a dotted line, mark where the next bud is going to be. This time I started with the leaves, so I drew a small leaf at the bottom.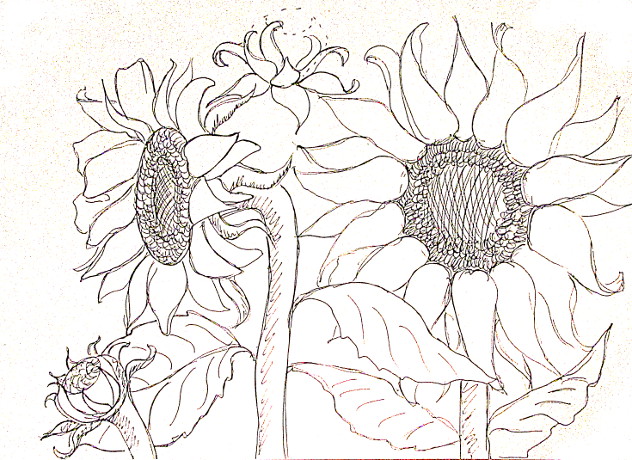 Then I drew more leaves. Some curling around the bud, and some coming off of it.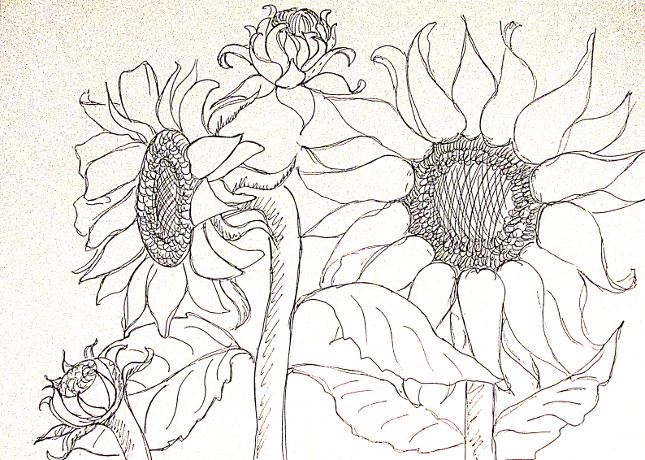 Finish the bud, and then draw a stem for it and some leaves.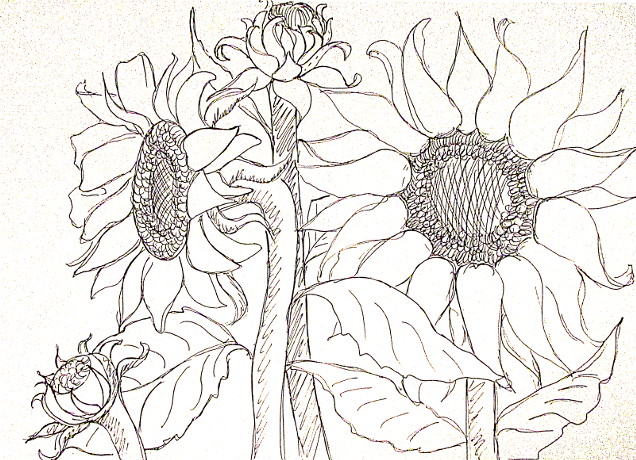 Now the sketch is complete!
Step By Step Acrylic Painting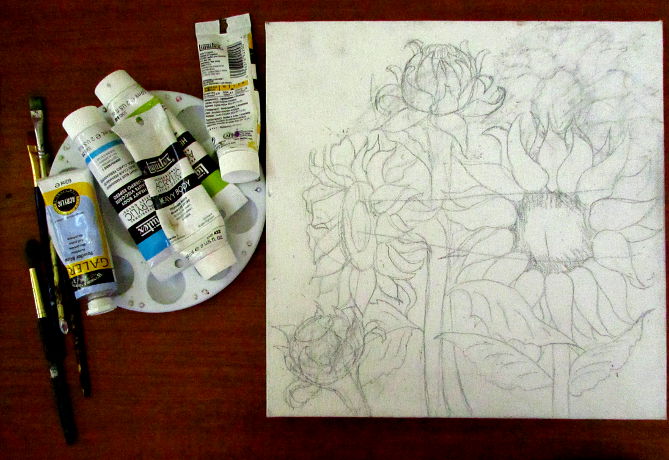 I started by transferring the sketch to the canvas using transfer paper. Then I picked out the colors: blues, greens, white, and yellows.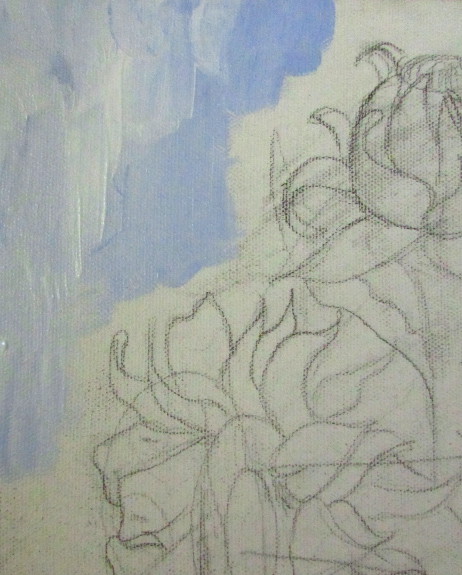 I started with the background. Using a wide flat brush, I mixed the paint right on the canvas as I was painting.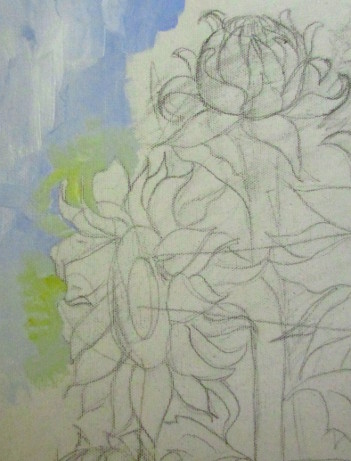 I go more carefully when I paint the background next to the flowers and leaves and such. I mixed in light green with the blue and white.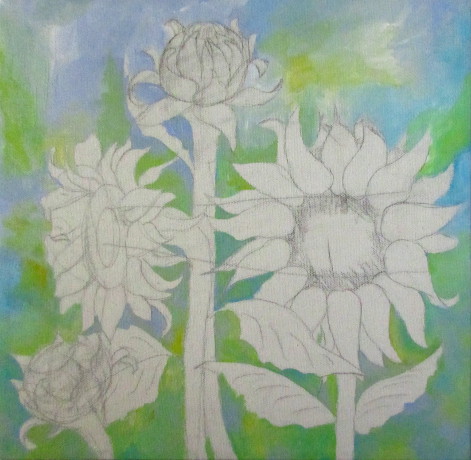 In the photo above, my background is done. This is the first layer, because later on I decided the background is much too light and added some dark greens and browns on the bottom. It would have been easier if I did it right away.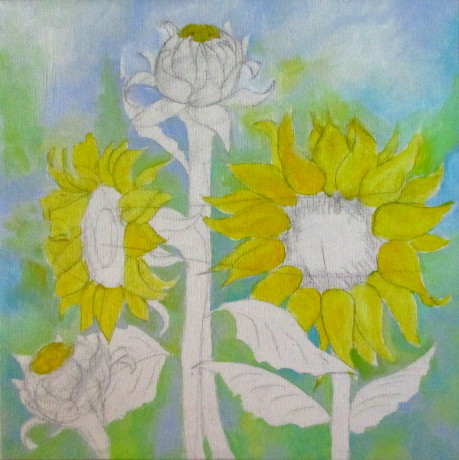 I used a watery yellow paint and filled in the petals. Same thing with brown paint and centers.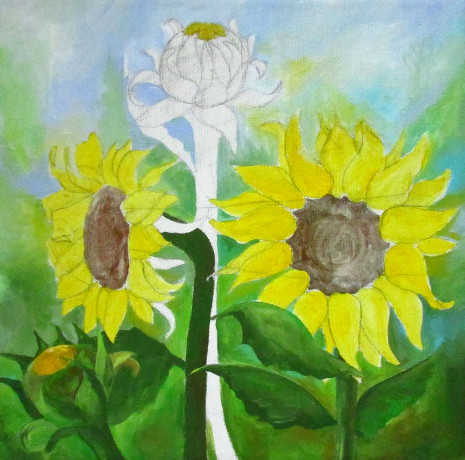 Then I darkened the background, as mentioned above, and did the leaves using a dark and a light green.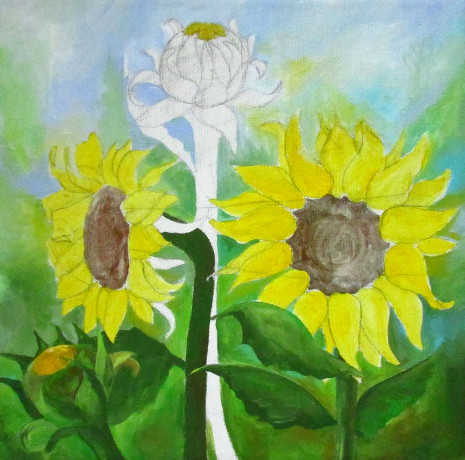 For leaves and stems. I start by filling them with a darker green, like in the photo above.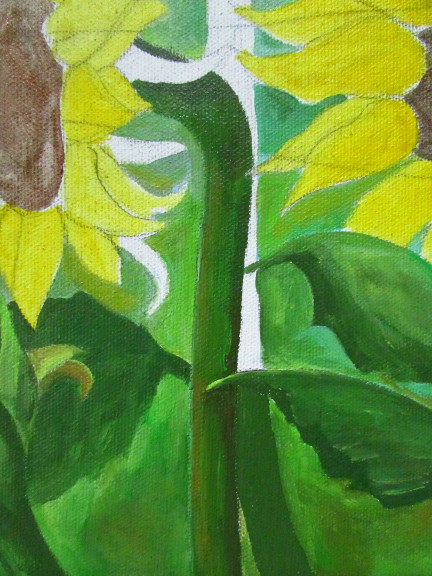 Then use lighter green/brown/white to create highlights.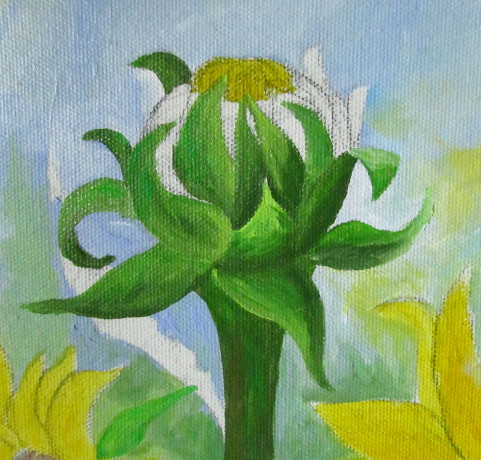 For each leaf, both the big leaves and the bud leaves, first I did each leaf in dark green, and then added highlights with lighter colors.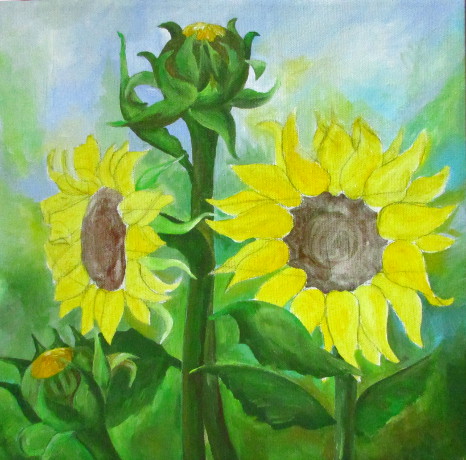 Here is the full bud and stem, finished.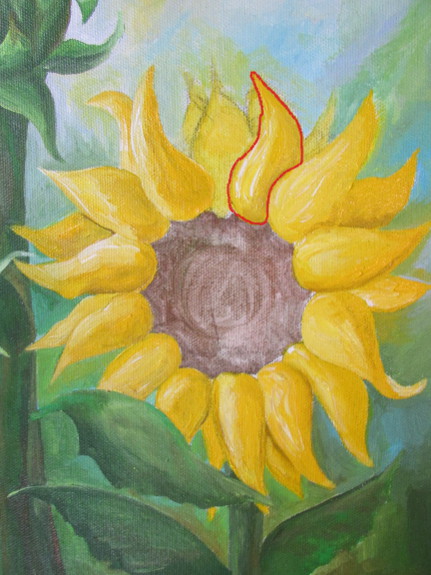 For the petals, it is the same idea as for the leaves. First fill in with yellow, and then add highlights with a white, and shadows with a bit of reddish brown. You just need a tiny bit of the darker color, as most of your petal should come through as yellow. Look below for the step by step instructions for the petals I circled with red.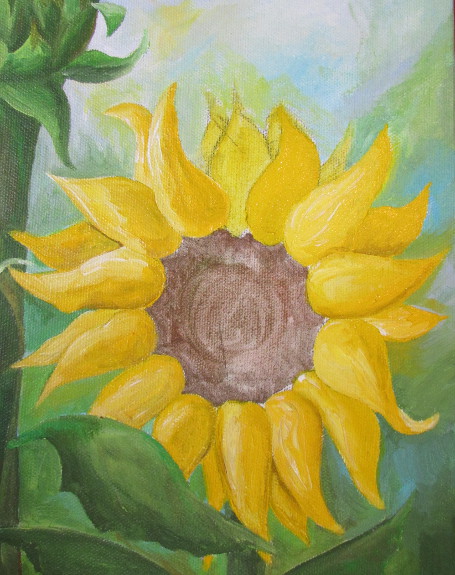 First, I filled it with flat yellow.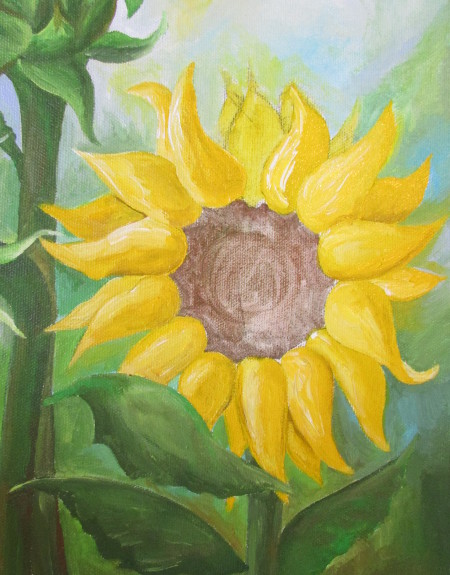 Then I added a white highlight.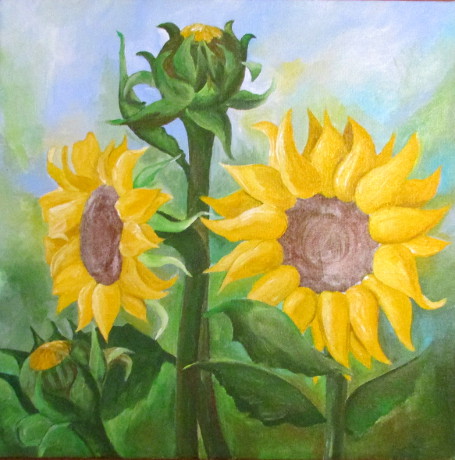 Followed by a light brown shadow. Just go around doing this to every petal one at a time.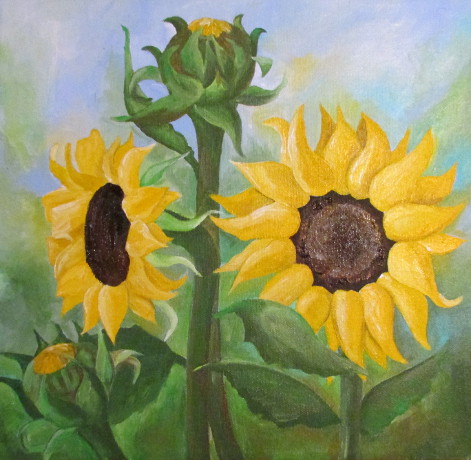 Now just finish the centers with some brown/black/white paint and it is all done.
Here is a step by step for the Colored Pencil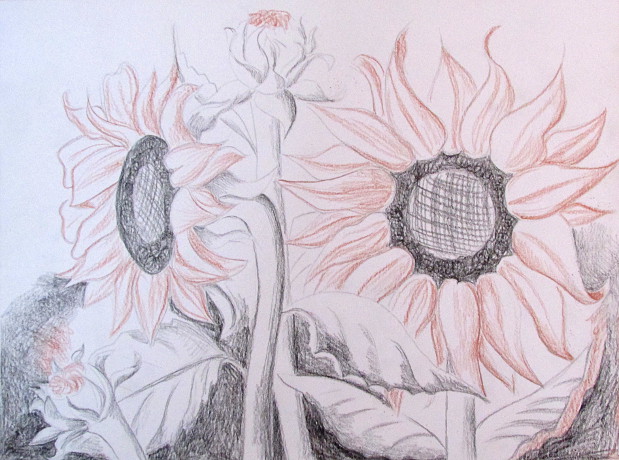 I start with black and brown under drawing, just shading the areas that will be darker later.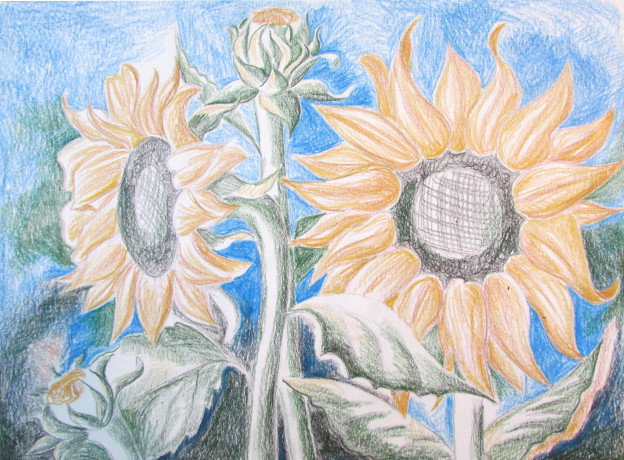 Using a darker blue, dark green, and darkest yellow that I could find, I expanded the shadows further.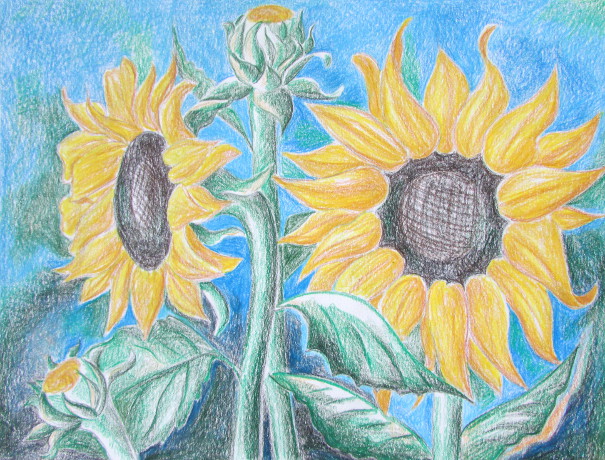 Using several other blues, greens, yellows, and browns, I keep adding on to the shadows that I originally drew. Filling more and more of the picture with color.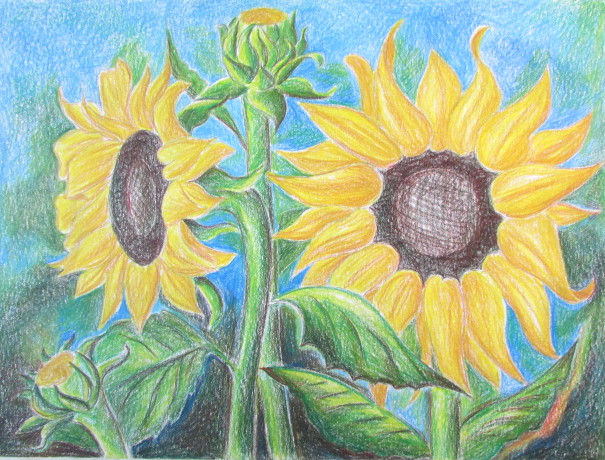 Moving to even lighter and brighter colors: greens, yellows, blues, and a reddish brown, I add even more color to the drawing.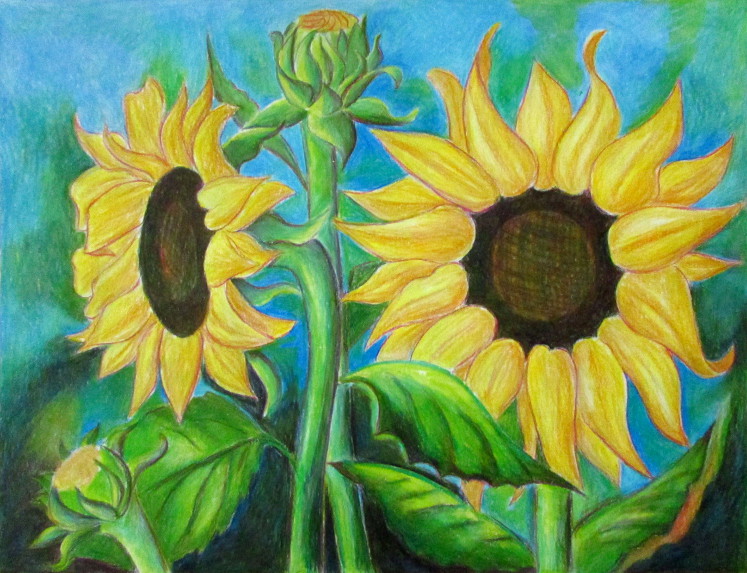 At the end I use white, pale yellow and a colorless blender pencil to blend all the colors together and make sure that no paper white is showing through. When the colors are darker, like the darkest areas on the bottom, I used dark green, indigo blue or black, pressing it hard, to create a layer of color over the paper. All done!
Here are all the different ways I colored it in.  Keep in mind that each one is a separate drawing/painting.  I used carbon transfer paper to transfer it on over and over again!  
Markers:
This is probably one of my favorites.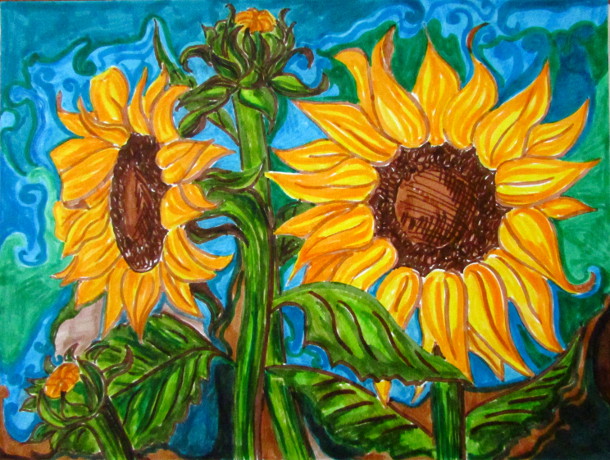 Ink: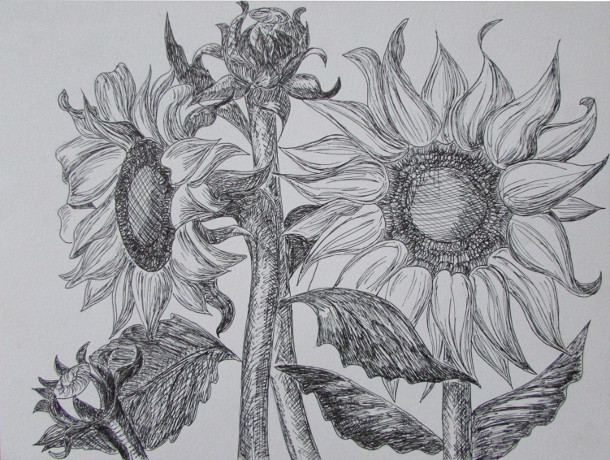 Watercolor:
I have to admit, I could do a better job with the watercolor one. I was just getting rather tired of drawing and painting the same picture again and again, so I rushed. Lesson learned: next time I will take my time.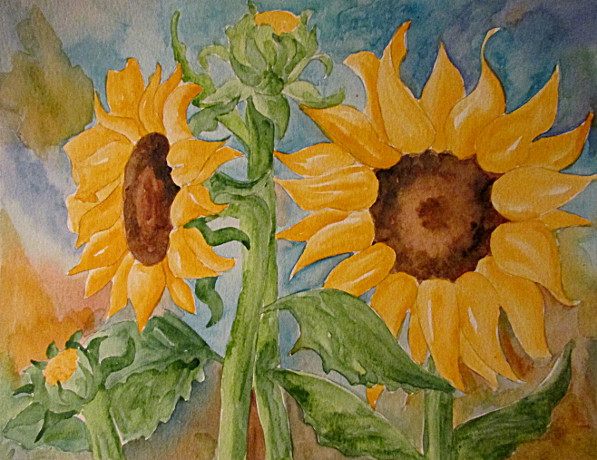 Ok, I have another confession, I rushed the next four as well.  I still think that it does get the idea across.  Just how different the same drawing will look if you are using different mediums.
Oil Pastels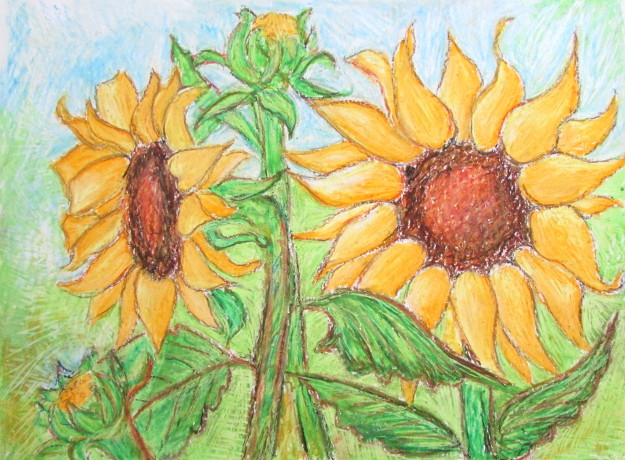 Crayons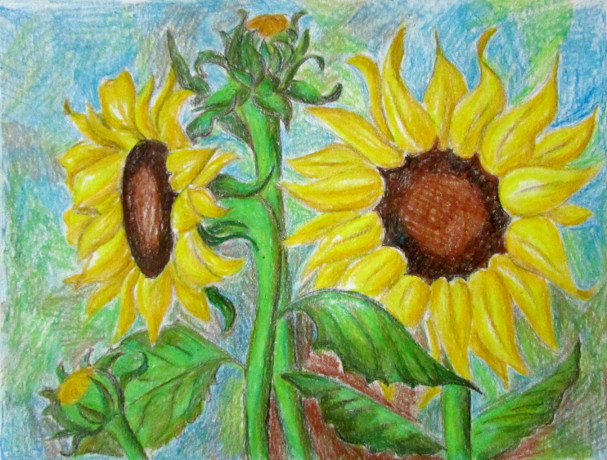 Regular # 2 Pencil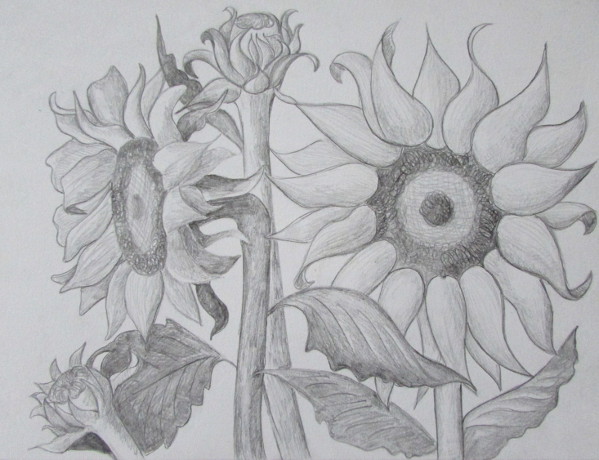 Pastels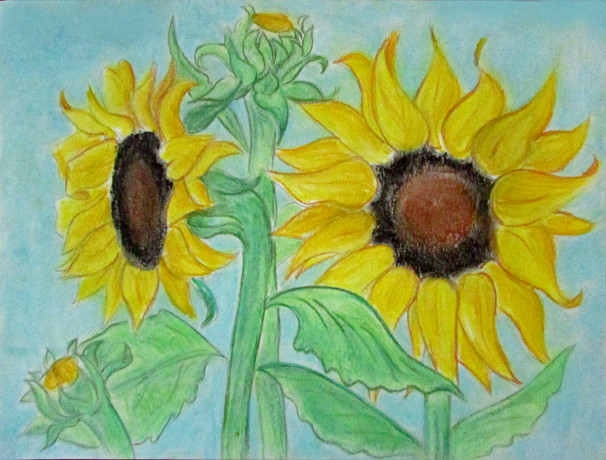 Computer Generated Graphics
I have learned a few more tricks since I did this project. One day I will sit down and do a better job with these.  I did enjoy making every single one of these.   After all is said and done, I do have one favorite among these. This one: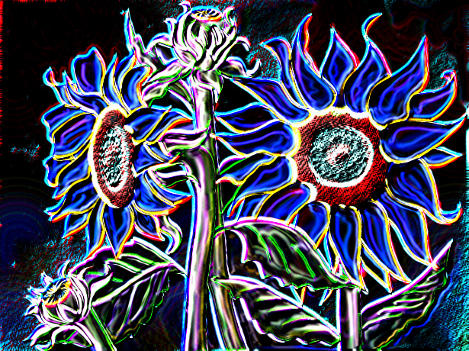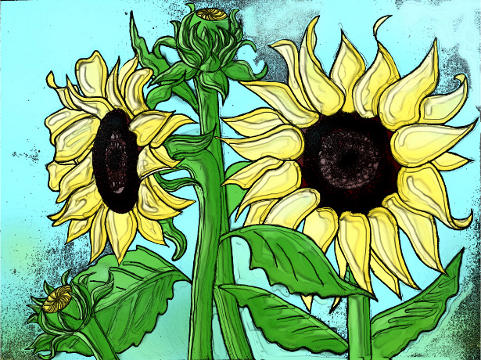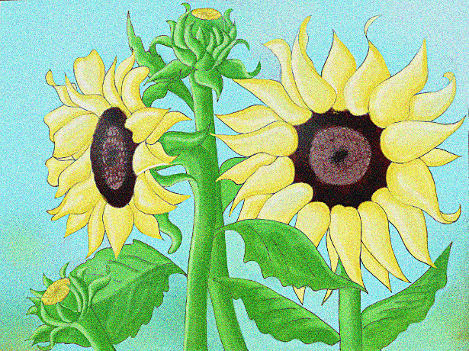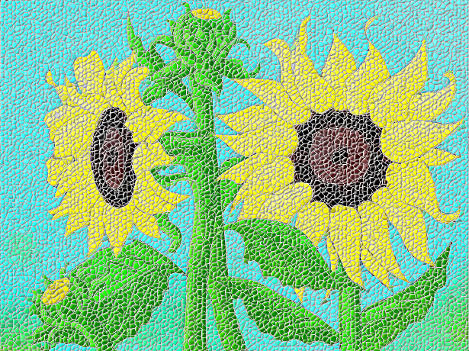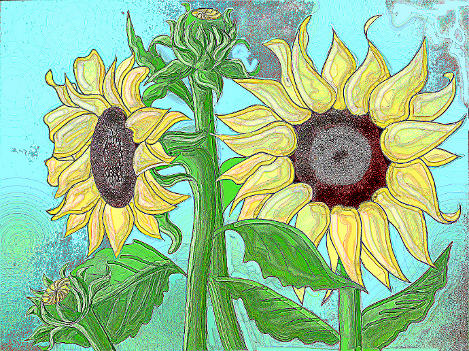 Here is one more. This one was done with leftover acrylic paint and cotton swabs. I rather like it.