I try a lot of different art lessons, some are great and some not so much. I judge the lesson by the kids' responses. The art lessons are considered great if the kids learned something or went outside of their comfort zone, and loved doing it. This 3D Watercolor Fish lesson falls under the 'great' category. The kids had a blast while thinking about color theory principals, patterns, contrast and more. We did an underwater scene, and they got really creative with theirs. There were octopus, jelly fish, mermaids, even food containers to represent pollution. While we did underwater, the possibilities are endless: gardens, street scenes, spooky Halloween things, winter, etc.
Of course, I am writing this after the fact, and I didn't get any photos of the awesome things the kids did. Instead, here is a quick one I did at home later to show you what I am talking about. Please know that it doesn't even come close to some of the awesome and creative things that the kids did. 
***This post contains affiliate links.***
3D Watercolor Fish
I started with regular watercolor paper, this one to be exact, regular crayons, and of course my favorite watercolor paint to use with kids.
The kids started by drawing a pattern going across the paper with crayons. Using only cool colors: blues, greens, purples, etc. The best part is using the white crayon for the patters, and having it show up later, when you do the watercolor.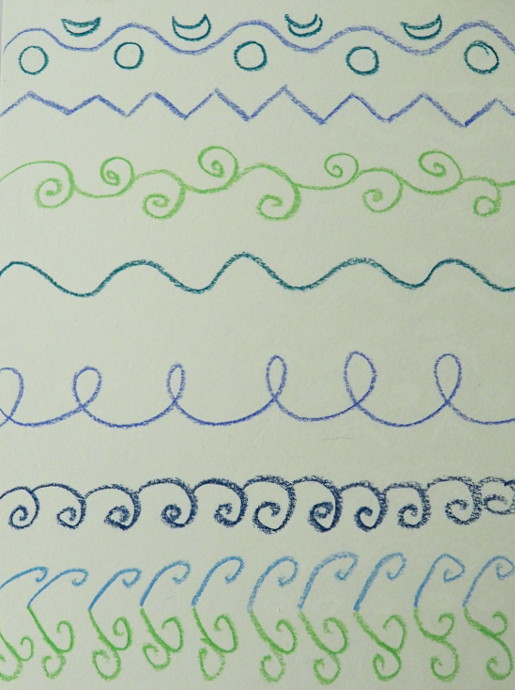 Once the pattern is done, they used cool watercolor colors to paint in the background, keeping to the horizontal pattern that they had going on.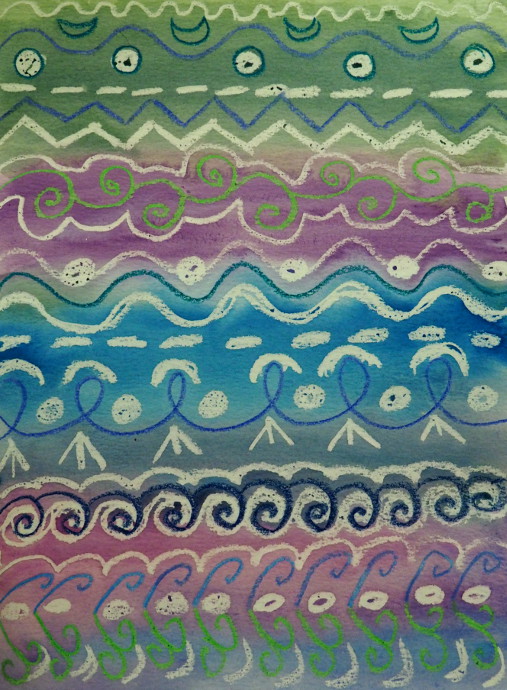 Now, time for the fish. The fish would get cut out, so their placement doesn't matter. We used warm colors: reds, oranges, and yellows for the stuff in the foreground.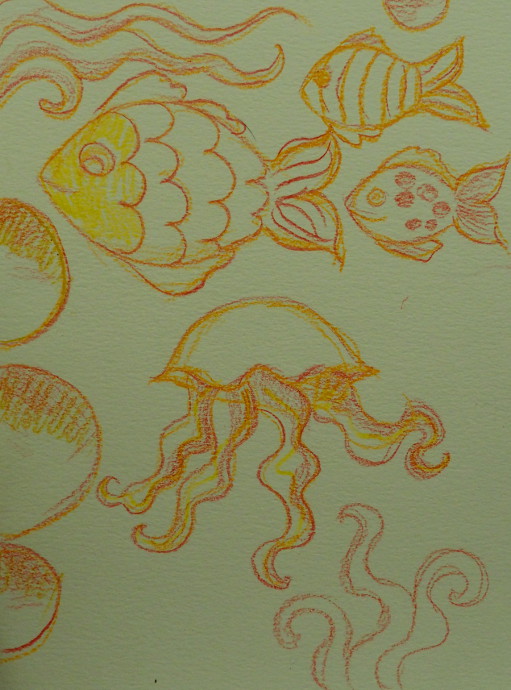 Paint the fish in using warm colors only.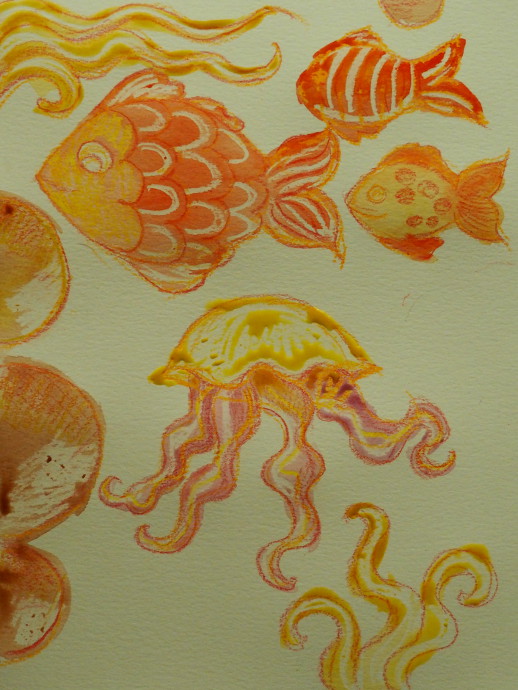 After the fish dry, cut them out. You will also need glue, and a cut up Styrofoam tray, or one of the thick project boards, or cardboard for that matter.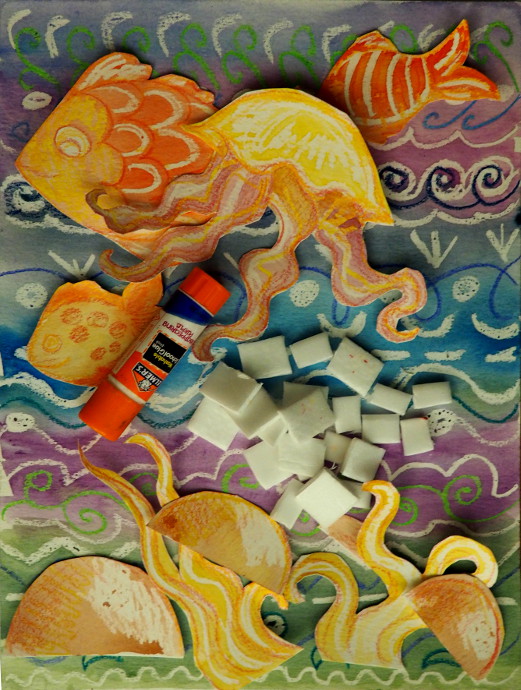 Glue the Styrofoam pieces on the back of the fish and rocks.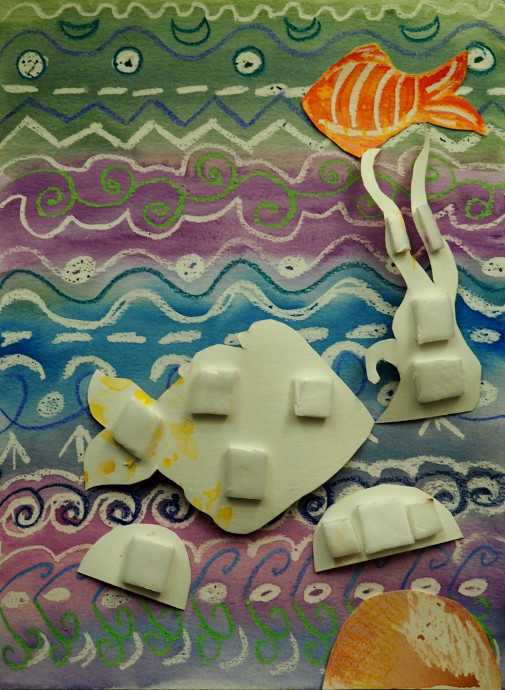 When I did it, I glued a few items directly on the paper, then added the fish with only 1 layer of Styrofoam.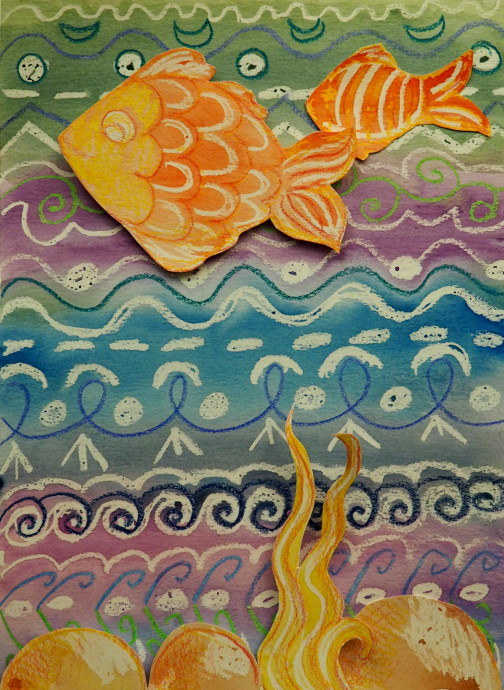 Followed by fish and things with 2 layers of Styrofoam (Which really needed time for the glue to dry because they kept sliding. Allow the glue to dry on the foam pieces attached to the fish before flipping over and gluing to paper.)
Here is the completed 3D watercolor fish art project.