Thank you everyone for all the wonderful comments.  Comment section is now closed.  I started getting doubles and triples of many recommendations.  If you have a place that's not on the comments below, feel free to use the Contact Us form!  My apologies for any inconveniences.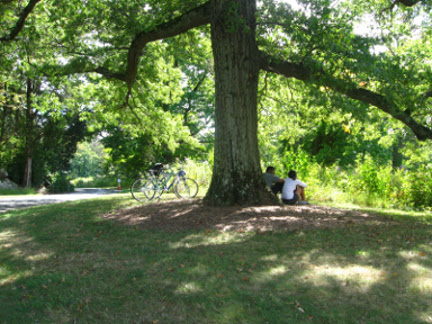 Coleen M. :    Cape May Zoo is a wonderful and fantastic fun filled day for sure! You can hike, bike or rollerblade on the smooth trails of the shaded forest and then visit the lions, tigers and bears, monkeys, jaguars and giraffes, etc. An amazing day on a small budget. FUN!
Thank you, Coleen, I will definitely try to go there this year!!!
Maureen:  I noticed that all of these wonderful places to visit were in North Jersey or Pa. Other than the Cape May Zoo, which is very nice for everyone, I didn't see anything in southern NJ. I'm in the Atlantic City area.
Maureen, I am from North Jersey, and most of these are trips that I have been on with my family.  It is sometimes difficult for us to make the drive to the Atlantic City area.  While I know that there are many wonderful places to visit there, I don't know enough about them.  However, if you would like to recommend some, I will add them to this article!  I am looking forward to hearing from you and making the list even longer. In the meantime I will do some research and add a few more places, but there is nothing better then the advice of someone that has been there!
Kristine:  Allaire State Park.
Wanda:  This is awesome, thank you.
Debbie:   How can you say great places in NJ and then list # 2 and #16? Defeats the purpose of Great Places in NJ.
Debbie, I really should have made the title different.  I meant for this article to be places accessible from NJ, and that means sometimes going out of state to one of our great neighbors.  I changed the name of the article to reflect that.  I appreciate your input, thank you! 
Barbara P. : There are so many things to see and do in our location of South Jersey. So glad I found this on FB
Barbara, as you can see from the comment above, unfortunately, I am not as familiar with South Jersey as I would like to be.  If you have any great local recommendations that are free or very inexpensive, I would love to add them to this list! Thank you!
Margaret L:  Do you know of anything in south Jersey?
Margaret, check back in a bit, I am working on it right now! 
Robin T. : Can't wait to try some of these.
Mary B. : Love to see this book.
Lori N: Please send me the booklet of NJ thanks
Lori, I think there is a miscommunication there.  I am not giving away this book.  Besides, my copy of it has been read, and opened, and spilled coffee on, in our attempts to find the next place to go, you wouldn't want it anyway 🙂 .  Do check your library for it.  My apologies for the misunderstanding.
Mayra R. :  This is great!!  Jersey Shore Pirates in Brick is an awesome adventure for your little ones who love pirates! I think my husband and I enjoyed it more than the kids the first time we went. It's an Adventure on a pirate ship in the bay where pirates battle in the ocean. 2 hour adventure for approximately $22 pp. well worth it!!!
Mayra, thank you so much for your recommendation!  I am not adding it to the list because the price is more expensive, especially for a family.  I will, however, add it to my list of places to visit!
Nicolette B. :  Thank you so much for all the information. Always looking for things to do with the kids during summer break. I never realized there were so many free places! Going to try and hit a bunch this year!
Alex : Your Comment: #4 Environmental Education Center is actually located in Basking Ridge, NJ on Lord Stirling Road around the corner from Lord Stirling Stables. It lies on the edge of the Great Swamp National Wildlife Refuge which includes miles of hiking trails and wildlife observation. There's also a must see GEM 1/4 mile down the road from the Environmental Center called The Raptor Trust, http://theraptortrust.org/ Bring the kids to see eagles, hawks, vultures, owls and much more!!
#'s 4, 7 and 20 all go together. #4- Environmental Education and Center and #7- The Raptor Trust are located on the western boundary (Basking Ridge) of #20- The Great Swamp. Raptor Trust is a stones throw from Environmental Education Center
Alex, thank you.  I made the correction in the new list and combined these places next to each other.
Kimmarie B. :   My family and I have been going to the Land of Make Believe in Hope, NJ for over 15 years. It is an amusement/waterpark. The have many dry rides, 5 or more huge water slides, lazy river, wading pool with a huge pirate ship full of slides and water cannons, and many slides in the water for tikes. You can submit a weekly chance to win tickets. You can bring your own food or buy from them. You can visit Santa in the barn, walk through a haunted house, ride the train around the park, go on a hayride and/or join in their daily plays on stage. We go several times a year. This is their 60th anniversary. It is more costly then the ones you listed but nowhere as expensive as Great Adventure. It is a must go to over the summer. http://www.lomb.com/  We also love going to Keansburg Amusement Park located in Keansburg NJ. It is free to walk around but need to buy tickets for the rides, pay for food or bring your own. They have a free beach but still redoing the beach from Storm Sandy. They have a pier you fan fish on. The rides are not too expensive and games to play. http://www.keansburgamusementpark.com/ The first day they open is Easter Sunday and stay open through the week after Labor Day. We go here several times a year. Sometimes they have ride ticket specials buy one set get one free. They also have a waterpark but a little prices if you ask me. I rather go the Land of Make Believe. I think they offer ticket packages for the rides and waterpark.  I loved reading about all the places you mentioned above. I haven't heard of most of them. Thank you for sharing.
Kimmarie, Thank you! We love LOMB, and go there every year!  Never have been disappointed.  I have never been to Keansburg Amusement Park, thank you for your recommendations!
Marilyn:   If you are in southern NJ, visit the Wheaton Arts & Cultural Center (Map GPS directions to 1100 Village Dr, Millville, NJ tel:856-825-6800; or tel:800-998-4552. Open from April through December, WheatonArts is located on 65 wooded acres in southern New Jersey, and is home to the Museum of American Glass, the Creative Glass Center of America International Fellowship Program, the largest folklife center in the Garden State, a hot glass studio, several traditional craft studios, five museum stores, a 13,000 sq. ft. Event Center and a beautiful pond-side picnic grove. In addition to daily glass blowing and artist demonstrations, WheatonArts features special exhibitions, programs, workshops, performances and several weekend festivals (including the award winning Festival of Fine Craft) throughout the year.
$10.00 Adults, $9.00 Senior Adults (62+), $7.00 Students, Children 5 and under are free.
Thank you, Marilyn! This looks great. 
Jean:   thank you so much for the info… we will visit many of these places this summer. thanks again..
Shan T. : This is valuable info. Thanks a bunch!
Tara:  You have just made my life easier. Thank you!!
Marnie B. : Awesome list! One note, while the Cape May Zoo is, technically, free, a donation is suggested. The zoo survives on donations from zoo goers. Also, there is a wonderful playground and cookout area right in front of the zoo. We LOVE it there!
Emily T. :  I live down in Cape May County. And live only 5 minutes from the zoo. It has been expanding for a while now and I know ther is some construction going on inside the zoo. Just a heads up if you wanna come down this way and chec out the zoo. M 2 1/2 year old son loves visiting the zoo and playing on te playground.
Nancy R.:  Spurs run is one of my family spots I have enjoyed for 28 years highly recommend as well as High Point which is also known to have Strokes frost camping, man made beach, BBq grills all over, showers, trails, cabins, parks for children, playground on the lake, fishing, next to that you have,sunrise mountain which you can take a ride up to the highest peak breath taking been taking my family there for over 30 years and will continue for as long as I'm able now my son takes his.
Alison B. : You should check out James McFaul wildlife Center in Wyckoff, NJ. Trails, the admission to the center is free. Small fee for some programs and classes (I believe?). My daughter loves it. Also, the Ringwood Manor is literally down the road from Skyland's Botanical Gardens. The grounds a free to explore, some trails are nearby. The manor itself is sometimes open to tours. Been years since I've done that, though. Not sure about fees. Thank you for this awesome list!
Thank you Alison!  I have included the James McFaul wildlife Center in the list above!
Heidi:  Cape May is a great zoo. My favorite in NJ. Has a great area for the giraffes and zebras. My son loved the tiger and lion. We try to stop before going to Ocean City. A little farther south but worth it.
Eryn G. : This list is amazing and so close to home. My son will soon be walking and my husband and I can't wait to explore with him sans the stroller!!! I really appreciate you putting this list together, you've listed so many places that I probably wouldn't have ever found out – such as the Doylestown Castle!!! I think I'll start there :o)
Eryn, that's a great place to  start!
Gina K. : This is great! There is also The Popcorn Zoo in Forked River, NJ (Ocean County). There is a small fee, but it was only a few dollars. I believe kids under 3 were free. Also you can purchase popcorn and feed to animals. And there is an on site animal hospital. The only downfall is be prepared to not want to use bathrooms.  Grounds for Sculpture in Trenton/Hamilton is a great place! There is a fee.  And Northlandz in Flemington. It is a great train museum. Parts of it are a little eccentric, but then again it wouldn't be in NJ.
Gina, thank you for your recommendations!
Sandy J. : Awsome!!! Thank You for the Info!
Clifford C. : I concur with the opinions about Cape May Zoo. Suggest you visit Tomahawk Lake in Jefferson. Low admission great place for the kids.
Lori D. : There are many sights to see in south jersey that make great daytrips. Batsto Village, Wheaton Village, Smithville, Cold Springs Village, Lucy the elephant (Margate), Finn's Point National Cemetery and ferry access to Fort Mott, Red Bank Battlefield
Lori, these all look amazing.  I am going to go item by item in a bit and add things to the list.  Thank you!
Dana: THANK YOU!!!
Domenica J B. : For my whole family for the summer. Girl Scouts events to do.
Mary K. : We love Cape May Zoo!!  They have lovely covered eating areas. I always pack a cooler lunch!
If you are in South Jersey… Wildwood beaches are free… But you have to pay for parking.  $.25 for 10 min. Most meters now take CC's.  If not,  bring a bag of change!
Also … I just signed up for www.kidsbowlfree.com Kids get 2 free games a day… Just have to rent the shoes.
List of local lanes are on the site.
Susan L. : I live in Tuckerton. We have the tuckerton seaport here. It is a nice place to visit. Lots of history and activities throughout the year. There is a cost for admission. Join as family and save.
Tracy: Grounds for sculpture in mercer county
Allie: Musikfest is a week and a half long event offered once a year in Bethlehem PA, very close to NJ. The entire downtown closes to traffic and participates – there are so many free acts and activities there's something for everyone. Very kid friendly. Completely free if you bring your own food and drinks in a backpack. Or they have edibles and arts for sale if you feel like splurging.
Can't wait to try out a lot of your recommendations! I can't believe I've lived in NJ my whole life and not been to half of these. Very excited!
Rita D. : Mount Mitchell in NJ is one fun place to visit. It has awesome views of Manhattan island and its boroughs and a memorial for 911. You can see the SandyHook beach from there too and visit thereafter.
Denise F:  The cape may zoo requires a donation of your choosing. Also located on the grounds are picnic areas and two playgrounds for the children!
Bryan : Families may want to be aware that Gunnison Beach in Sandy Hook is a clothing optional beach.
Alison K. : Great List – thank you for putting it together!
I would also add:
The Roebling Museum – Roebling, NJ http://roeblingmuseum.org/
Located just South of Trenton, NJ – learn about how the Brooklyn Bridge was built.  Alice Paul Institute – Mt Laurel, NJ – http://www.alicepaul.org/ –tour the home of Alice Paul and learn about her contributions to women's suffrage in the early 20th century.
Cortney L. :  there is a castle playground in west Deptford nj. it is a nice size and it isn't in PA if people just want to stay in NJ. its clean and always fun! its also 5 mins away from red bank national park( has a cool play ground and historical sight you can visit for free)and river winds is free and there are a lot of trails.
Lina P. : Nice.
Brynn T.  :  The Woodford Cedar Run Wildlife Refuge is located in Medford, NJ. I believe the website says donations, but when I called they said it was $6 for adults. I could not be remember that correctly. There's also the children's garden in camden, nj which has a butterfly house, carousel and other attractions. I know it's inexpensive, but don't remember exact prices. It's located right next to the camden aquarium and admission is cheaper if you do both
Laura G. :  Have 3 young kids! Always looking for stuff to do
Brenda L. : The Lakota Wolf Preserve is located at 89 Mt Pleasant Road, Columbia NJ 07832. There is a small fee (which helps feed & care for the wolves) but is well worth the price. It is a must see for all ages.
Tracy B. : What about the Adventure Aquarium in Camden? We love it there!
Marlene:  Cherry Crest Farm in Lancaster, PA.
They have a petting zoo, corn maze, snack stands, potatoe sack slide, 2 giant jumping pillows and many more kids games. All right next to the rail road where you can watch the trains go by.
Andrea: Grounds for Sculpture,  Hamilton, NJ
Dawn C. : Jersey Shore Children's Museum, located in the Hamilton Mall-Mays Landing. It's only $8 per person and admission is good for the entire day. Can play, go wander the mall, eat some lunch & play some more. All exhibits are hands-on from country store to mini bank, post office to fire dept. and much more.
Jill S.  :  East Point Lighthouse is a lovely one to visit.  It's located in East Point, NJ on the DE Bay. For a nominal fee (I believe $5.00) you can enjoy a lovely little butterfly house on Rt 9 outside of  Sea Isle City, NJ.  Up near the DE Water Gap area of NJ is the Lakota Wolf Preserve. (I think the cost of that was $15.00).  Ft. Mott State Park in Pennsville, NJ is free.  They have dungeons, an old depot, etc. all located on the DE River.  Finns Point National Cemetery is next door to Ft. Mott.  Every Sat. night, rain or shine, from Memorial Day thru Labor Day is the one and only longest running weekly rodeo.  The Cowtown Rodeo located in Woodstown, NJ (fee is $15 or $20 per person).  Sat. nights in Bridgeport, NJ (April thru Oct. weather permitting)  you will find exciting dirt track racing.  There is a fee but am not sure what it is.   The Nights of Venice Boat Parade is held on a Sat. in July (I believe) in Ocean City NJ and is free.  That's all I can think of for now but you have given me many new places to hopefully check out.
Thank you , Jill!  these all look like excellent suggestions, and some amazing places to visit over the summer.
Janice :  grew up in "the Manor." Estell Manor park is a blast. You can still find glass shards where the old glass factory was. It is also one of the rumored birthplaces of the Jersey Devil, which makes camping trips with school aged kids fun. Just note that the mosquitoes are vicious!
Divyesh P. : Can't believe there are many great places to visit not far from where I live. Thank you for sharing.
Richard R:  Great list and I have a few more:
Mercer Museum (Doylestown, PA) as long as you are visiting the castle why not go here to.
Battleship New Jersey
Camden Aquarium
Jenkinson's Aquarium
There are two sites in Sussex about mining and minerals.  Some of the minerals are unique to New Jersey.
Richard, Thank you.  Actually, Mercer Museum is absolutely wonderful.  We have been there more then once! I haven't included these places because their admission prices were higher, but they are totally worth the drive and the admission price.  We also have been to the Franklin Mineral Museum and the Stirling Hill Mine in Sussex County.  They make a fun trip!
Karen D. : wonderful planetarium and new observatory at Raritan Valley Community College.  Programs for all ages.  Washington Crossing State Park..has a nature center, picnic areas…and an open air theatre!  (NJ side). Also a small museum with items from the Revolutionary War.
Jim E. : How about Batsto Village?  Nice hiking trails, historic building's,  the Batsto mansion, a cemetery from the 1600s nearby and a river half a mile away. Off Rt 542 between Nesco and lowerbank Batstovillage.org
Katie L. : The stone museum in Monroe township . . . It's free. Also while in Monroe you can stop by Turtle Back zoo at Thompson park which is also free . . . It's a tiny zoo in the park near a lake and playground and huge hill to roll down
Katie, I think the stone museum in Monroe sounds exciting!  The only Turtle Back Zoo that I know is the one in West Orange.  While it is a great zoo, they charge admission.  It is a great place to visit, however.
Lynn F. : I'd like to suggest the Flying W Airport Resort just east of Hwy 541 between Lumberton and Medford.  The airplane-shaped pool can be enjoyed by those using a season pass, staying in the Flying W Motel, or a day pass is inexpensive.  When will you have another chance to swim in an airplane?  Additionally, the Flying W runs a flight school, and you get to watch lots of take-offs and landings from the pool area which includes a tiki bar, if the water doesn't keep you wet enough.
Wendi:  Palmyra Nature Cove in Palmyra, NJ is a great place for family hikes.  It had it's own beach on the Delaware.  Admission is free, but there are great classes for adults and children for a small fee.  I've been taking my kids there for years and it never gets old.
Leigh : Red Bank Battlefield in National Park, NJ
History lives here and the day in the park overlooking the river is awesome.
Jamie C. :  I saw some one post about south jersey, there is a lot in south jersey typically the best are Lucy the elephant in Margate city beautiful little town and not too far is the drive in theater in Bineland which is like 10.00 per car and you get to see double feature of two brand new movies. You exprience the drive in and pay a cheaper price for two movies, really cant beat that.
Cathy C. :  I definitely recommend the Wheaton Glass museum in Milville, south Jersey. Watch glass blowers and check.out the wonderful General Store….old time candy, toys, glass of course.  Also Lake Atsion…pine barrens Pitney water so nice and cold fir swimming, rent canoes and kayaks by the lake, camp on the soft and sandy ground. Right on route 206 south, in blueberry country, below Tabernacle. About 1 hour and 1/2 for us.  Love Great Falls in Paterson, for an easy day trip. Then check out the old mills, old trains, and move on to middle eastern eateries. Yum.  Hacklebarney is one of our favorite parks! Love the rocks and river.
Nearby, Willowwood arbitration is so lovely, free, shady, varied short paths and cool plants, including a mini bamboo forest and Japanese garden. Connects to Hacklebarney and other parks by trail for long hikes.  Also, buttermilk falls, in Delaware water gap, Jersey side. Then cross on the little private toll bridge at Dingmans Ferry and see more falls in Pa.: Dingman's Falls. Some climbing, and nj falls dangerous if kids try to climb on them off the trail.
Sandy S. : I'm suggesting a wonderful place for families if it hasn't already been mentioned!  We discovered it when my kids were young and went on a road trip to "nowhere" – we saw a sign and thought the place was about space (i.e. stars, etc.)  Boy were we wrong and pleasantly surprised! http://spacefarms.com/
If you cannot access link above you can look up Space Farms Zoo & Museum in Sussex, NJ
Sandy, we have been to Space Farms Zoo, and while it's a fascinating place, the admission price is higher then the places in the list!  It is a very interesting and fun place to visit though!
Marjorie H. : You missed Grounds for Sculpture In Trenton. One of the most awesome places on the planet and inexpensive
Marjorie, I have head so many wonderful things about Grounds for Sculpture.  I am planning a trip there with our library passes, however the admission price for a family is a bit more.  I can't wait to go there soon!
Michael E:  love your NJ Travel With Kids List!! I'm planning on hitting a few of the this month. I do have a few suggestions:
-Lakota Wolf Preserve Columbia NJ
-Field Station Dinosaurs Secaucus NJ
-Red Bulls Soccer Hamilton NJ
-Diggerland West Berlin NJ
-Cowtown Rodeo Pilesgrove NJ
Web Site URL: arclightimages.com
Carl C. : Art All Night
Is the admission free?:  Yes
24 hour art fest in Trenton at the former Roebling wire works. Starts Sat 6/22 at 3 pm and runs continuous til Sun at 3pm. Over 1000 pieces of Art… Live music on three stages, live displays. Over 10,000 people attended last year. Thisbyear they will have a silent disco. For all ages…
Website of the place www.artworkstrenton.org/artallnight/
Cathy D. : Paws Farm; Is the admission free?: No, there is a nominal/suggested fee.  I spent a lot if time here when my children were young. There are many animals – mostly farm animals. There's a little store for kids to go shopping with small grocery carts, and there's a old house built probably too hundred years old. People can walk to the house and explore inside there. There little costumes and puppets for the kids to play with. There's trails to walk in the woods with an old cemetery. It's just a great place to spend an afternoon or a day. Adults six dollars and kids are four dollars.  Website of the place: http://www.pawsfarm.com
Liz:  Grounds for Sculpture; Is the admission free?:  No, there is an admission fee everyday of the week  $15/Adult, $12/Senior, $10/Students (age 6-17 or with college ID), Free for members & kids 5 & under.  More than 270 sculptures by renowned and emerging contemporary artists, each thoughtfully positioned on meticulously landscaped parkland full of thousands of exotic trees and flowers. It is a feast for the senses.  The works, many of them monumental, include those of such distinguished artists as Clement Meadmore, Anthony Caro, Beverly Pepper, Kiki Smith, George Segal, Magdalena Abakanowicz, and Isaac Witkin. They join the enchanting works of our visionary founder Seward Johnson as well as many others by the finest up and coming artists of our time. Join us and discover the beauty, charm, whimsy, and inspiration that our 42 acres hold.
Website of the place:: http://www.groundsforsculpture.org/
Virginia M. : Turtleback zoo complex West Orange, NJ;  Is the admission free?: No, there is an admission fee everyday of the week.  Zoo with train, carousel, feeding parakeets, swan boats, miniature golf, and tree obstacle course.
Nicole : Rowan University Edelman Planetarium, Glassboro
Is the admission free?: No, there is an admission fee everyday of the week; Rowan University Edelman Planetarium, Glassboro – Get in touch with the universe with incredible star and laser shows on Saturday evenings. $5 adults, $3 children-12 & younger. 856-256-LITE www.rowan.edu/planetarium/
Virginia M. : Greenwood Gardens; Is the admission free?: No, there is an admission fee everyday of the week
This is only open a few days a week. Look on website. We took a tour and enjoyed it very much. Everyone was an adult or older teen.
Larry G. : Brookhollow Farms; Is the admission free?: No, there is an admission fee everyday of the week, 5 dollar admission per person. Lots of animals you get up and close to. They sell buckets of food for 3 dollars to feed goats, horses, pigs, rabbits. I may be missing one ot two. They also have a whole bunch of Alpacas, a big covered sandbox and play house. I believe it's a dollar extra for a ha y ride or small train ride. Good for small children. It's in a beautiful setting. You have to keep your eyes peeled though. They need a better marking from the main road.  Look up Brookhollow farms Boonton, NJ  The site should come up on the search.
Thank you, Larry, this sounds like a great place for kids.
Jamie H. : Atlantic City Aquarium;  Is the admission free?: No, there is an admission fee everyday of the week.  There is a small fee to enter but it is only $8 for adults, $5 for children and children under 3 are free. The staff there unlike large aquariums are knowledgeable about the entire aquarium and are extremely enthusiastic to answer any questions and talk about all of the animals or give a tour. Very close to brigantine beach and lighthouse and have dolphin watch boat tours right behind the aquarium. Great for a day trip to south jersey for the family.  Website of the place: www.acaquarium.com
Kerry H. : Northlandz;  Is the admission free?: No, there is an admission fee everyday of the week.  Supposedly the World's largest model train display.  I took my boys there several years ago and the layout is amazing… Although model trains seem more like a "boy thing" – even girls will be amazed by the miniature world!  They have mirrors as you wind your way through the different rooms and they are positioned so you never see yourself reflected in them, and it makes the rooms look twice as big – there were many times we didn't even realize there was a mirror until a train went by it and we saw it reflected in the mirror!  Website of the place:: www.northlandz.com/index.html
Billdeluxe : East Jersey Olde Town Piscataway
Is the admission free?: Yes
Restored buildings with tours from central jersey
Zoe V. : Ringwood State Park;  Is the admission free?: Yes.  Great place for a picnic or BBQ next to a meandering creek.  Lots of history, beautiful grounds, lots of room to play and climb trees!  A family favorite.  Thank you for your list.  We have been to some on it already and will plan on visiting others when we get home to New Jersey this summer.
Colleen : Van Saun Park/zoo in Paramus
Is the admission free?: No, there is a nominal/suggested fee
Fee for zoo not the park. Fee for pony rides and train in zoo. I believe some free days for zoo. 2 playgrounds, walking and bike trails, plenty of picnic space.
Frank L. : Lambert Castle,  Paterson NJ; Is the admission free?: No, there is an admission fee everyday of the week.  The home of Catholina Lambert, one of nineteenth century Paterson's most prominent silk textile manufacturers.    Home to the Passaic County Historical Society.  Contains many period furnishings and articles from the Lambert family.  Children under 5 are admitted free when accompanied by an adult.  Admission free to members of the Passic County Historical Society.  Website of the place: www.lambertcastle.org/
Eric W. : Grounds For Sculpture.  Couple hundred acres in Hamilton, NJ.  Filled with 100s of sculptures.  Some of people some animals and some just modern art.  Great place to wander around for a few hours.  Website of the place: www.groundsforsculpture.org/
Tara P. : Delsea Drive In;  Is the admission free?: No, there is an admission fee everyday of the week.  Not free, about the same cost as a movie. Generally, there is a PG movie at dusk and the a more adult movie.  Check before you go, some nights everything is R! The food line is long, but they have an amazing menu.or you can buy a permit to bring your own food in.  Go early and bring a ball or frisbee. Pairs nicely with Wheaton Village or the Millville Air Museum. Way down South, just off of Route 55.  Website of the place: www.delseadrive-in.com
Dawn:  Spray ground in Colts Neck, It's a great place to bring your children, it's fun and free, they have the spray ground and nice park for the kids to play.
Bobbi O. : Merrill Creek Reservoir; Is the admission free?: Yes
Merrill Creek is a fun place to take the kids. They have hiking paths, a little wildlife museum, boating docs, bird viewers where you can, if you're lucky, catch a glimpse of a bald eagle, and educational programs (not sure if those are free, but if they cost anything, it's not much). Located in Washington, NJ, Warren County.
Website of the place: Merrillcreek.com
Dave T. : Grounds for Sculpture, Is the admission free?: No, there is an admission fee everyday of the week.  This is an amazing park filled with art and life-like sculptures. It is definitely on our yearly list of places to go. We find something new every year. $10 for students and $15 for adults but well worth it.
Website of the place: Www.groundsforsculpture.org
Tricina:  Your local library!! Free programs, books, music, movies and some have free passes to local museums! A/c too for the hot days.  Or libraries across the state . You could list a plethora of free classes and summer reading programs that offer free prizes and coupons from local businesses!  Camdencountylibrary.org
Tricina, I love our library, and I highly recommend everyone visits theirs.  The purpose of this list was to shine a light on many places that people might not know about of the top of their head.  I certainly hope that everyone knows that their local library is one of the best places to visit and attend the classes and programs! Thank you for this lovely reminder!
Eddie G. : Gunnison Beach at Sandy Hook National Park, NJ, Is the admission free?: No, there is an admission fee everyday of the week.  This is one of the few legal clothing optional beaches in the NY/NJ/PA Metropolitan area. It is patroled by lifeguards and Park Rangers, is kept very clean and orderly, and has a snack bar and lavatories. There is an admission fee at the entrance to Sandy Hook for parking as it is a National Park. The parking lot for Gunnison is huge but it fills up early on weekends (sometimes up to 5000 attendees on the beach)and then the gates are closed to traffic. You can also bicycle in.  Website of the place: http://www.npr.org/templates/story/story.php?storyId=92737363
Eddie, as you might know, I struggled with this one.  I did decide to put it up, especially after I read the article.  So folks, if a nude beach is the experience you are looking for, Gunnison sounds like a lovely place to go.
Theresa R. : Delsea Drive-In, Is the admission free?: No, there is an admission fee everyday of the week.  If you have never been to a drive in theater as a kid, then you're not from NJ….  Delsea, located in Vineland, is the last drive in NJ and for $10 (12 and up), $5 (3-11), you can experience "recent" movies on a large screen. You can purchase dinner from a huge menu or snacks along with some novelties. Check out their website for the rules and rentals available.  Website of the place: www.delseadrive-in.com
Paul K. : Yogi Berra Museum & Learning Center;  Is the admission free?: No, there is an admission fee everyday of the week
Located on the grounds of Montclair State College in Little Falls, this museum is a great place for baseball fans of all ages. The admission fee is $6 for adults, and $4 for kids under 18. Also it is adjacent to the NJ Jackals stadium, where you can see a minor league baseball game for less than $10/ticket.  Website of the place:: http://yogiberramuseum.org/
Mirayma L. : Meadowlands conservation center; Is the admission free?: Yes; Nature trails, stunning views, education center, observatory.  Website of the place: http://www.njmeadowlands.gov/njmc/about/meadowlands-environment-center.html
Sara K. : Fort Mott; Is the admission free?: Yes; I haven't personally visited Fort Mott but there are lots of great reviews online and I have a bunch of great testimonials from friends who have!!  The Fort is really clean, has nice bathrooms, there are plenty of benches along the foot paths to rest and the wildlife & beautiful scenery are a plenty!  The history of Fort Mott is it was one of three forts set up as a defense system on the Delaware River after the Civil War.  Website of the place: http://www.state.nj.us/dep/parksandforests/parks/fortmott.html
Cindy : Cheesequake Sate Park in Old Bridge, NJ
http://www.state.nj.us/dep/parksandforests/parks/cheesequake.html.  parks, hikes, fishing, $5 NJ resident car fee for parking.
Karen M. : I would like to recommend Merrill Creek Reservoir outside of Phillipsburg NJ– it has trails, boating and fishing
D. J. Sunny Stream Cavanaugh : Please add Cheesequake State Park to your list.  Here is their website: http://www.nj.gov/dep/parksandforests/parks/cheesequake.html
Ellen P. : Besides the zoo, Cold Spring Village in Cape May county is a lovely collection of old homes and workshops staffed by a dedicated group who are knowledgeable about local history and genealogy. See arts and crafts demonstrations and attend special events. Child friendly. Wonderful little bakery.
Slightly north, don't forget the lovely town of Ocean City. Clean boardwalk and beach. Safe, family resort. Alcohol free zone.
Thank you to all those that responded! I am overwhelmed with the responses, if I didn't get a chance to personally thank you, please know that I am very grateful for all your contributions!