Since I first wrote about our visit to Liberty Science Center a few years ago, I have now gone back with my second, now older kid in 2019, and the experience has not changed. It was still great.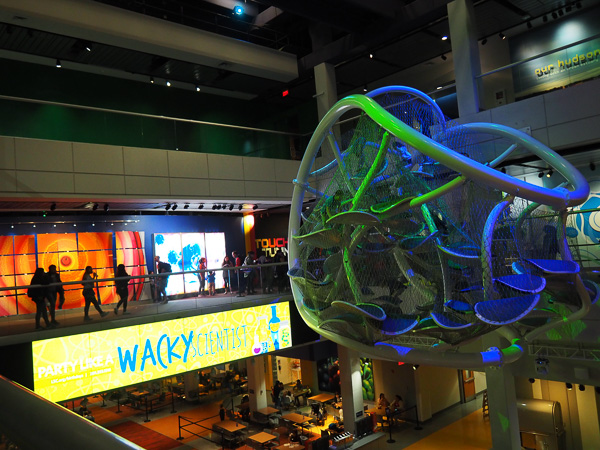 ***This page contains affiliate links.***
The class was a fantastic experience for the kids, and if you have a chance to take a class at LSC, do that! You can find out more about LSC CLASSES.
The classes there are always great.   Over the years I have had both of my kids participating, and every time we walk away happy. The classes are long, from 9 am to 2 pm, with a break for lunch, but no one is bored in that time. Here are a few more photos from our last visit. 
From our earlier visits to LSC
We have been to LSC a few times before, once in early 2000s (before the renovations); and another time about 8 years ago, when they had a lot of construction going on, and many of the exhibits weren't there yet or were closed.  This time our experience was completely different.  It was simply wonderful.  Let me tell you more.
The price of the class included admission, so we decided to explore the museum afterwards. Some of the exhibits are the same as I remember from years ago, but there are so many new amazing exhibits.
When we walked in, we were greeted by the Hoberman Sphere. I could watch that thing open and close for hours:
Our favorite of the day had to be the Infinity Climber. It was just fantastic. During lunch, when we stood in the cafeteria area just looking above, we all thought it was just a neat abstract sculpture. What an amazing surprise it was when we went upstairs and realized that we can climb into it. Just one important note: wear sneakers! I had my flip flops on, and wasn't allowed to do any of the fun stuff that my children, who wore sneakers, were allowed to do! Here are a few photos of the Infinity Climber:
Here is the entrance. My little one was a bit cautious going in. He took a bit of convincing that it was safe. The young people that were working on the entrance were very reassuring and encouraging:
Here is the Infinity Climber filled with kids:
Our next favorite thing was the Energy Quest. The exhibit is really fantastic, and we spent quite a bit of time there, coming back to it over and over again.
Of course we also loved the Skyscraper Exhibit. The big kids all went on it, while my little one enjoyed watching from the platform:
There were many other things to see. We enjoyed the Action Zone, and the Infection Station is always fascinating:
The animals are always fascinating, as well as the fish in the Our Hudson Home:
The view from the balcony can't be beat:
We always like the Wonder Why exhibit. Pixel Palooza was a ton of pixalated fun. The Nano Mini-Exhibition was great too. Actually that's where I really wanted to hang back and look around, and so did the kids. There were many more things that we enjoyed, many of them were very hands on and fun! There was also a Dora exhibit, which none of mine had any interest in, but there were quite a few toddlers there having a blast:
Few more details
I have to mention a few things. First, while in the museum, I lost something from my purse, something that was very important to me, and that I needed to find before I left to go home. It was a very silly way to loose something. I took it out while looking for something else, and just left it on a surface someplace. I ran around looking for it for about 20 minutes. The museum folks were all very nice about it, and helpful. In a few minutes one of the employees brought it down to the lost and found desk, so I had nothing to worry about.
Secondly, make sure you wear sneakers, or shoes that are closed in the back. You won't be able to enjoy many of the fun things without the proper shoe wear. Also, the museum gift shop is amazing. Lots of cool science related toys and books, we had a hard time walking away from there. The museum is located in an area with lots of traffic, especially during rush hour. We had to go early for the class, and were stuck in traffic for a long time. I am hoping that next time we can either leave much earlier, or the class will be later in the day.
You can find out more about the museum from their WEBSITE.
The price for the museum can get quite expensive. They offer discounts to teachers, and to employees of several companies. There is also a groupon for LSC (sponsored link) available sometimes.