New Brunswick, NJ
March 2012
Every so once in a while we go to NJ State Theater to see a few on school time performances. We homeschool, so it is easy enough for us to purchase the tickets for school time performances anytime there is something good playing. It is most certainly worth the effort.
Last year we saw Blast!, "Sylvester and the Magic Pebble", "MOMIX remix" and the Shanghai Acrobats.  Here is more about our visit to NJ State Theater.
With Blast! my youngest was only able to sit through the first half. It was a good show.  We read "Sylvester" story so much, that it was very interesting to see it come to life.  Though at some point my kids started to whine that it was too long.  The Shanghai Acrobats was an amazing show. Both kids loved it. They sat with their mouths gaping open. We also had great seats, right in the second row in the front. I think this was our favorite of the four.  MOMIX Remix was a really nice show. Well done. You can tell that the dancers put their heart in it. The kids enjoyed it thoroughly. It was also a favorite.
After one of shows we went to this place: STUFF YER FACE On Yelp.  It was something we have wanted to try ever since watching the Man vs. Food show with the kids. It was delicious, though next time I am going to opt for a more health oriented meal.  We also enjoy Harold's Famous New York Deli in Edison.  Funny enough, it was featured on the same episode.  They are famous for their enormous portions.  Talk about portion size.  We get one large roast beef sandwich, and it is enough for the four of us, and grandpa, and the three dogs.  It is also very delicious. Here is their WEBSITE.
Their German Chocolate Cake and the Cheesecake are also delicious: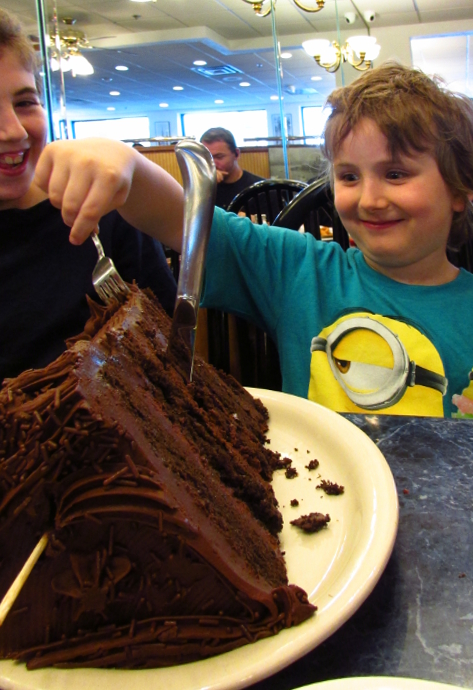 New Brunswick has a lot to do, so be sure to check out other attractions and making a day out of it.
Here is the WEBSITE for the NJ State Theater to see their upcoming performances.