Marlboro, NJ
Summer 2017
Big Brook is quite an interesting place to visit.  It is not a place that I would ever know about without a few awesome people that told me about it.  I know I took some time to write about it, but better late then never, and hopefully useful for this summer. Here is the story: Big Brook is a stream that runs through Monmouth County, NJ.  The specific location we went to is in Marlboro NJ, but there are other spots.  It is a great spot for a hike, but wait, there is more! On the outside it looks like a very ordinary stream, but on the inside it is filled with fossils from the late Cretaceous Period.  It is an awesome place to take your kids on an archeological adventure.  Take a few tools, and go on an adventure together.  We brought a trowel and, since we don't own a screening box, we just had a pasta strainer with us.  It worked just as well.  We also brought a few containers for our fossils.  Make sure to wear water shoes, or old sneakers.  There absolutely is sharp glass and rocks in the stream.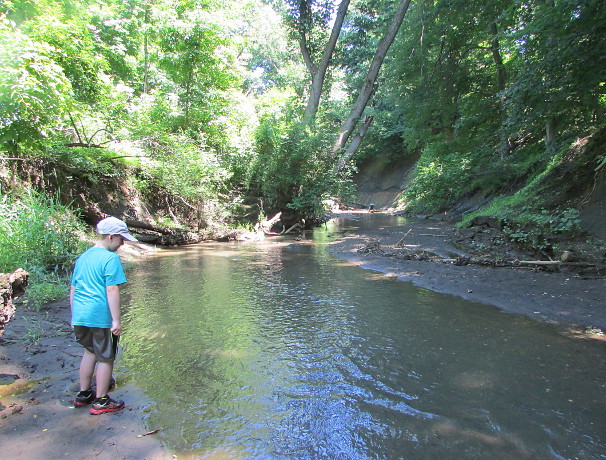 We came from Rt. 18.  The best and most clear directions I have found are from Hofstra University (you can find them HERE).  These directions tell you how to get there from NY, but I just used the closest point I knew, like Rt. 18.  The directions above are very detailed, they don't just tell you how to get there in your car, but where to park and walk to.   You wind up hiking down below the road to the stream.  There is a rope to help you on your way down, but the ground can be slippery.   Once you get down, you could look right there, but we crossed the stream and took a little hike a little further east.  Then we started looking.  We have found so many great fossils. Here is what we found: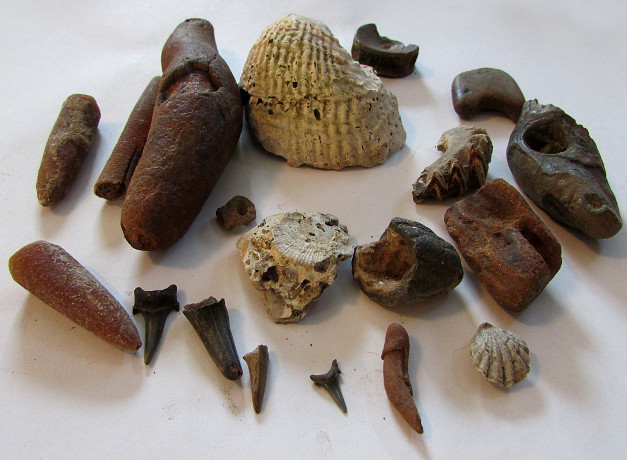 It really helps if before you go, to seek out what the fossils you will be looking at are.  There are a few phenomenal websites to help you with that.   First, there is this one: BIG BROOK WEBSITE.  It only tells you what fossils are there to be found, but a slew of more information about the place and what you need, and overall geology in NJ.  You can also check out FOSSIL GUY'S BIG BROOK SITE.  Some of our friends took some of the fossils they found to the NJ State Museum to get identified. The kids had a great time being archeologists for the day.  It was an amazing, adventure filled experience, and we are looking forward to visiting it again this coming year.