Tuxedo, NY
August 2017
We have been meaning to go the NY Renaissance Faire for years now.  Ever since my parents moved nearby.  We even attempted it once, but got scared away by the crowd of people gathering, and the severe lack of parking.  Do not get scared away! It is worth it!  Since that first visit, it became an annual tradition to head there. This time, just like the first time it was very lucky for us, we were there with a few friends that knew the place really well, and were amazing guides for the day.  They knew the best shows, and when they were happening, they knew the best shops, and their locations, and the yummiest food.  Without them we would be left meandering through the faire at random, and who knows what we would have missed.  However, the second time around the feeling was different.  The first time I think we were in a bit of shock from the crowd, the heat, the costumes, the amount of money we spent.  It was overwhelming.  The second time around it was much easier.  We came anticipating to spend quite a bit, we were much more engrossed in the atmosphere, loving every moment of it! It was such a fun time.  I think this place hooks into you, and then three-four years down the line you wind up making a full on costume to wear.
This time around the group of friends was larger, and not everyone could stay together.  We met for the shows for the most part and meandered around in the meantime.  My teenager kept wanting to run off with a friend and pretend he is not one of us.  Sounds very familiar because I used to do that all the time.  It was frustrating at first with everyone going in a different direction.  However, once we figured out the best way around it, it worked out really well. What we would do is after each show we would talk, and decide which show to see next, find it on the map, agree to meet there at the starting time, and then split (using the buddy system of course).  One thing to know is that cell phones do not work there very well.  I think at the end it all worked out really well, and the third time will be even better!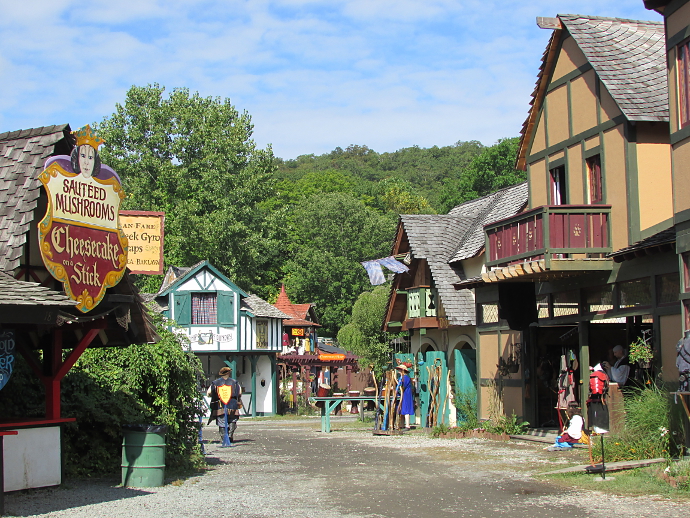 The shows are delightful.  We saw quite a few and each and single one was wonderful.  Plus, the story that goes through out the faire, with Robin Hood, is also a lot of fun.  We caught a few displays of the Robin Hood story throughout the day, and each one was great.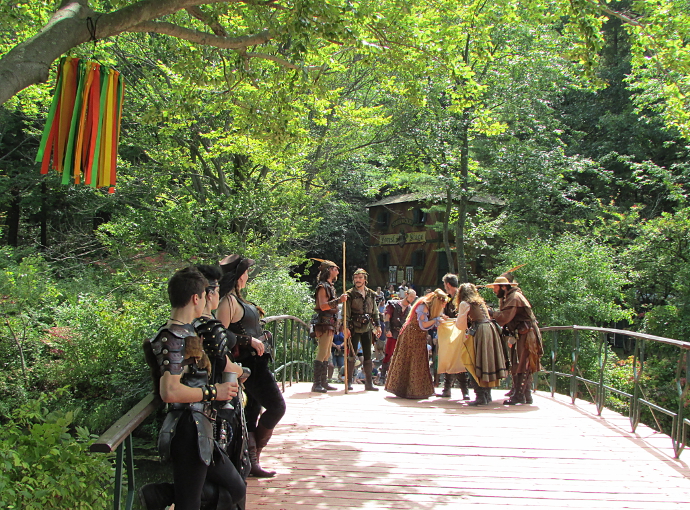 When  attending the scheduled shows throughout the park, be prepared to tip the performers after they are done with the show.  Make sure to bring small bills with you.
We loved Steward and Arnold, the father and son team of knife throwers.  They certainly know how to make you hold your breath with their performance, while managing to make everyone laugh at the same time!  We listened to some of Brother Donald's, the storyteller's, amazing stories.  We saw Ded Bob (which made me wonder about my little one listening to the show, but he took it in stride), The Acrobatrix, The Blackenshear Magic Show.  We also got a chance to listen to the music Eddie Jeff Cahill and Kathleen Blackshear.  We also enjoyed the awesome skills and jokes of Aaron Bonk.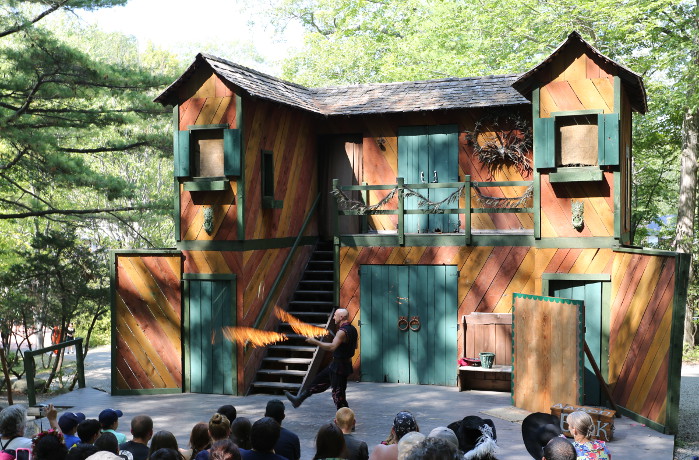 One of my favorites, same as last year, was the Royal Falconry birds of prey demonstration. Just as last year, this time the gentleman  showing the birds was very knowledgeable and awesome.  We met some of the amazing predators, different from last year.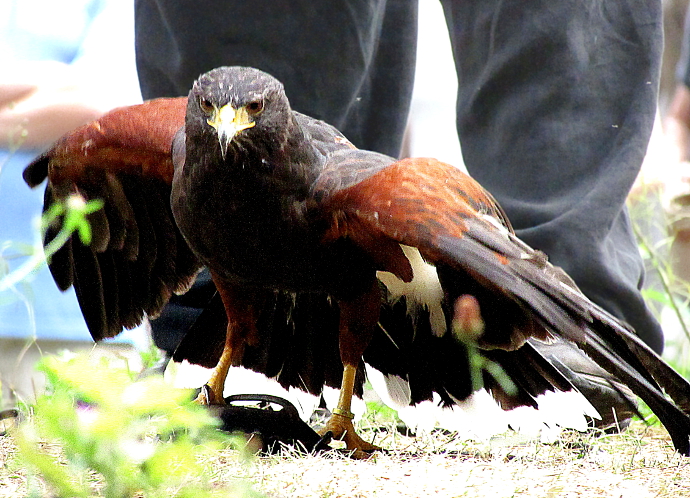 The artisan shops that are everywhere offer many unique wares.  It is difficult to keep track of everything you see.  I am pretty sure we spent way more then we planned on spending and way more then we should have.  Last year, the boys walked away with some great wooden swords made by a local artisan, and a leather belt to put the swords into.  We got a sky chair (which is still in my basement, not hanging), but I am looking forward to hanging out in it.   My little one was in heaven in some of the wonderful music stores there.  We bought some lovely instruments to take home with us.  Also, I am pretty sure my big kid has a katana now that hangs on his wall.  I found all the stores with their handmade wares inspiring, and wanted to make everything I saw.  The second time around we had anticipated all the awesome shops luring us in.  My older ones birthday wish was to take his birthday money to the fair.  Both kids loved all the knife and dagger shops, the hats, some dress up, and more.  I as always love to see all the amazing crafts that inspire me: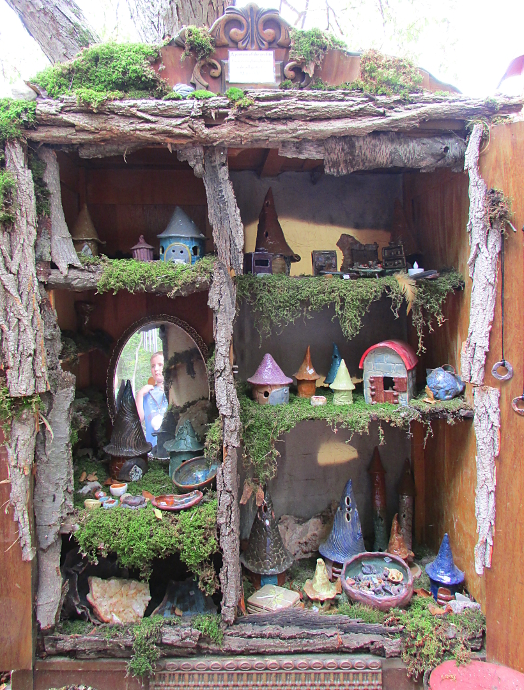 Last year the food was thoroughly enjoyable.  There is enough selection for even the pickiest eaters. I got to sample some delicious beer and beef on a stick. The kids enjoyed their chips with cheese, and we got a cheese and fruit platter.  Oh, and chocolate covered cheesecake on a stick is absolutely crazy!
The costumes of some of the visitors are amazing.  We spotted so many dwarfs, elves, druids, fairies, a beautiful Snow Queen, and Henry VIII with his progeny.  Even Santa came to visit.  Next year the boys are planning on making elaborate costumes, and I am planning on leaving the credit card at home, and saving money ahead of time.
One of my favorite things this year was The Joust.  Last year we didn't stay till the end, so we missed it.  I am so happy we managed to the end this time.  I definitely would advice that if you can, stay till the end.  Take breaks, rest under a shady tree, have some iced coffee, but stay to see The Joust.  It was absolutely the highlight of the day.  Here are a few photos of it (one of which I am going to submit to the photo contest):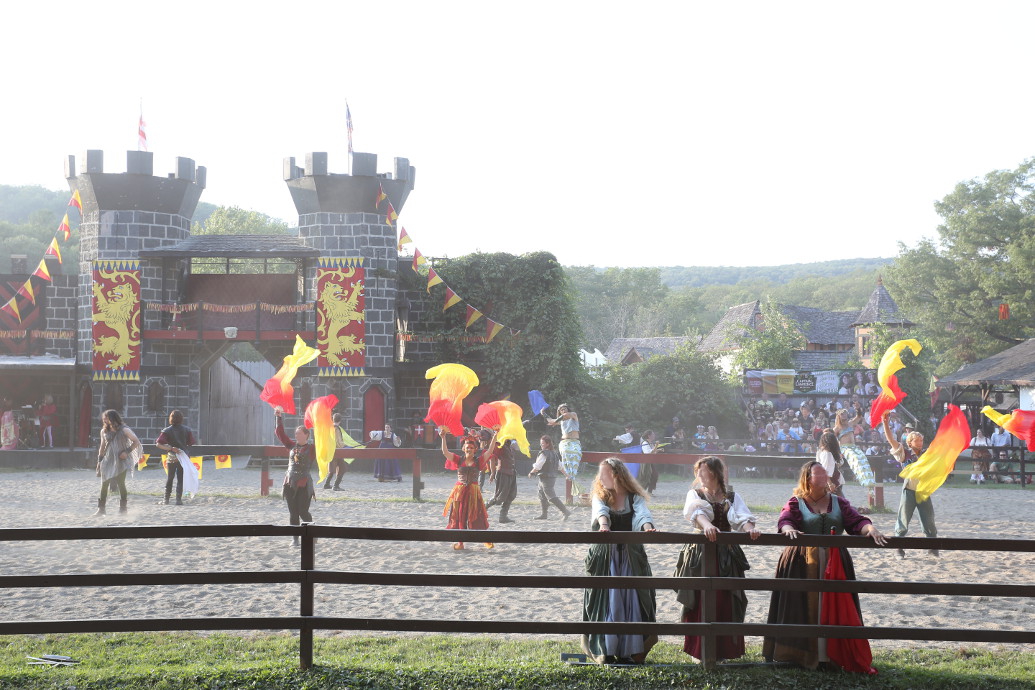 Overall though, the place is definitely filled with magic, magic of people that want to be there and make it special for everyone that comes there.  It was a wonderful experience, and I see why people come back there year after year.
The New York Renaissance Faire runs Saturdays, Sundays and Labor Day, start of August to end of September.  These dates are approximate, check their WEBSITE for the exact dates and times and all the information for your visit.
Also, what I have found we needed to bring on our visit to NY Renaissance Faire are: plastic water bottles (plus leave some in the car), small bills of cash for tips and spending, hats for the sun, comfy shoes and a camera.
Here are a few more pictures: