Sparta, NJ
June 2014
When my husband was off for a week this June, we wanted to go to a water park.  After a bit of looking it was decided that we should go to Tomahawk Lake in Sparta, NJ.  This place has been on our to visit list for a few years now, so we packed our cooler with lunch, grabbed towels and a change of clothes and headed that way.
First, let me begin by saying that because we were heading there in mid-June on a weekday.  Most water parks have school groups only on weekdays in June, and then public on the weekends.  This was one of the places that opened to public at that time.  We were there on a Thursday, so the place was not crowded.  There were some teens there in small groups, and a bit of waiting here and there by the slides, but it wasn't bad at all.  We pretty much had the place to ourselves.
When we came, we paid the admission fee, which was $11.00 a person. Then, once parked, we paid $12.00 a person for a wristband that allowed us unlimited waterslides. It was well worth the price.  They have a total of 7 waterslides and that's what we came there to do.  In fact that's all my kids wanted to do.  My boys are 7 and 12, and their friends were 9 and 13, and of course the parents.  The waterslides were great for this range of ages.  However, if my son was younger, he wouldn't be able to follow his brother and friends on most slides, and that would make for a very unhappy day, so I am glad that we waited a few years before going there.  This way everyone enjoyed the place to the fullest.  There are several great areas for younger kids and they looked amazing.  I just know that my youngest would only want to be where the big kids are, so it worked out well for us that he is a bigger 7 year old that can swim.
Most waterslides empty out into the lake below, with a lifeguard sitting by each opening.  Even so, some of the areas of the lake where you'd come out were 6 to 9 feet deep, and you had to swim out while holding your tube.  Sitting Bull, Apache Plunge, and Crazy Horse my little one could all do by himself, and he did, over and over again.  Apache Plunge is a four person raft that goes out into a shallow part of the lake, and the other two empty out into a shallow pool.  On Rocky Mountain and Black Snake you can ride double, so one of the adults would go with the little one, and swim out with him and the tube.  Sioux Slide however, is a single.  As I mentioned, my little guy can swim, so I agreed to let him go on the Sioux Slide.  I stood right by the opening and waited for him to come down.  He came down fine, but got disoriented at the end, which is what I was worried about.  I had to fish the tube out for him.  Maybe next year he can go on that ride more then once.  The big kids enjoyed all rides, but especially Geronimo: a very steep slide that makes you skim far across the lake.  The kids loved it.  I tried it, once, that was enough for mommy.
I have more to say, so scroll past these three photos of the slides :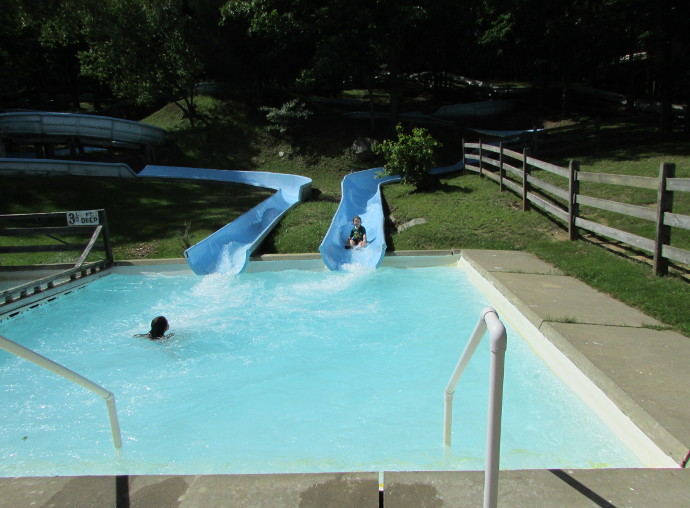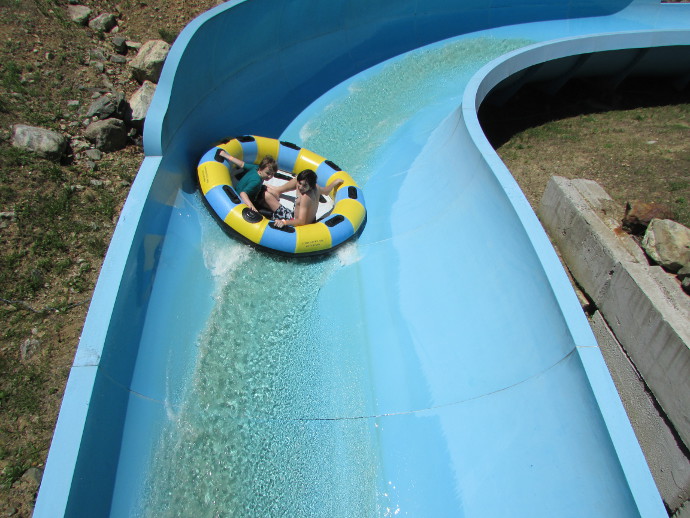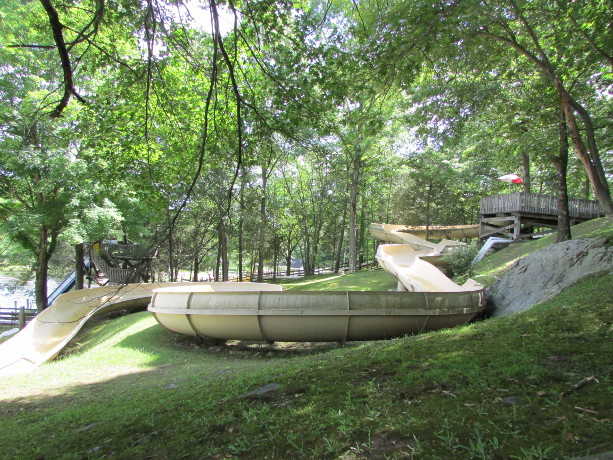 We had a great time on all the slides, and everyone got quite tired. One thing worth noting is that there are no shoes allowed on waterslides, water shoes only. The paths leading up to the waterslides are paved, and hot. Kids had water shoes, I did not. At the end of our trip my feet were well exfoliated. In other words they were on fire and hurting. Note to self: next time bring water shoes.
The playground area for the little ones looked wonderful. Once everyone was exhausted we sat in a shade around a picnic table and had lunch. The adults just laid back and relaxed, while the kids went to play on the blow up lily pads on the beach below. The best part was the frogs we found while playing!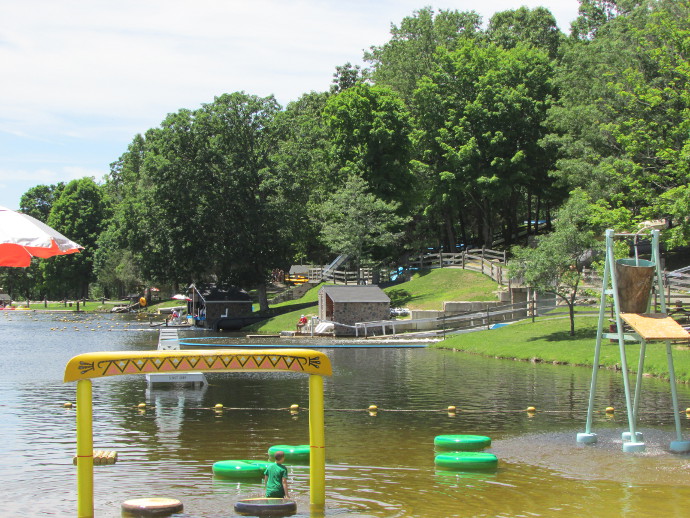 There was a little kid area that looked wonderful, but my big kids were just too big for it.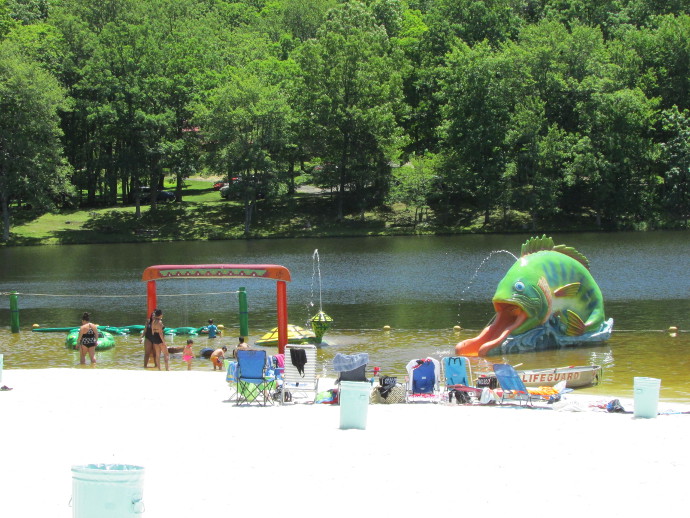 Couple more things worth noting.  The beach was immaculate, the bathrooms were clean, there was a food stand, an ice cream place and a bar.  There are also several other attractions: Row Boats, Paddle Boats, Swan Boats, Bumper Boats, and mini golf all cost a little extra.  To be honest, between the waterslides and the beach area there was plenty to do to fill our day, and we didn't feel the need to do any of the extra activities.
Overall it was a great day!  Here is their website with all the information, directions, admission prices and so forth: http://www.tomahawklake.com/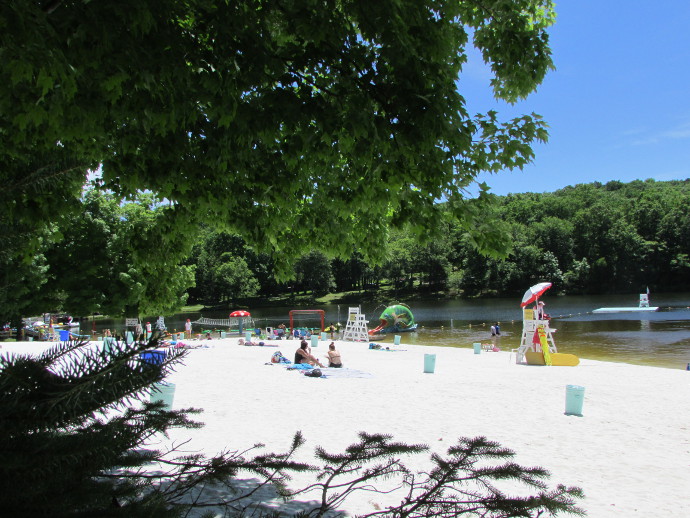 I hope you enjoyed coming with us on our visit to Tomahawk Lake!