Mountainside, NJ
At least every month for the last 15 years!
Trailside Nature Center and Watchung Reservation is a wonderful place to visit with your family! However it has seen some changes in the past few years. The old dam has been rebuild into a brand new dam. Lake Surprise does go up and down in water levels through the season. Sometimes it resembles a muddy pond, sometimes a beautiful full lake.  The trails are still wonderful, and the forest is still magical. The playground is always fun, and the museum is still fantastic. 
Here are some of the more recent photos of our visit from this year. I was focusing more on taking some pretty photos, and less of a functionality this time. However, I promise that the next time we are there, I will take some more practical pictures that give an even better idea of what it looks like, and what to expect!
The Nature Center is a free museum. The kids, especially the younger ones will have a blast there. Since we live nearby we come here often, and my kids still enjoy it. They also offer classes at a very good rate, and my kids loved it when they were little and a bit older. You can also celebrate your kids' birthdays there at a reasonable price, or schedule a class for a group. Throughout the year they have many activities, fun events, fairs and performances.
You would have to check their website for the schedule.  Here is the WEBSITE with their info, including hours and directions.
When you are at the Trailside Center make sure to pick up a map with hiking trails. Watchung Reservation has many wonderful hiking trails to explore. Lake Surprise isn't quite a lake, it's more of a marsh, and the water levels go up and down through the seasons.  There is a brand new dam that was constructed, so hopefully this will help the lake.  There is also a brand new playground that was built this year for kids to run and play in.
We love hiking and do it often. Watchung Reservation has got to be one of our favorite places to hike. There is an abundance of trails, you can enjoy a long hike or just go down to the lake and back up for a short hike. There are many trails and getting lost is a possibility, so make sure to pick up the map of trails at the Nature Center! The staff in the Nature Center at the front desk is very knowledgeable, and I highly recommend asking them all your questions prior to embarking on the hike.  We explored many trails, and have a favorite: it starts by the nature center, we go down the orange trail, a bit of the blue, then we turn left, and follow the stream away from the Lake Surprise. We go all the way until we are down below the Deserted Village, from there we cross the stream and go back.
In our adventures we have spotted box turtles, snapping turtles, and one time stepped into a snake den, where a water snake was in the middle of eating a giant toad. We also have seen an albino deer, he was completely white, and absolutely awesome. We have encountered frogs, ducks, damselflies, and wasps (yes, we got bit).
There is a great playground and a meadow in the center of the park.  It's the Loop Playground, and kids love it.  They just rebuilt it a few years ago.  There is lots of shade, and a gazebo.  The fields around the playground are great for kite flying, or Frisbee, or soccer, or anything else you might like to do.  They also have the standing fire pits for bbq there.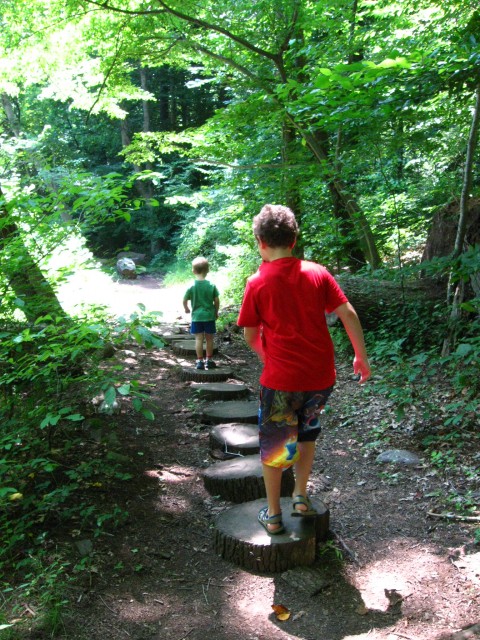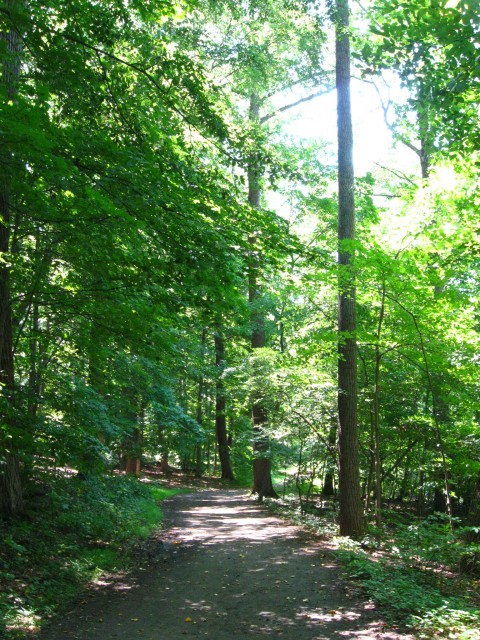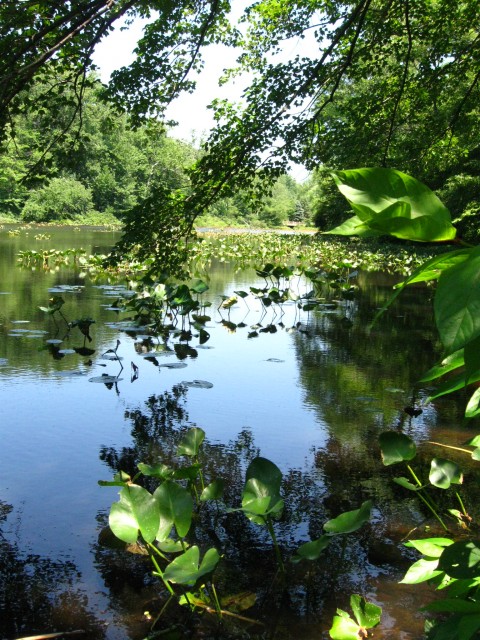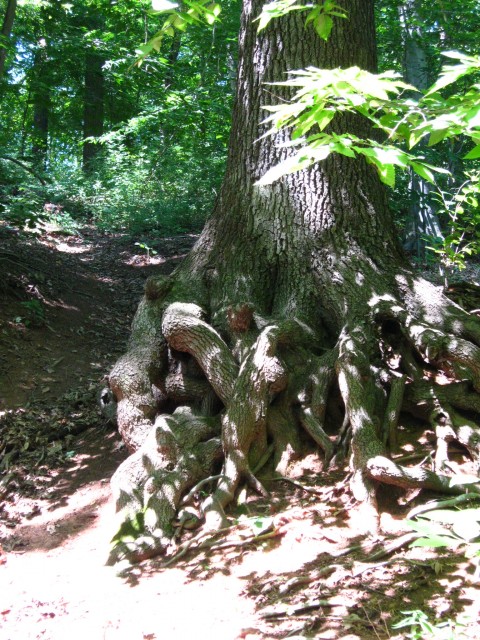 That is the old dam, it is no longer there, and has been rebuild to a brand new dam that is not nearly as much fun.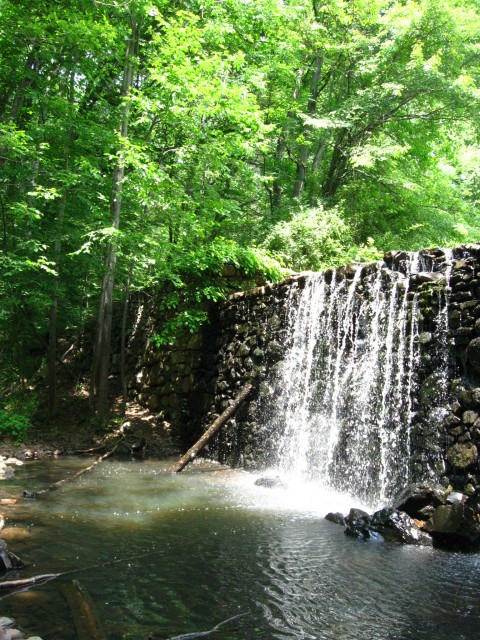 Deserted Village in Watchung Reservation is a great hiking destination.
There is a long history to this place, read more about it HERE.
You can park in the parking lot, or hike. It was a long hike, especially with little kids, a little more then an hour from the Nature Center starting point. Last time we went it was with a few good friends. It helps going with good company. Behind the village we came down the steep slope, a bit off trail, and into a shady ravine with a stream. That is where most of the fun was to be had. All the kids promptly took their shoes off, and were splashing barefoot through the stream. There were some fallen trees across the ravine that everyone had fun climbing, and some big rocks you could go on across the stream also. Everyone had so much fun!
Here are a few photos of the Deserted Village and the stream below it.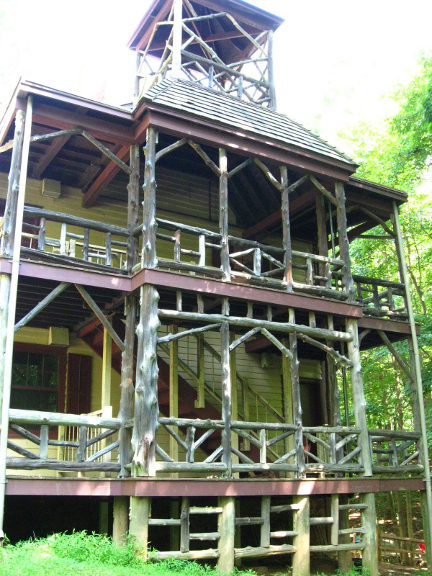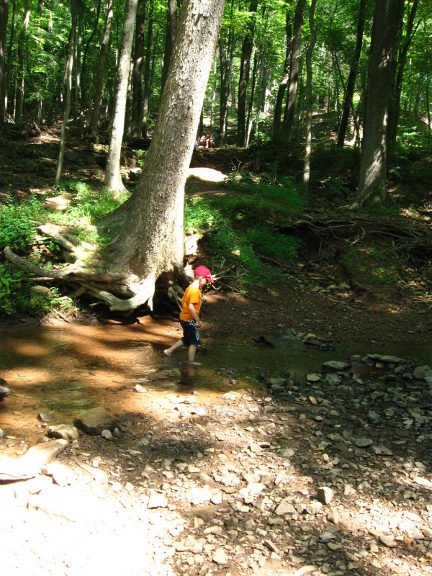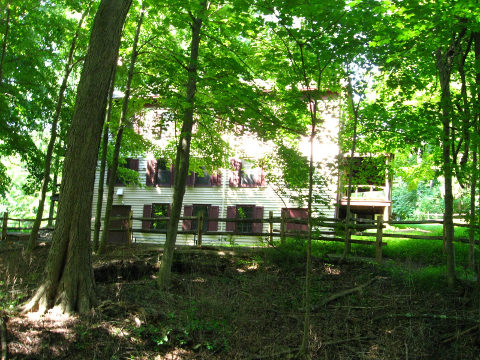 If you love horses, the Watchung Stable is adjacent and a short ride away.
It truly is an amazing place, with so many things to do and see.