Here are some of our favorite great chapter books. We have enjoyed these right after my kids moved past picture books, but weren't ready yet for bigger books, such as Harry Potter, and many others. These are funny, light, and are a great next step from picture books.
***This page contains affiliate links. If you click on the title you will be taken to the amazon page for that book.***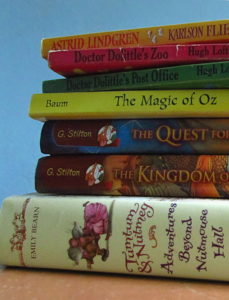 50 Great Picture Books For Young Kids
1. The Little Prince by Antoine De Saint-Exupery
2. The Secrets Of Droon By Tony Abbott. There are about 40 books in the series, and we got through more then half of them.
3. My Father's Dragon, Elmer and the Dragon, The Dragons of Blueland by Ruth Stiles Gannett
4. The Magic Tree House by Mary Pope Osborne.
5. Geronimo Stilton Adventures by G. Stilton. There are also the Thea Stilton Adventures, which my big kid liked very much when he was younger.
6. Captain Underpants by Dav Pilkey. Some good old fashioned toilet humor.
7. Tumtum and Nutmeg, Adventures Beyond Nutmouse Hall by Emily Bearn. This was my sons favorite book for a really long while. There are several books about Tumtum and Nutmeg, and each one is kind and gentle, and full of magic.
8. The Adventures of Dr. Dolittle, The Voyages of Doctor Dolittle and many others by Hugh Lofting.
9. The Chronicles Of Narnia by C.S. Lewis
10. Pippi Longstocking by Astrid Lindgren (there are a few books, and all are good for both boys and girls
11. Karlson, Who Lives On The Roof by Astrid Lindgren. There are three books in this series, each one is very funny
12. The Magician's Boy by Susan Cooper
13. The Cricket in Times Square by George Selden
14. The Wizard Of OZ books by L. Frank Baum
15. The Borrowers by Mary Norton
16. Stuart Little, Charlotte's Web and more, by E.B. White
17. The Indian in the Cupboard, The Mystery of the Cubboard, The Secret of the Indian by Lynne Reid Banks
18. The Magic Finger, Matilda, Charlie and The Chocolate Factory, Charlie and the Glass Elevator and many many other books by Roald Dahl
19. Spiderwick Chronicles Tony DiTerlizzi and Holly Black
20. Magic Tales by Edward Eager: Half Magic, The Magic Lake, Seven Day Magic, Knight's Castle, The Well Wishers, and The Time Garden.
21. The Castle in the Attic by Elizabeth Winthrop
22. Secret of Platform 13, Island of the Aunts, Which Witch, The Ogre of Oglefort by Eva Ibbotson. Eva Ibbotson's books are filled with wonderful magic that kids of all ages will enjoy. My boys loved these!
23. Five Children and It by E. Nesbit
24. Mr. Popper's Penguins by Richard and Florence Atwater
25. Little House in The Big Woods by Laura Ingalls Wilder. I have boys, and they enjoyed this book thoroughly.