Lacey and Berkeley Townships
July 2014
This is one place that we went to last summer that I keep meaning to mention, and finally got to it.  I wanted to make sure that I put it here before the hot days of summer because it is a wonderful place to go and cool off in the summer time.
It is quite a distance from where we live, the drive was easy enough: just take Gardens State Parkway, and the park is very close to the exit, but it was a long drive.  My kids and I went there to meet some friends and spend a few hours by the creek, cooling off.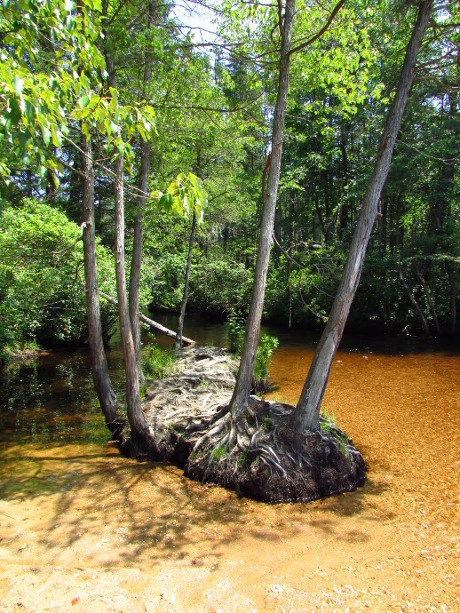 This state park is unassuming and quiet, and I like it that way.  Unlike many other state parks, this one doesn't have an entrance fee.  When we got there we parked on the sandy parking lot, at what I think is White Bridge, grabbed our chairs and walked (3/10 of a mile) to the Cedar Creek.  The walk from the parking lot goes through the Double Trouble Village: The Pine Barrens Company Town.  The State Park Website has a very informative map for the Company Town, you can find it HERE.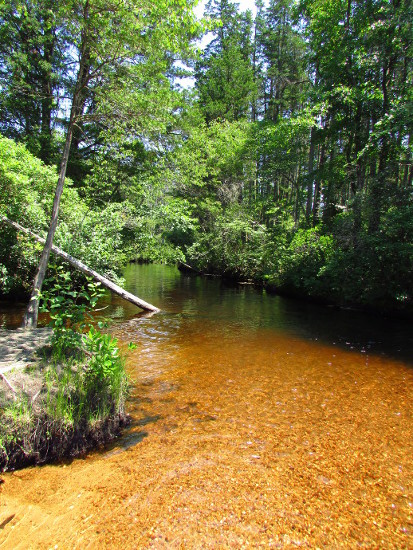 We all got to sit under a cool shady tree, enjoy the sound of the running creek.  The kids explored the area around us, and there is plenty to explore there.  We enjoyed a delicious lunch, and also found some blueberry bushes by where we were.   The creek water is a lovely tea brown.  It is clean and clear, and gets it's tea color from the tannic acid from the roots of the cedar trees along the bank.  There is plenty of life around the creek for the kids to explore.  There is no swimming allowed in the Double Trouble State Park, but the kids waded around on their feet, exploring, and you could canoe or kayak there if you bring your own canoe or kayak (there are none to be rented at the park).   The older kids also went on a hike around the park.
Next time we go, I would like to explore the hiking trails that take you through the park.  Double Trouble remains an active cranberry farm, and I would love to go there at the right time to see the harvest.
There is also a bit about the Double Trouble Mystery Spot in the Weird NJ Magazine.  My big kid enjoyed reading this after we went.