Peddler's Village, PA
May 2013
The kids and I were headed to Bucks County, PA, to run some errands. To make this routine trip more fun for them I like to pick a cool place to visit in that neighborhood. Some place that we haven't been to before. This time I chose Giggleberry Fair on friend's recommendation.
Giggleberry Fair is located in Peddler's Village, PA. On it's own Peddler's Village has many shops, outlets, restaurants and much more to explore. There are some truly outstanding stores there. To see their full list of shops, visit this WEBSITE .
This time we were there just to visit Giggleberry Fair. It was a weekday, so not crowded at all. Giggleberry Fair has a wonderful restored Carousel. It has quite a long history, and you can read about it right HERE.  The carousel is beautiful, and even my all too grown up almost twelve year old enjoyed riding on it. Because it wasn't crowded, we were able to go on quite a few times.  I should mention that when you buy a full day pass the rides on the carousel are unlimited.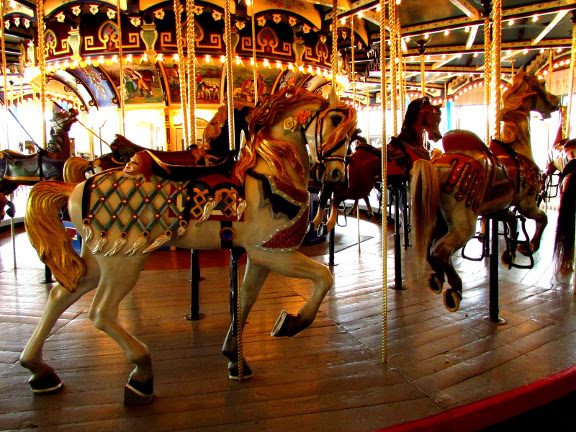 For children aged 6 and under there is the Giggles Discovers! area and it looks to be a lot of fun.  We took a peek, but my 6 year old wanted to do what his older brother was doing, which was the arcade and the Giggleberry Mountain.  Giggleberry Mountain is a large obstacle course and maze. It has six floors, and a ton of foam berries (balls) that you can shoot, put into a 'berry fountain', vacuum, throw at each other. I enjoyed the Giggleberry Mountain as much as my boys. Though the website states that it is designed for children aged 6 -12, I stayed on the ground, filling the fountain with the balls and shooting it at my kids. Also, obsessively vacuuming the 'berries' of the floor, that was just my 'cleaning mommy' self taking over.
Here is the WEBSITE for Giggleberry Mountain.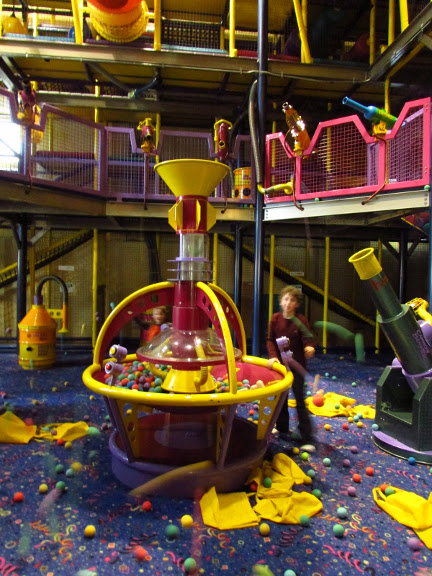 The arcade there is clean, and the folks working at the place very accommodating. The machines swallowed our coins a few times, and once we spoke up it was taken care of right away. There is someone there ready to assist, and you don't have to be running around, looking for a person to help you. The games at the arcade were good for the younger kid, and for the older one. There was also a giant touch screen Fruit Ninja game for the ultimate Fruit Ninja in our household, mommy.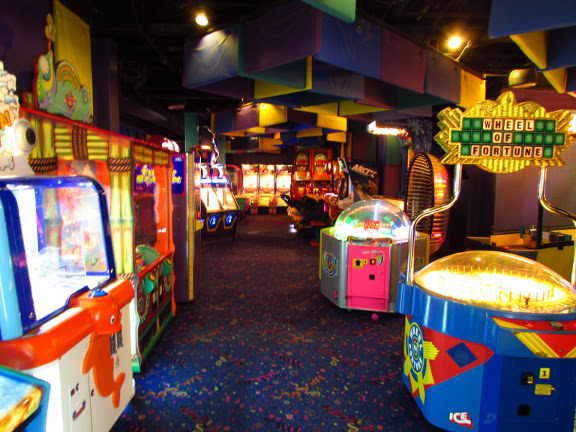 If you get hungry, they have a menu of food available. Mostly it's the usual pizza, french fries and chicken fingers. We didn't eat there, but it's available.
Overall the kids enjoyed it very much. The little one keeps asking to come back there soon. We easily spend two hours there. They also have specials, different activities, and you can celebrate your kid's birthday there.
When we got there, we paid $12.99 per kid for the Child Activity Package. It gets access to Giggleberry Mountain, giggles Discovers! and unlimited Carousel rides. I felt that it was a good price for all the activities there. To see all the pricing and information please go to their site HERE.
The Carousel was so pretty, I took some more photos. Here they are: