I love trying out new crafty things. For many years I have wanted to try preserving flowers in resin. Specifically to preserve flowers.
This will be a rather short post, as there was no real need to take photos along the way, but more just to explain what I did, and what mistakes I made.
Here is my first semi-successful batch of cast resin flowers: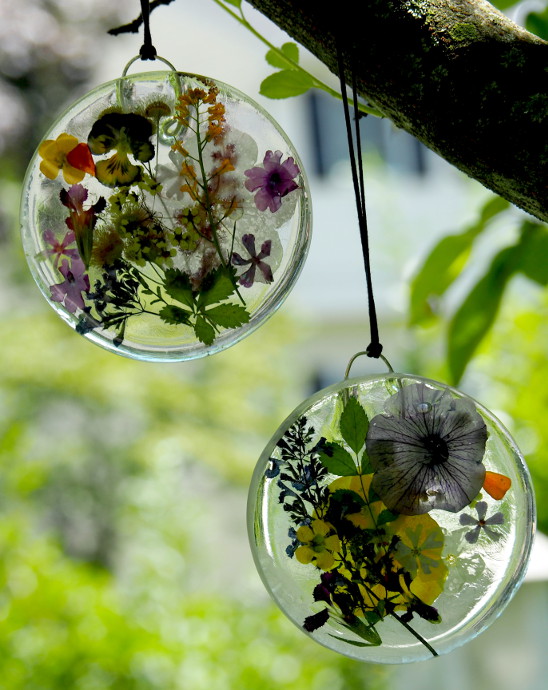 I have made a ton of mistakes making these, and I will talk about them along the way.
***This page contains affiliate links.***
Let's start by talking about the supplies.
Resin: I bought Art N' Glow Clear Casting Resin. It worked out fantastic. The smell was really minimal. I did this in my garage, and it was totally doable.
Molds: I got two different kind. The big circle ones and the small jewelry one.
What else you will need: Some plastic clear cups (I rescued some used ones after a party and gave them a good wash), Popsicle sticks (you don't need to eat all the Popsicles for this, instead buy them). , fine grain sandpaper (I had 150, 200, 400, 1000 and 3000 at home).
Dried flowers: Get an old notebook, and spend some time gathering flowers and drying them inside your notebook. The flowers need to be completely dry for this.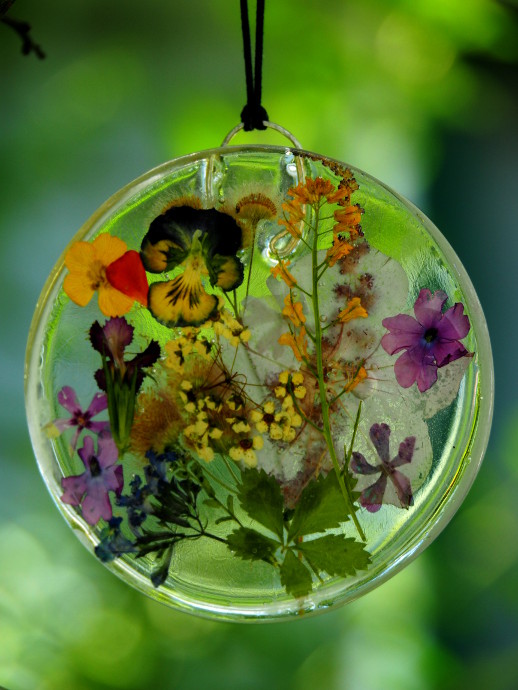 Preserving Flowers In Resin: The Basic Rules
The Ultimate Rule: Read the instructions that come with the resin!!!
Rule 1: Measure your resin according to instructions. The Art N' Glow measurements are exactly 1:1. This is where clear plastic cups come in very handy.
Rule 2: Mix your resin super duper well. Seriously!!! (My Mistake #1). The first time I did it, I didn't mix enough and got a lot of soft spots. Ruined the flowers and had to throw the whole thing out. It was horrible. I recommend measuring it out in 2 cups, pouring it into a new cup, then stir slowly about 200 revolutions. If you stir too fast there will be bubbles (My Mistake # 2). Once you are done stirring pour the mixture into a new fresh cup, stir some more.
Rule 3: Make sure your molds are completely clean and dry. I don't have to explain what happens if there is debris in the mold.
Rule 4: Make sure your flowers are moisture free as well. If there is moisture, the resin might not cure properly, and the flowers will rot overtime inside the resin. You have to make sure your flowers are completely dry before using them in resin. If there is any moisture retained in the flowers, they will turn brown inside the resin. I dry mine in between notebook pages for about a month prior to using.
Rule 5: Make sure your working surface is level! Also, relatively clean. Don't forget to put plastic down to protect it.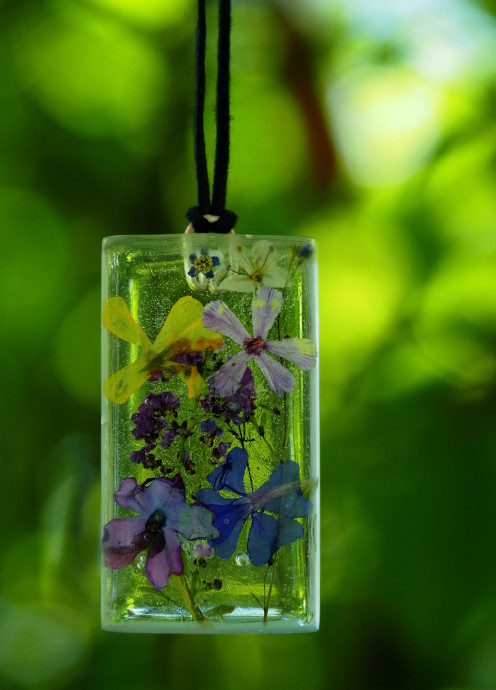 List of My Mistakes:
Not stirring enough will result in having liquid and uncured resin. It will never cure if you don't stir enough.
Stirring too fast will result in bubbles through out your resin.
The round resin sun catchers were initially meant to be coasters. My surface wasn't level and they became a bit uneven.
Last, but not least!!! The flowers are lighter than the resin. Pour half the resin into the mold, then arrange your flowers on top of it, and then pour the other half. I didn't know that, so I poured all my resin that I was going to pour into each mold. Put the flowers on top of it, only to realize that submerging them will be problematic. I wound up having to add resin on top, thus making the coasters/sun catchers twice as wide as I intended.
Also, I messed up a bit more and had to sand down the sides and some of the back. It came out frosted, and I kind of like that look. It would be easier if I didn't need to do that though.
The loops on the back of each sun catcher is just a bit of curled and hammered wire, resin-ed on.
I am going to leave the comment section open on this one, so if you have any questions, or if I forgot to mention something, please ask away!
I will do another go at these, and update this page when I do.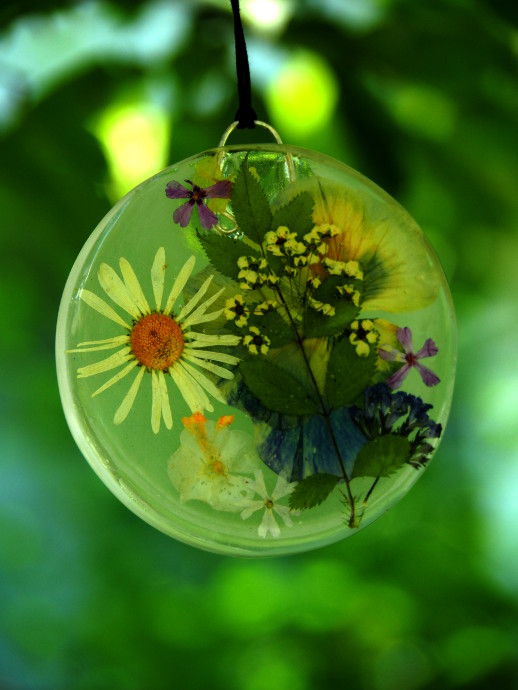 Another cool art project you might like:
This is a very detailed step by step art lesson. It is not just an acrylic painting lesson. I started with just a sketch, and then I had the crazy idea to do 10 different renderings of the same sketch using all the different materials. There are two detailed instructions: one for acrylic and one for colored pencils. Plus, the results of all the other renderings of the same sketch.