Robert H. Treman State Park
Ithaca, NY
June 2016
To be completely honest this is not exactly a day trip.  We drove for 4 hours to Ithaca NY, and stayed there overnight in Robert H. Treman State Park.  Here is our new and updated visit to Ithaca, NY.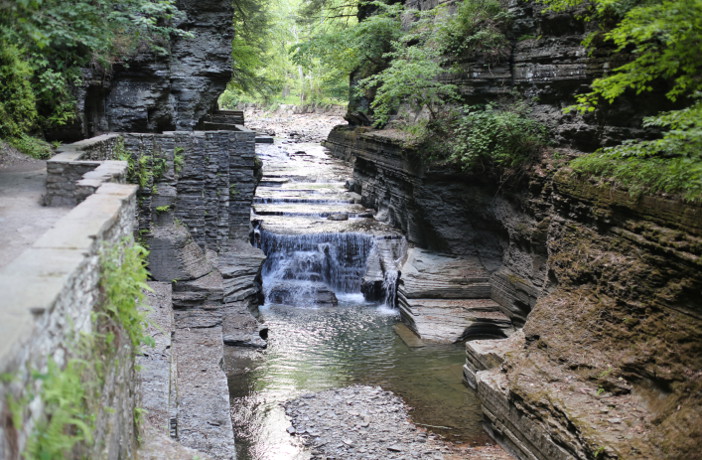 ***This page contains affiliate links.***
This is our second camping trip in Robert H. Treman State Park. This time around our kids got too old to want to go with just their parents, so we were joined by some of our wonderful friends.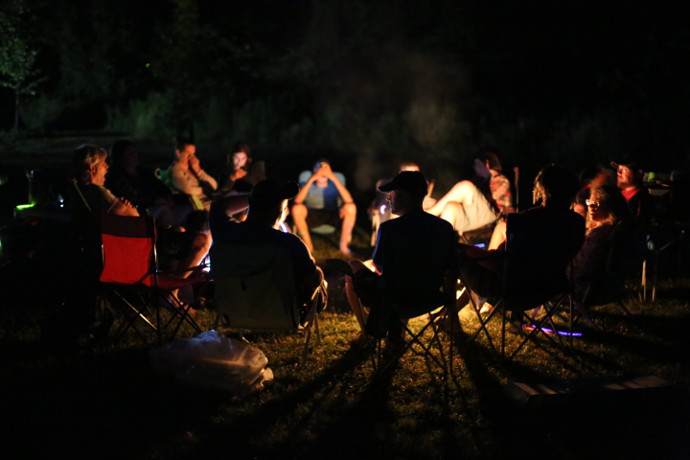 Before we reached our campground, we explored Ithaca for the day. The campground check in is at 3 pm, and we got to the town at about noon.  We finally made it into the famous Moosewood restaurant. It was a delightful vegetarian meal. The two teens (ours and a friend) did not want to go for a vegetarian meal, so we gave them some money and sent them loose in town. They thoroughly enjoyed themselves (I think they had a Subway sandwich (silly teenagers)) and explored the town. Back to Moosewood. The restaurant is located in The Dewitt Mall, and there are lots of stores to explore in the mall itself. It is a small mall (not NJ), and is really adorable. I have to give a shout out to the Guitar Works of Ithaca. It's located right next to Moosewood. When I came in and asked if it would be alright to take a few photos of their store, because it is a gorgeous store filled with hundreds of beautiful guitars, the owner was very kind and lovely. If you are in the area, do check them out.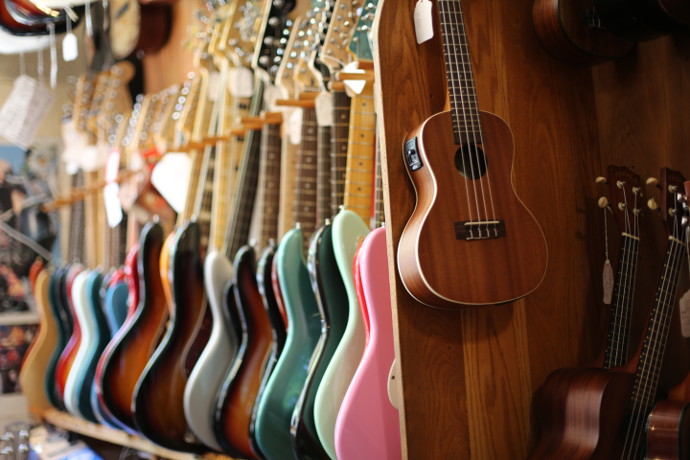 Last time, in 2012 (see below for details), we rented a cabin. Overall, I found that I prefer a tent. (We have had the same tent for close to 15 years, it was time to let it go, and we finally found a tent we love: Coleman Hampton Family Tent). The cabin was just not for me.  This time we rented several tent spots. Specifically, our spots were 58, 59, 60 and 61. What I didn't know when I made the reservations is that these spots were in a relatively open field. There are a few trees scattered here and there, but it was mostly open. When a friend called and found out (I didn't even think to ask that), I panicked a bit. We wound up getting a canopy from a local store that is only 5 minutes outside the park.  It was Chapter 13 by 13 Instant Canopy, and luck for us it was on sale that day, and relatively inexpensive. However once we got there it wasn't so bad. First of all, we didn't spend the majority of our day on our spots. We hiked, swam, and walked. When we did stay in our spots, the canopy came in very handy, especially during lunch time. Secondly, the shadier spots actually were much darker and more damp, so that's a trade of. Lastly, we could see the stars at night. So many stars! Not a usual thing to see for someone that lives next to NYC: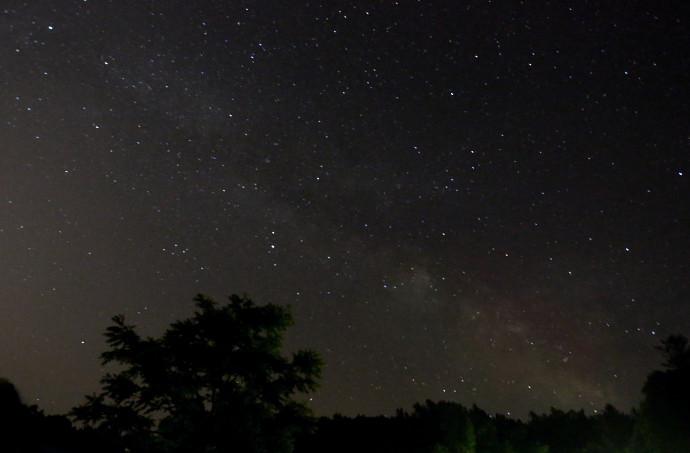 You can make the reservation by going HERE.  The park is beautiful, as before. We enjoyed our hike tremendously. It was long, and difficult.  Some of our group went for the full hike, starting at the bottom of the Rim trail, hiking up, and then going down the Gorge trail. Some of our group met us in the upper lot to just do the second half of the hike, the Gorge trail down. We explored every water space along the way, and the views don't disappoint one bit.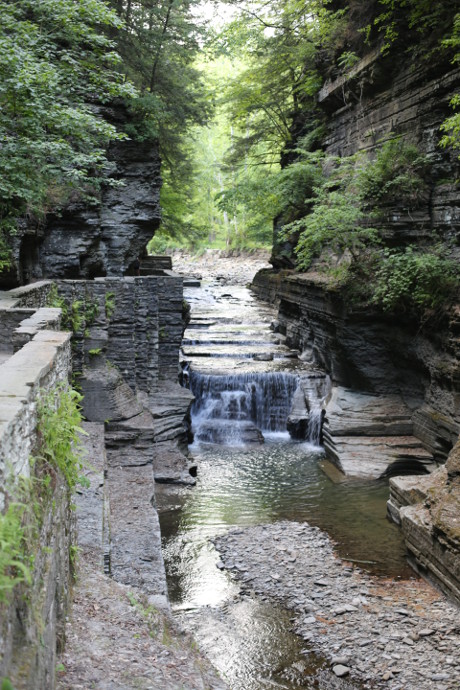 The kids and adults had a great time exploring.  I think my youngest is traumatized though, he didn't like the last mile or so, because his shoes started to bother him. He made it out though, and went to cool off in the official swimming hole.  The best investment I made this summer are inexpensive water shoes I got for everyone in our family. I think they were under $5.00 when I bought them, and they have served us all again and again for the second year in a row. Bring the cheap water shoes!  It was the first weekend that the swimming area was open, so it was quite crowded.  They were also in the process of filling it up, so there was lots of rock dust in the water.  The water felt nice nonetheless (the photos are the day before it was open, that is why no crowds):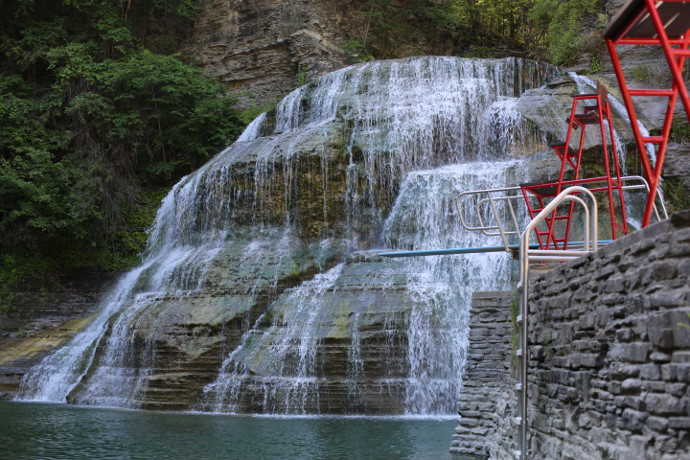 On the last day (we were only there Friday to Sunday), we checked out early and went to see Cayuga Lake and Taughannock falls. The lake was beautiful! I would have loved to stay longer: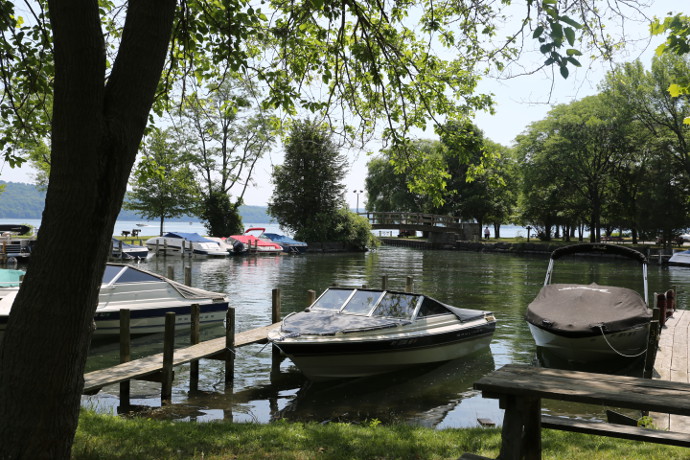 The hike to Taughannock falls was really easy: a straight, even mile. No ups, no downs. The cool part of the hike was that during our visit, it was really dry, and you could hike most of the way on the almost dry river bed. That part was absolutely magical. I could spend ours there, exploring the little pools of water, and happily skipping along: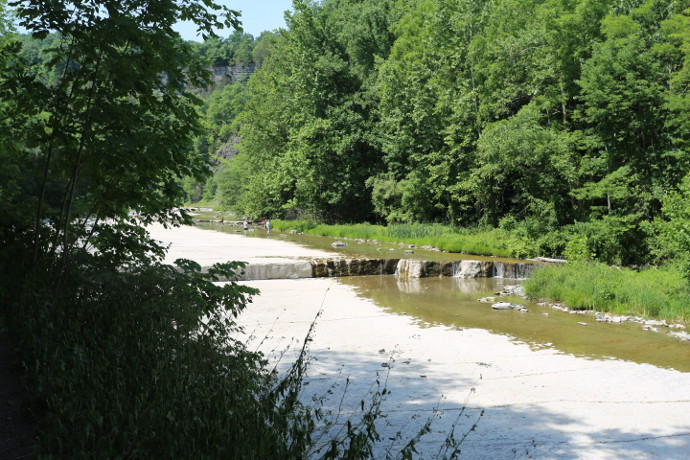 The falls themselves were beautiful, but on the dry side this time around.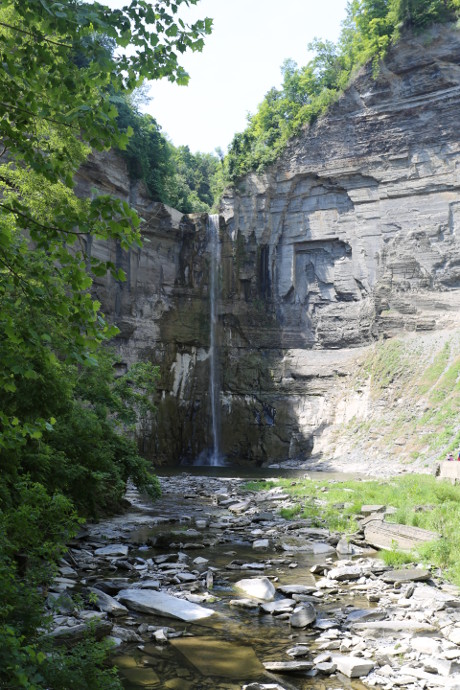 I think for the next time we come back, we will have to stay longer and explore a different park every day.
---
September 2012
We rented a cabin there.  You must make reservations.  I made them through the NY State Parks website right HERE.  The reason we came up was to hike, so while we didn't get to see the town much, we thoroughly explored and enjoyed the wonderful park that we were in. We only had two days to stay there, during a long weekend. This place was amazing, and hard to believe, until you see it with your own eyes. While NJ, NY and PA offer many beautiful places to visit and see, I honestly didn't expect something like this so close to where we live. It is breathtaking!
We got there by about 3 in the afternoon. The cabin wasn't ready yet, so instead we went to the swimming area. It's right under a waterfall, and the water was cold, about 60 F. It was the last day to swim. Despite the cold, it was an amazing place to swim. The water was so clean, and just beautiful.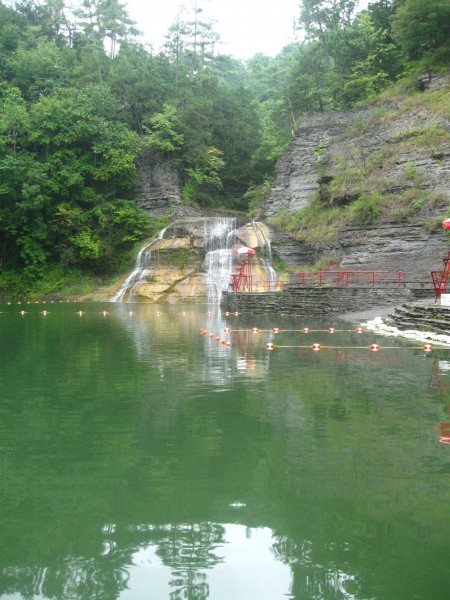 The cabins were simple, just 4 beds and a small fridge. It was raining, but that never stops us from enjoying things. There was a playground nearby with a good old fashioned seesaw. The kids had a blast on it, with the two of them on one end and me on the other. I am surprised that thing didn't break under our combined weight. We took a few small hikes around the swimming area with our umbrella and a rain jacket, it was lovely. We had a nice fire going outside. The kids roasted hot dogs on long forks. It was a nice evening. Right before bed time we were visited by a skunk. Everyone stayed really quiet, and then slowly moved into the cabin for night time. No one got sprayed.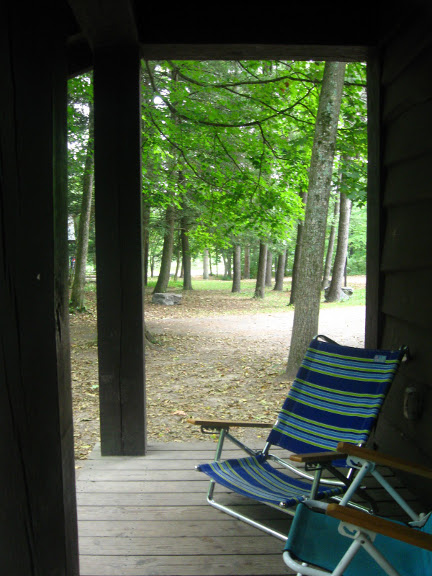 The night was tough. I think a combination of an unfamiliar place during the night, plus the excitement and how tired we were from the ride. The kids had a hard time falling asleep, but once they did they slept the night through more or less. My husband and I couldn't fall asleep, and then couldn't stay asleep. I think we sleep better in a tent as a rule.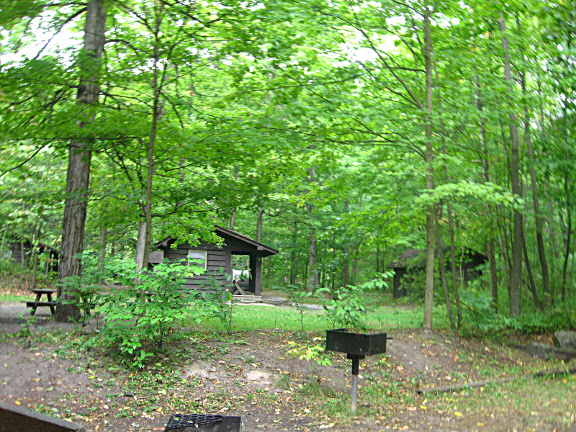 In the morning we woke up, and since it was not raining we decided on making the hike we came there to do right away. We didn't have much breakfast, but packed a few sandwiches, cereal bars, and water, just in case.
We set out on the Rim Trail. It goes all along the rim of the cliff, hence the name. It opens up some really beautiful views onto the waterfalls below: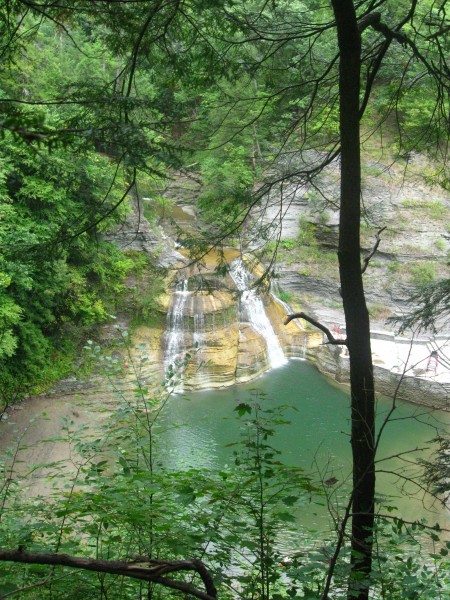 The Rim Trail goes all uphill for the most part. About a half way through we came to a small detour toward this lovely little waterfall, where we were able to cool off, and rest:
We headed back to the trail. From there on it was all the way up. It was green, the air was amazing. At some point we came to a staircase. It is called the 'Cliff Staircase'. We almost turned around because of how daunting they looked. I am really glad we decided to keep going. Many amazingly beautiful steps: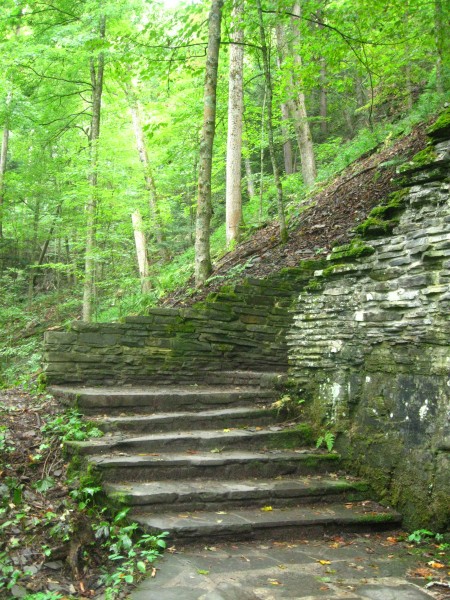 On the top of the stairs there were some unbelievable views onto the Lucifer Falls and the gorge below.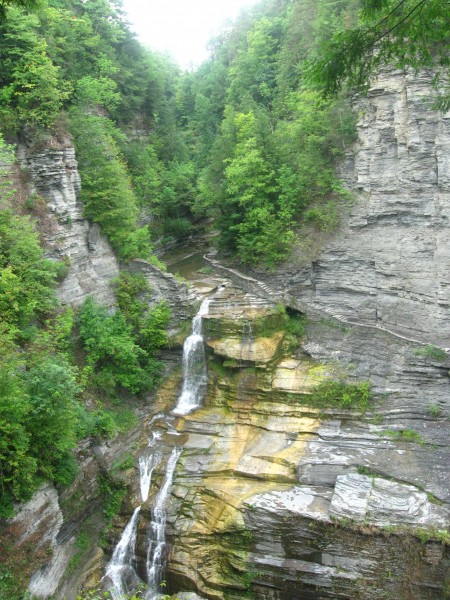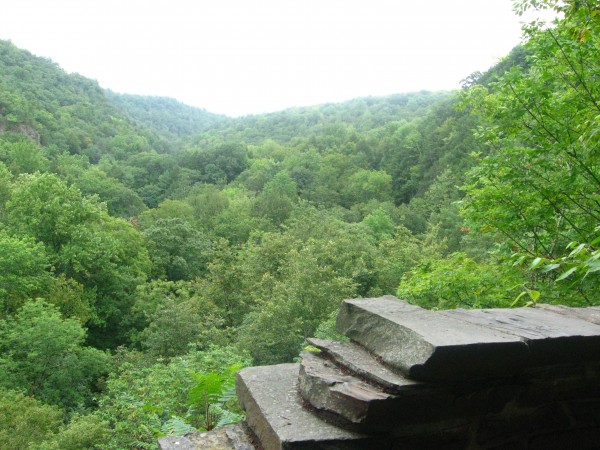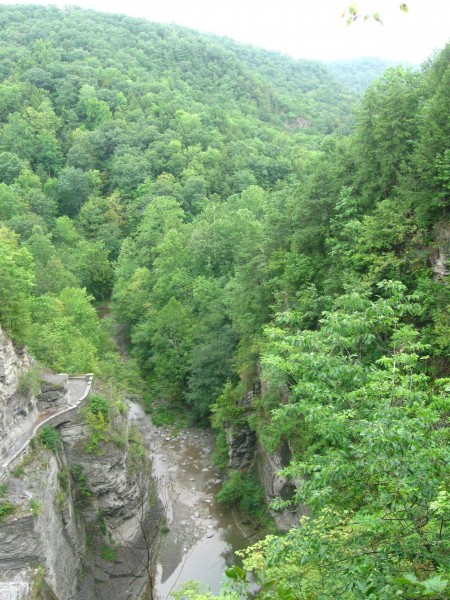 The rest of the Rim trail went a bit downhill, and was easier. Finally we came to an old mill, there were bathrooms and a parking lot. It's the Upper Park of the state park. Behind the mill there was a small waterfall. I had a calendar as a kid with the picture of that waterfall on it. I always felt like the pictures on the calendars were in far off, unattainable places.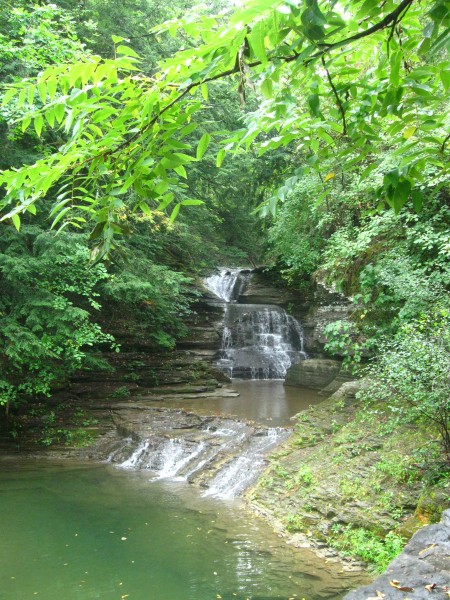 We crossed the lot, went across a bridge, passed the camping/cabins area and got on the Gorge Trail. The vista that opened up was beyond anything that I have ever seen. The trail was going on the side of a cliff, with a bridge over the falls, and then more cliff trail. Again really high, and the water was amazingly clear.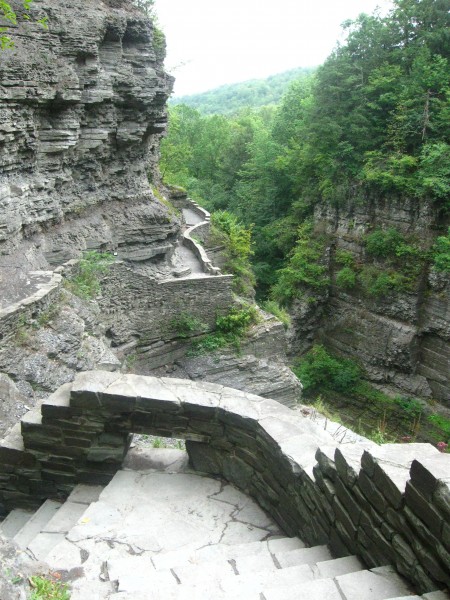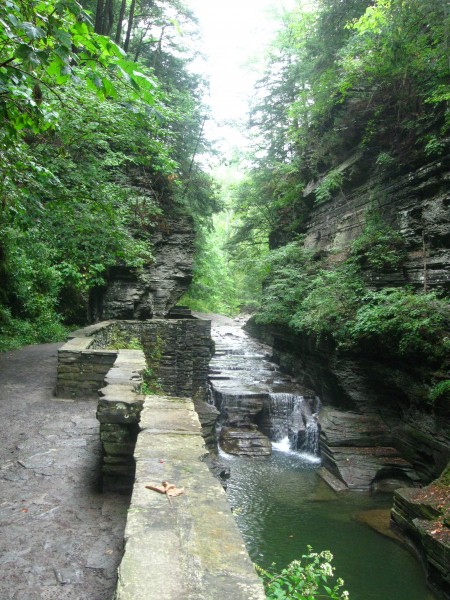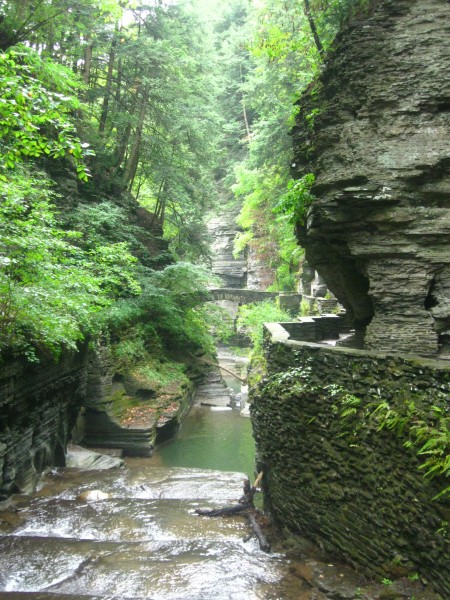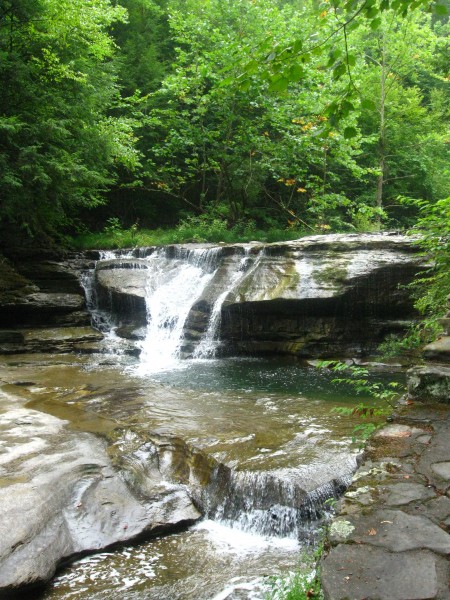 The hike was long and with two kids it was not easy, but worth every step of the way! I hope to come back there again soon!