This entire time I though I had added Our Visit to Hurricane Harbor and Six Flags to our happy travels. I looked, and alas, it's not there.  I will just have to do it right now!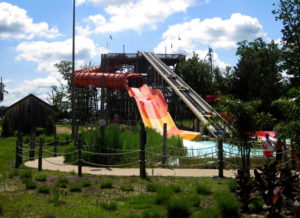 Every year we go to Six Flags, whether it's the theme park or the water park. In the past, when the kids were younger, we used to do the Read To Succeed Program. It worked well. As they got older, they no longer qualify for it, so now we either get tickets, or this year, we have passes for the three of us (and we bring Dad as a friend once in a while). Many of my kids' friends love going there to just meet and walk around and have a bit of a good time. Since we live quite far away, we don't make it there that often. I imagine we'll go more when the heat eases off.
Six Flags
***This page contains affiliate links.***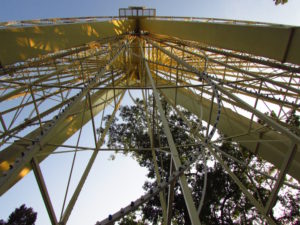 There is sometimes a Groupon available for Six Flags, be sure to take a look. However, there are always sales and deals going on, so keep your eye out for a good deal, and check multiple sites (including Six Flags!). For example, the price on Groupon is 39.99 in the above link, however, the price on the Six Flags website is 47.99.
Last summer we went to the Six Flags park for my little guy's birthday. Unfortunately, turned out that he is not a fan of rides. Just like his mother.  He only liked select few.  The teenager though, he really had fun with all his friends riding on almost everything.  We enjoyed our time there. It was a nice and sunny day. Though from experience, the best times at Six Flags were always had by us on an overcast day, especially if we went in the second half of the day.
There is no food or glass bottles allowed in either the Six Flag Them Park, or the Hurricane Harbor Water Park, so make sure you bring a few plastic water bottles, and a cooler with food. Several of my well-traveled friends swear by this water bottle. I have noticed that more and more places don't allow glass bottles, which is what I usually use.  I might just have to get it.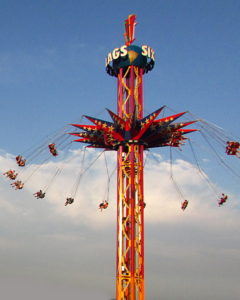 We leave the cooler in the car, and come back to eat. If you have special dietary requirements, the park staff is pretty good about it. Just let them know if you need to bring something in with you food wise, and they put a sticker on your bag for the day. For example, if you have blood sugar issues, and need to eat a healthy (non fried) meal without trekking to your car, or if you have peanut allergies and can't have stuff fried in the oil there. In the past, I have found the park staff very accommodating.  Our dietary requirements are usually not extremely urgent, so it's just easier to keep the cooler with food in the car, and come there to eat.
When we go inside the park we go in nice and light. I bring a tiny camera, a bit of cash, plastic bottle of water and a phone. Same for the kids.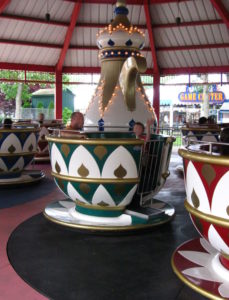 The great thing about this park is the rides. There is just such a variety. From the rides for the extreme thrill seekers (not me), to the simple old-school fun: teacups, sky rail, small roller coaster, bumper cars, and more. There are areas for the littlest ones, and for the teenagers.  I like that it's relatively safe for the older kids to walk about the park (use your discretion of course), and that when I had younger ones, we could stay in one relatively small area.
The park has plenty of shade, but as you are walking you will be in the sun a lot, so make sure you're prepared with a nice wide brim hat, t-shirt, and sunscreen, and whatever else you feel you need.
Hurricane Harbor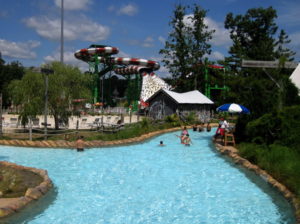 This year so far we managed to go to Hurricane Harbor only once so far.  I am sure that as the weather gets another option besides steaming hot or pouring rain, we will go again.  This is the reason we have season passes this year.  My little one is not a fan of roller coasters or rides, but he loves to swim. He was born part fish I think. It was actually a lot less expensive to get season passes for the three of us for the park then to get a membership at a local pool, which is sort of funny.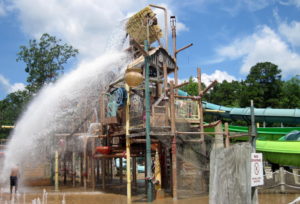 Very similar rules apply to Hurricane Harbor as to Six Flags. They are even  more strict with the no food, no glass rule. We go even lighter to this park. I take nothing but a hat, a few towels, my car key, a cell phone, $20.00 and a tiny camera. I pack the camera, phone and money into a waterproof pouch (which I highly recommend you buy someplace else), and attach the key to my swimming suit. When I inquired about the cost of the waterproof pouch in the park, it cost more then my cell phone. For years and years I have used this kind of simple pouch, but it finally gave in and ripped. I think now I will get a pricier, but comfier version of the water proof pouch that I can put around my waist or wear as a purse.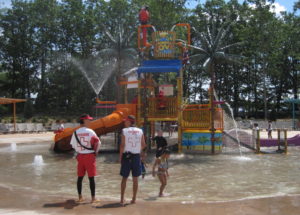 Also, I really recommend water shoes for the park!!! Not old sneakers, as you will be asked to take them off to go on the ride.  Actual water shoes. I bought ours for a very small price a few years back, and they have served us again and again. We were able to go on all the rides in them, and our feet didn't hurt from the really HOT ground. It was wonderful. My teen was complaining that I am asking him to wear them, but at the end was a very happy teenager. It is a lesson I learned in Tomahawk Lake.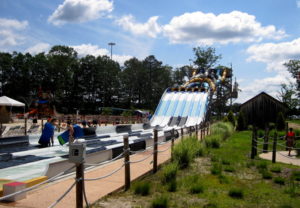 I haven't been to Hurricane Harbor for years.  We got there prior to opening. As soon as we walked in, my friend counted off the amount of chairs we would need and covered each one with a towel. That was our 'meeting spot' for the day.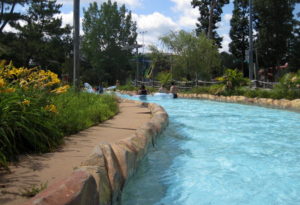 The rides range from very gentle, such as the wave pool (my personal favorite) and the lazy river, to intense water slides that leave you breathless.  The big slides look intimidating, but once you get on many of them, they are not bad at all. There are plenty of kiddie areas, and lifeguards everywhere, so it is reasonably safe.  It took my youngest a little bit to adjust and to be willing to go on a water slide with me. He did, and we went. It was delightful. What's wonderful is that if a kid is nervous, there are lots of rides where you can go together.
Be aware that the lines can be long, and it is super sunny. VERY SUNNY.  Again, I highly recommend going on an overcast fall day. REALLY SUNNY. Did I mention it's sunny? Because it is. I burned a bit. I take precautions and I never ever burn, but I burned, so just be aware and come prepared.
One thing I have not visited in a long time is the Safari.  Last time I went you had to go in your own car. Now the rules are different: you get a tour on the bus. Overall, we really enjoyed our visit to Hurricane Harbor and Six Flags, and hope to come back again very soon.