Scotrun, PA
May 2017
I have been looking at Great Wolf Lodge for years while the kids were growing up. It is quite pricey, and since we generally prefer to swim under an open sky, I have never taken that leap to purchase the stay and tickets there.  This year, an opportunity came up where several friends and I were able to share a room with a significant discount. We decided that it was too good to pass up, and went.  Here is more about our visit to Great Wolf Lodge in Poconos, PA.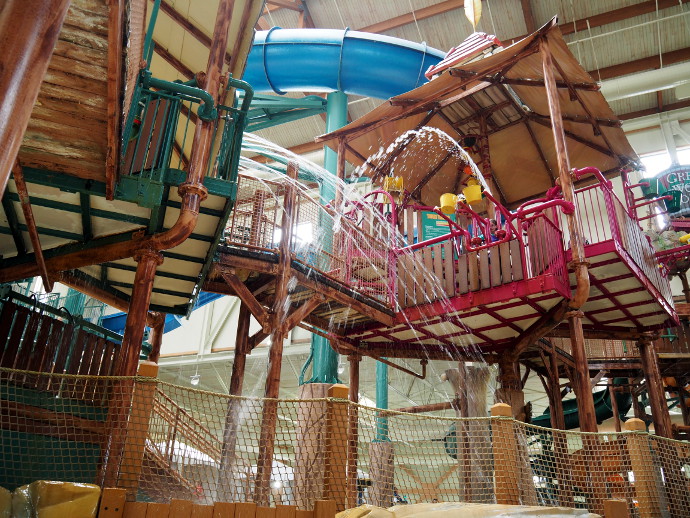 The water park itself was actually quite fun. We have attended other indoor water amusement parks, and this one blew them all out of the water.  There were ample water slides with increasing adrenaline factor. Some were easier than others. My youngest usually needs a slow introduction to the rides, something easy and fun for him to work up his bravery for the 'big boy' slides. There is a lovely wave pool, the lazy river, and a nice area for the smallest visitors.  That was definitely there. The teens enjoyed themselves in the water.  You can read more about their rides, other information and make reservations through their website.
The water park was clean, and well maintained. The employees were attentive to everyone's needs. It generally felt like a very safe environment.  The water did not smell overwhelmingly with chlorine (something that I don't like about indoor pools). Technically it is not a 'day trip' as you do have to stay over night in order to get tickets for the water park.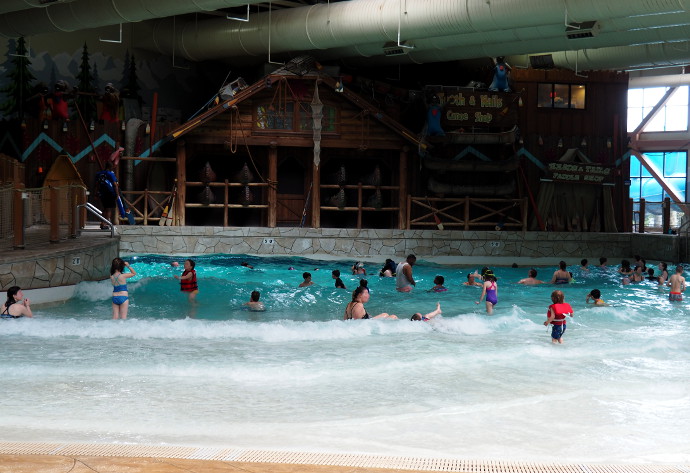 Another note is we brought our own food: snacks, fruit and sandwiches.  There is a microwave and a coffee maker (bring coffee and filters) in the room. There is also a mini fridge. Food on the premises is very expensive, so we brought a cooler filled with snacks with us and a few large bottles of water.  The rooms were clean, and there was a balcony.
Due to the time of the year that we came in (late spring), the outdoor pool and rope climbing course were closed, but they looked like a lot of fun!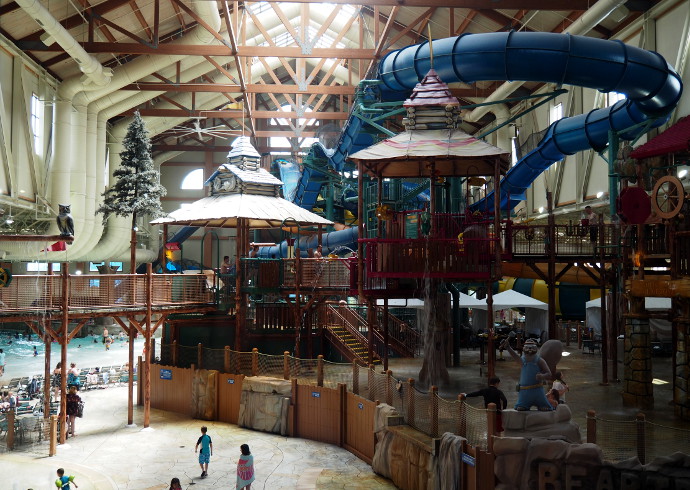 We spent one night there, and for the water park alone that was plenty of time. I was on a budget, so we did not play any additional game or arcade while on our visit to Great Wolf Lodge. One full day was plenty of time to get enough swimming in.
However, if you are staying in the area for a prolonged period of time there is a lot to explore there. In the winter there is Shawnee Mountain, in the spring, summer and fall, there is Quiet Valley Historical Farm. There is also the Lakota Wolf Preserve, which we have visited recently. You can read about our visit to Lakota Wolf Preserve.  There are also many excellent hikes, including the Buttermilk Falls.  Canoeing, tubing and rafting up and down Delaware River is also a lot of fun.  After exploring all day, you could come back and do a bit more splashing and swimming.