Dingmans Ferry, PA
Every Year since 2015
Unfortunately our most recent experience in the early fall of 2018 left me stunned and short for words. I can no longer recommend that people take their families there. We were sitting around a campfire at about 1o:30 pm at night. Quietly talking. The kids were in their tent giggling. The campground was pretty empty, so the kids giggling was not bothering anyone. There were two rangers that stopped to tell us to quiet the kids down. Which would have been fine, except for the rangers' aggressive behavior. They treated us like we were criminals in front of our kids. Ran background checks, asked us if we had weapons, told us to not move, sit down, take our hands out of our pockets. It was quite upsetting to both parents and the kids. The kids were crying and upset, and the parents worked up. No one could sleep afterwards. We had no alcohol, were not provoking anyone, were respectful toward the rangers, and the only thing that was happening were giggling children. I went as far as to write a letter to the campground, but never got a response.   Unfortunately, after years of going there and loving every minute, I will be looking for a new campground for our family and friends. 
Hi folks! I wrote this post when we went camping for the first time after a long hiatus. We have been back to Dingman's Campground every year since then. Twice a year, as a matter of fact. I am still as excited to go there as that first time. It is a great place to spend your weekend, and a good camping spot whether it is your first time camping, or even if you are a pro.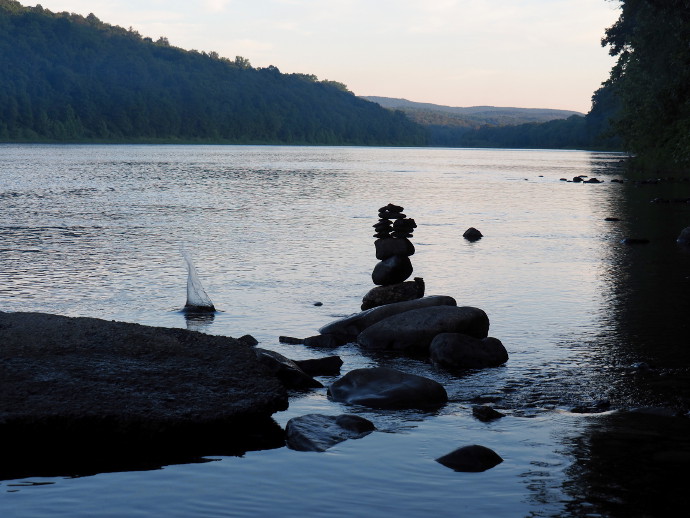 From our visit last year, 2017:
Every year that we visit, we are met with the same hospitality, same natural beauty and an excellent place to stay from year to year. Over the years we have tried exploring different waterfalls throughout the area. Last year we visited Dingman's Falls and Visitor Center, and it was excellent. As a matter of fact, the hike was super easy. It was a walk upon a beautiful boardwalk to the base of the waterfall. After that you could take a more challenging hike up on to the top of the fall, or just stay below. It was a very accessible walk to anyone, elderly and babies. Here are a few photos from our Dingman's Falls walk:
Also, our kids have registered for a class in Peter's Valley Craft School. We discovered that the school was right across from Dingman's Campground. They registered for an excellent blacksmith class that lasted the entire weekend. The school was impressive and had amazing offerings to it's visitors.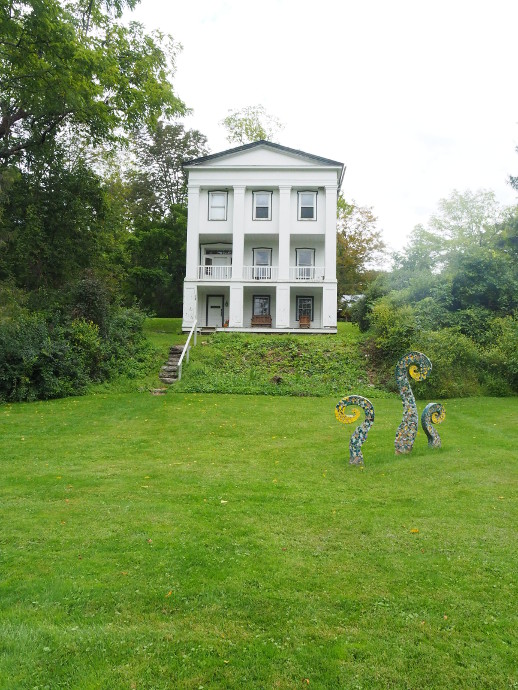 Here are a few more photos of the campground from our latest visit there: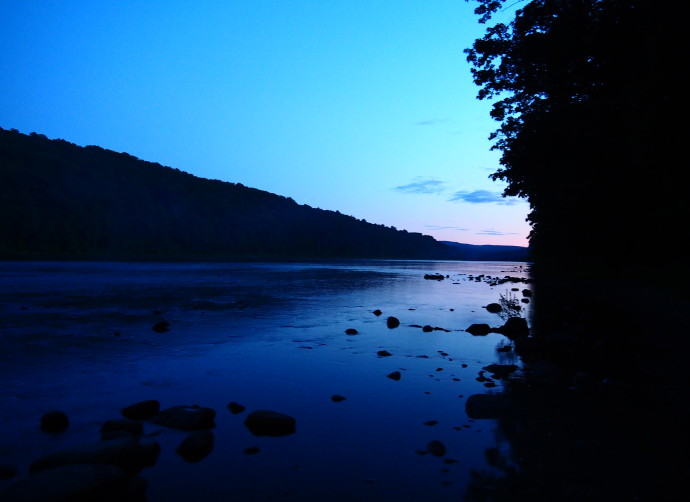 We tried to make it to Sunflower Maze last fall, but it was so busy when we drove up! There was no way that this spoiled family was dealing with the crowds. We waved at the happy sunflowers from our car.
From our first time there in 2015:
We went camping!!! Whoo-hooo! You don't know how exciting it is for us.  We love camping, but since getting the two puppies, and having a grandpa who rarely feels well now days, it makes it hard for us to leave overnight.  In fact, our circumstances made it so hard for us to leave overnight, that we haven't done it in about 5 years.  This time, our friends organized a camping trip to DINGMANS CAMPGROUND in Dingmans Ferry, and my husband's brother and wife agreed to stay at our house and take care of grandpa and doggies.  Without giving it a second thought we ran and bought a new tent, air mattresses and lanterns (ours were all very old and well loved and falling apart), packed the car with excessive food (what else is new), and drove off as fast as we could.
The campground that we went to was Dingmans Campground in Dingmans  Ferry, PA.  What a lovely campground it is.  I felt that their prices are very reasonable.  We reserved a spot a few weeks prior to going, and got a decent spot that was next to our friends, not far from the bathrooms, the general store, and a short walk from the river.  It was clean, the folks were amazingly friendly and helpful.  There were clean bathrooms and showers with and an electrical outlet (which I used to boil water in my electric teapot for my copious coffee needs).  There was a general store that sold all things you might forget at home: rope, water shoes, extra blankets, snacks and even fresh coffee brewed every morning!   They also sell firewood, which you need to buy there and can't bring in from somewhere else.  There was plenty of shade, and lots to do for the kids and adults.  In fact, it was very family friendly and felt safe. Here are a few photos of the campground location (scroll below to read more):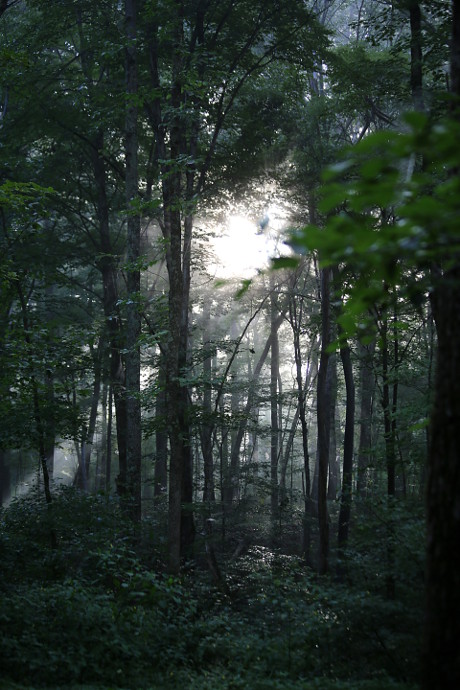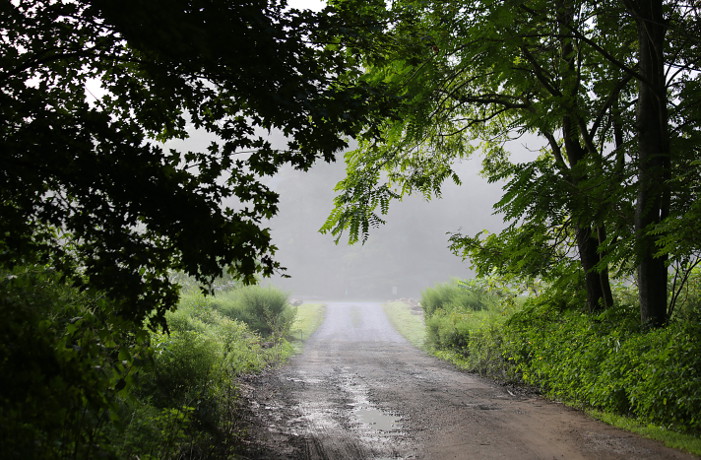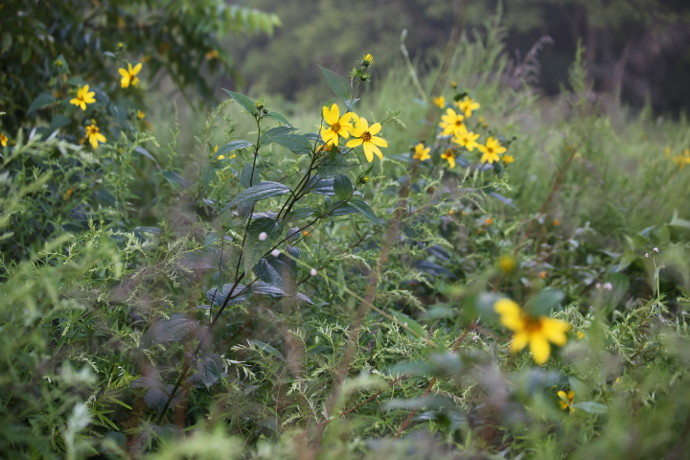 The campground is located right on Delaware River and we were able to walk there with our coffee and chairs first thing in the morning and let the kids splash in the shallow water.  That was probably my favorite part.  I love Delaware River, and one day I am sure that I will wind up moving closer to it, but for now I just enjoyed being there.  The kids made this cool ring from the river rocks and it created a little pool space where they all had a good time.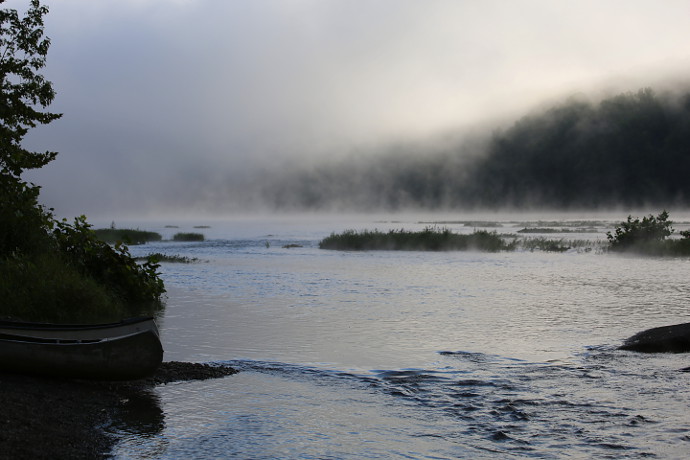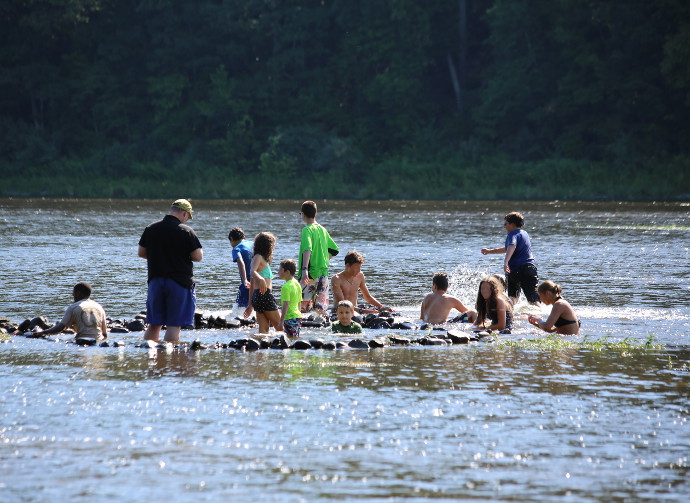 One of the evenings our very large group made it to the field by the river and enjoyed a nice game of volleyball.
***This page contains affiliate links.***
The campground also offers canoeing and kayaking trips down the river.  Normally, we would go for that sort of thing in a heartbeat, but the area has some of the most scenic hiking trails in NJ/PA/NY area, so we opted to explore instead.  There are so many waterfalls and hikes within a few miles of the campground that one could probably spend a few days just doing that and not being completely done.  Before you go, stop by the campground office and ask for directions, as well as any questions you might have.  The folks there are very knowledgeable and will help you make the best of your time.  For example, you might like to find out which park is the best with the little ones, or which waterfall allows swimmers, or which one is the biggest or most dramatic.
We set out as a group to explore CHILD'S PARK WATERFALL first.  The hike is very kid friendly, and our big and diverse age group had no problems with the hike.  The route is very scenic.  There is no swimming allowed, and there are rangers to help you along the way if you need. Here are a few photos of the beautiful Child's Park Waterfall.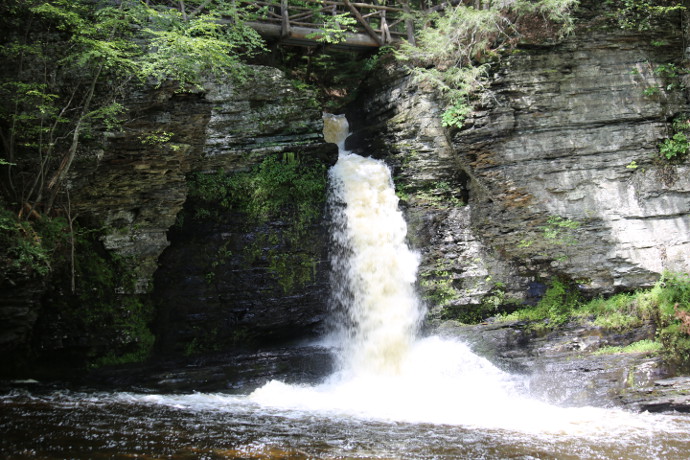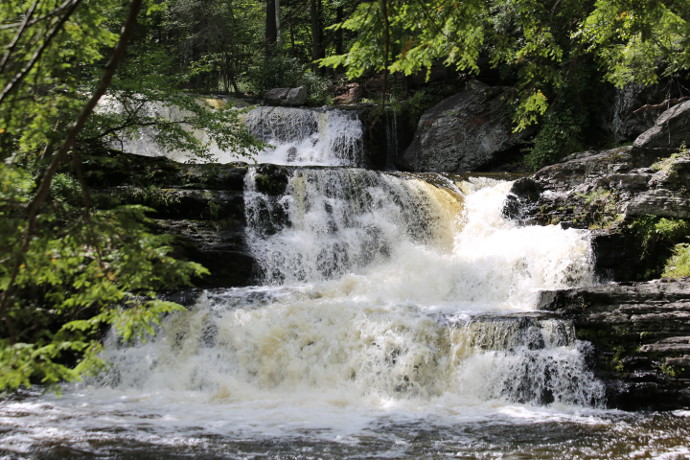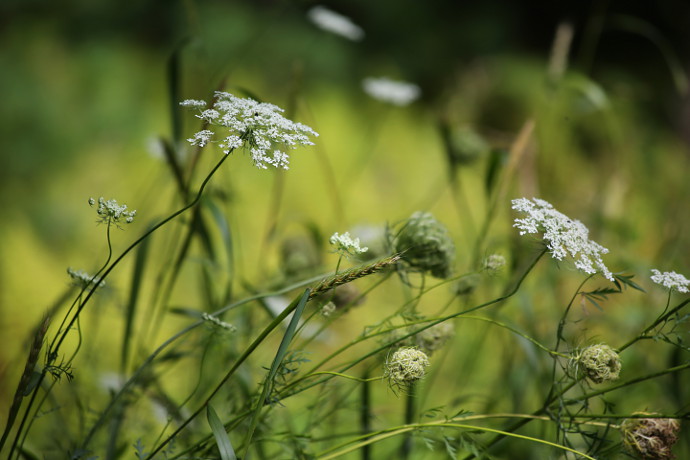 After this hike some of the kids were pretty tired, and done.  They wanted to go back to the campsite and swim in the river.  Our party decreased, and only half of us went on to see the RAYMONDSKILL FALLS.  Raymondskill Falls are the highest falls in PA and are only 4 feet shorter then Niagara Falls.  After a short, but slightly treacherous (I am not sure I would choose to go there with my elderly grandma or a newborn baby) hike down to the platform, we saw the most amazing view of the waterfalls.  There was the most wonderful mist coming off the waterfall.  My camera could not capture the enormity and the beauty of these falls.
After this hike, I wound up going back to the campground, while some folks in our group made it to see at least a dozen more waterfalls through out the remainder of the day.
The one thing to note is that the campground was a little big difficult to get to with google maps directions, and I wish I had realized to get the directions from their website instead of google maps.  On the way home we had a much easier time finding our way. We just took 209 N, and then 206 S.  As we drove home we came across the Sunflower Maze that we have visited a few years ago.  You can read about our visit HERE, and you can see their website HERE.  Last time we were at the maze on a rainy weekday, this time it was a sunny Sunday.  Boy, was it busy.  I still feel that it is worth it.  The admission was $10.00 for an adult and $5.00 for a child. With the admission fee you would get a hay ride (something we intended to do, but it was so crowded we couldn't do it), and you get to pick a sunflower.  Some of the parents with kids went into the maze, while others waited in the cafe across the street.  When we got back from the maze, we ordered a sandwich and a tea at the bakery and went home.  I have to give the bakery thumbs up, everything we got there: the tea, the sandwiches, the muffin, and the smoothie were delicious and fresh.  (The bakery has since changed owners, but I hope it is just as good). The place was full of people, but worth the trouble. Here are a few photos of the sunflower maze:
We enjoyed this trip and can't wait to go there again next year! I am definitely coming back to Dingmans Campground again!
---
Camping Packing List:
I thought that perhaps those that are going camping for the first time would like a basic list of what to bring with you.  This is what we usually pack:
Food: In a Large Coleman Cooler we pack a whole bunch of food: burgers, hot dogs, portobello mushrooms, peppers and zucchini for the grill.  We bring gluten free buns, salad stuff, fruit and marshmallows in a bag.  Plus whatever other snacks we might like. Plus two cases of water to drink.  Half and half for coffee, ghee for cooking, plus some other snacks and odds and ends.
Utensils: A while back my son got THIS Multi-function Tool for camping, we all love it.  We also bring 4 plastic plates and cups for each one of us.  Also, a bunch of little kitchen towels are very helpful.
Cooking: I bring my Electric Teapot and French Press to make coffee.  I don't function without coffee, so it has to come with us.  I grind the coffee at home to make sure it's ready to go.  As you can see, my teapot is glass, stainless steel one would be better for camping.  Plus Our Favorite Little Charcoal Grill for cooking. Matches and coals.  Nets to cover the food with from bugs during the day.  Telescopic Stainless Steel Roasting Sticks for hot dogs and marshmallows are always useful.
Sleeping: Tent is a priority.  This is the Tent We Bought.  It is Coleman, and I wasn't thrilled with the construction.  Though once we put it up, it was roomy and airy.  I think I do want a different tent though.  Our friend had a Tent Similar To This One, and I liked it a lot.  That will be my next tent.  You will also need something to sleep on. We usually get air mattresses (this year we got THESE Air Mattresses, and they did well on this trip), put Sleeping Bags on top, and have our own pillows and blankets with us.  What can I say, sleep is important!
Other Things To Bring: Chairs to sit around the campfire on,
Change of clothes.  Something to get wet in, sweatpants and sweatshirt to sleep in. Any medicine you might need, toothbrush, hairbrush, etc.  Emergency kit.  Towels.