I am still reluctant to call it a vacation. Our road trip from NJ To Florida and Tennessee was definitely a road trip, an adventure. In March 2021, we peeled off the bend aid, packed the car, and left NJ for a road trip down to Florida and Tennessee on the way back to NJ. I am writing it here not just to share, but also to remember all the fun things we did, and do it again one day. I won't lie, I was anxious to travel after what everyone went through in 2020. Things were still fairly shut down. Crowds made me nervous before the shut down, and, as you can probably imagine, that did not improve after. However, we traveled by car, largely cooked our meals in the condo, and spend 99 percent of our time outdoors.
We also contemplated camping. For about a second. It would cost only a fraction of the price, and we are not unfamiliar with it. In fact, some of us prefer it. However, since we went while college was in session, wifi was a requirement. So we rented a space that had a kitchen and a condo. As you are reading this, remember, at this point, we are traveling with adults and teens. No more little ones.
But let me begin in the beginning.
Drive from NJ to Florida.

Sometimes I wonder if we are all nuts around here. This was certainly one of those moments. We have three drivers right now. To make a 24 hour or so drive down to Florida we decided to go overnight. After a full day of work for all of the adult people here, we packed our car, and left at about 7 pm. We rotated drivers, and at any time always had 2 people awake in the car. It was still absolutely exhausting. We drove through the night, the first 12 hours. I got the graveyard shift, which I found to be rather pleasant.
At about 3 am we pulled into South of The Border for a bathroom break. It is not my cup of tea, but it did look very interesting and different in the middle of the night. We made no stops other than to use the bathroom and refill the car.
At 7 am we pulled into Savannah.
Savannah
Savannah is a beautiful city. It is not without it's issues, like any other city. For example, I love NYC, but I know there are some issues that run really deep there. Savannah is not very different in that. However, it is beautiful. It is so incredibly beautiful. I would love to spend a few days there on my way up or down next go around.
As you probably know, for us it often comes down to food. Naturally, the first thing we did was breakfast. It was 7 am, and a quick search online led us to Two Cracked Eggs. They were open at an unreasonable hour, and the food was delicious. I tried grits for the first time.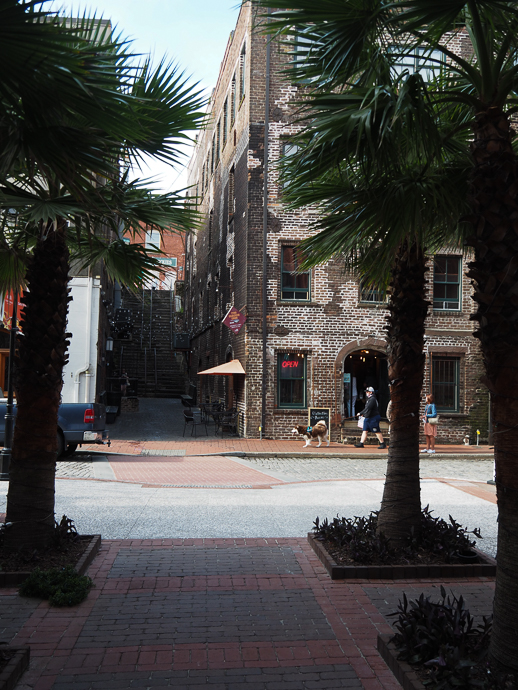 After breakfast we took a walk along the river:
Then drove off to see the Forsyth park. I would have liked to do more in Savannah, but we did need to hit the road, and I was not leaving without seeing the Forsyth park. So we settled on a few hours of walking around the park. I have a thing for places that I have seen in photos, books, magazines, calendars and movies. It is a lot like meeting a celebrity (something I don't care much about when it comes to humans), except it is a place. I had the same exact feeling seeing the Portland Head Light or climbing to the top of the Empire State.
Forsyth park was gorgeous. The old trees, the Spanish moss, azaleas, history, the fountains. It all came together in a magical way. We took a stroll all around the park, and some of the side streets. While in the park, we met an awesome artist working, and got some of her prints and stickers. Check her out here.
University of Florida
Sadly, it was time to leave Savannah, and face the fact that we had about 8 hours more to drive. At this point, the two days blended together. I hear not sleeping will do that to you. We broke the drive up by stopping at about half way point in the University of Florida in Gainesville. We were there to enjoy their Butterfly Rainforest. They also have an impressive art museum, but due to the time constrains, we had to be picky, and the bugs won. My husband decided to spend the time napping under a tree, while the kids and I went inside the museum. The museum was a lovely place to stop, stretch our legs and spend a few hours. There was a lot to see and explore. From fossils to butterflies.
The final 4 hours of our journey flew by quickly.
Sanibel Island
Sanibel was our final destination, and finally we made it. At night, in the dark. Upon a recommendation from a friend we booked Sanibel Moorings. Sanibel Moorings are a lovely condo development, which also happens to house the official Botanical Gardens of Sanibel (which is closer to a really beautiful and labeled grounds of the condominium than an actual garden, however, exceptionally beautiful nonetheless). Our rooms were efficient, clean, and comfortable. There was a kitchen, a bathroom, a pool, tennis courts, and a laundromat. What else can a girl want? Oh, yes, beach access, and a balcony. Those were most definitely there. The cost was manageable, especially when compared to some of the other places. I would stay there again in a heartbeat.
Sanibel, Day 1
After a full nights sleep, we were ready to take on the world again. First thing we did was take a drive down to Billy's Bike Shop, and rented 4 bikes. Billy's delivered the bikes to where we were staying. It was inexpensive and a minimum effort, as they also picked them up the day we were leaving. Coming from Jersey, my first question was, what happens if someone takes the bikes, and the answer was, 'It doesn't really happen here, and if they do, we will find the bike, eventually, somewhere on the island.' I like that.

Then we drove down to the Bailey's general store to get some donuts and key lime pie for breakfast, and post cards to send to kid's friends (which we wound up driving back home. Oops). The key lime pie was delicious.
A friend recommended we go to visit J.N. Ding Darling preserve. We overshot our ability to bike on unfamiliar bikes. It was still a ton of fun. Biking to the preserve entrance was fine. Inside the preserve, we decided to bike the longer loop. Except it took hours, because we would stop every two seconds for a bird, an animal, an insect or plant. The volunteers in the preserve were amazing. They were fun to talk to, they had a lot of information, they were from all over the US. It really made my day to meet all the folks in the preserve and talk to them about nature. Biking back is where the tough part began. We were tired, hungry, thirsty, and biking uphill. We all lived though, so there is that.
On the way back we got super hungry. Luckily, there are plenty of restaurants to choose from. When we rode up to the preserve we passed The Island Cow, grabbed a menu, and were pretty excited to give it a try. It had a lovely vibe, great seats outdoors, and delicious food. Our first time trying alligator meat (kinda like turkey). In fact, we enjoyed it so much after the intense bike ride that we came back there again.
After dinner, we drove over and enjoyed a lovely beach sunset on Bowman's Beach (don't forget to pay for parking!). This was actually my favorite part of staying on Sanibel. Bowman's Beach is wonderful. We spent almost every evening there. You could see a great sunrise from where we were staying, but sunset was at Bowman's Beach. In fact, we went to Bowman's Beach every night that we were staying at Sanibel.
After the sun has set, we set out to find an ice cream shop. Sanibel's Best Homemade Ice Cream was delicious.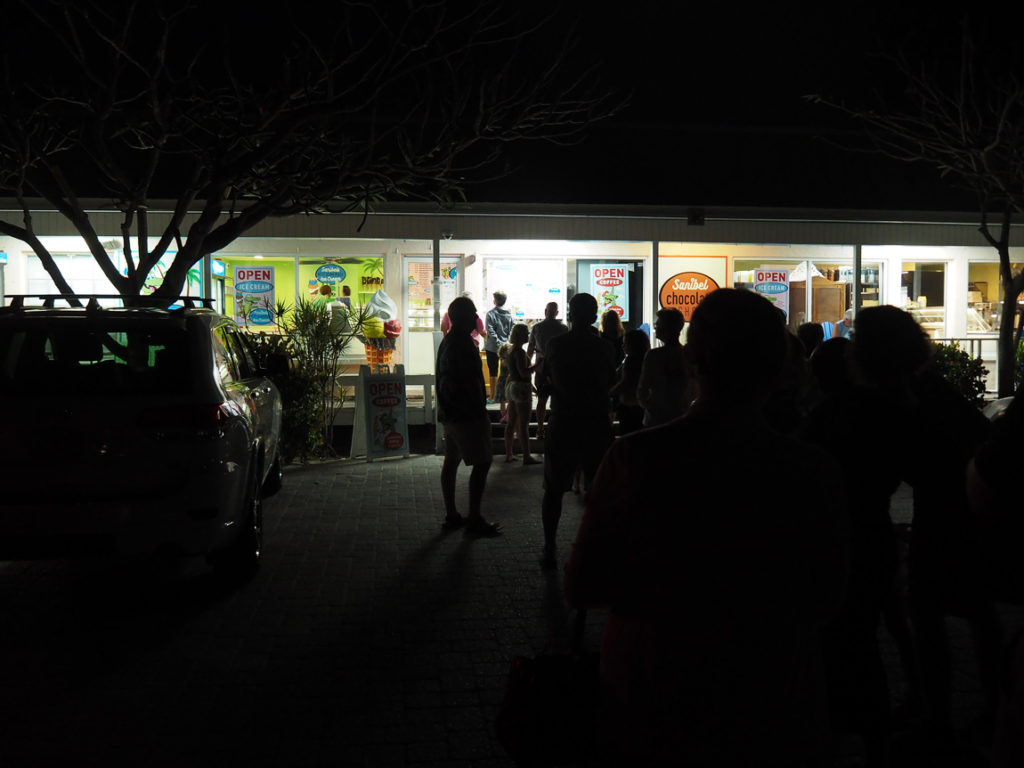 Sanibel, Day 2
I would be wrong to say that we spent our second day on Sanibel. No, instead we drove two hours away to visit the Everglades National Park. I reserved bikes for us ahead of time, and boy, was I glad I did. After a leisurely two hour drive, we got to the Shark Valley entrance. We were supposed to pick our bikes up before noon. We picked them up at 11:45. This is the website that I got our rentals from. I also reserved a boat tour for 4 pm. I thought we would have a lot of time in between the bike ride and the boat tour. We didn't have any time at all. In fact, we had to bike quite fast, considering how many times we stopped to look at a flower, or a bird, or an alligator.

The bike ride through the Everglades was marvelous. It was 15 miles, and with so much to see along the way. Florida sun is not the most forgiving, so make sure to slather lots of sunscreen on! We saw so many amazing birds, plants, and creatures. We got to climb the observation tower. It was really more than I could ever imagine, and so different from what I am used to!
We had just enough time to finish our bike ride, hop in the car and drive over to Everglade City for the boat tour. It worked out fine, but next time around I would prefer not to get there 15 minutes before the deadline, and start our day sooner.
The boat ride was delightful. The captain was knowledgeable. We got to see the Everglades from the water. There were dolphins playing with the white water from the boat along our ride. We saw more birds. Everyone relaxed under the boat's awning. We all needed a minute to sit and chill after a combined 40 mile bike ride in the past two days.
Finally, we made it home, and for dinner at The Island Cow again. What can I say, we liked it there. Then back to Bowman's Beach for another glorious sunset.
Sanibel, Day 3
This was our last full day on this beautiful island. It was a down day. We watched the sunrise, swam in the pool, did laundry, ate delicious food. I had a list of things I wanted to do before we left. First we rode our bikes to the lighthouse, and spent some time exploring it, and the beach around it.
Then we rode through the town, did some souvenir shopping at the few stores that line Periwinkle Way. We also went on a search of a piano, as one of my people stayed away from an instrument for far too long (apparently 5 days is a maximum). My favorite shop was Gene's Books, and Gene's Books Too is where we found the piano. We also spent a lot in the book store. Everyone found something they wanted to read, or give someone something to read, read in the car, and back in NJ. Gene's Books had something for everyone. Botany, bird identification books, books on stars, a section on Norse Mythology, a collection of jazz CDs, a book written about Sanibel by a local. There was something (or several somethings) for everyone.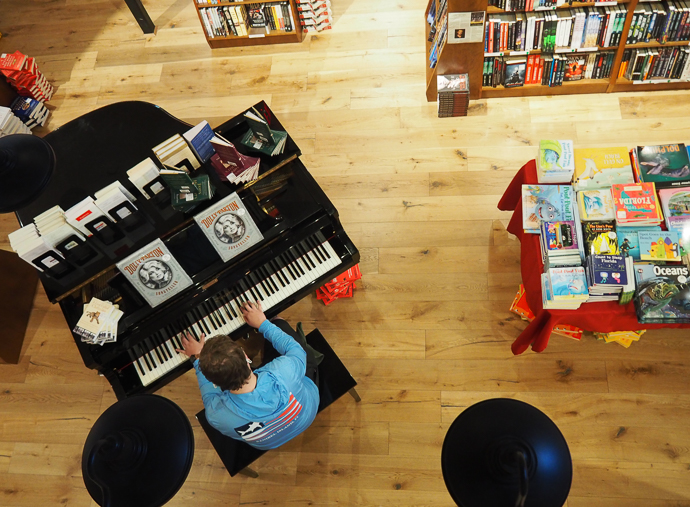 At the end of the day, we took a drive to Captiva, and wanted to try the Bubble Room. The dinner reservations had too long of a wait, so we had some cake in the little desert shack next door. Then back to Bowman's beach to watch another gorgeous sunset.
Day 5: Travel day
Nothing like waking up at 5 am, and driving for 12 hours to Tennessee. I have to be hones, it wasn't so bad. I also have to admit, I wasn't quite prepared with anything fun. All we did is pack every snack we could in a bag we could access, and we drove through until we reached Pigeon Forge. We were starving and wound up
The burgers were delicious. We were exhausted. The drive to the cabin we rented was fun at night, up a windy road. Usually, I don't bother with mentioning where we stay, but this place was accommodating, and quite lovely. The year before, we were supposed to go down there, but then Covid happened, and they were super nice about cancelling. There were real people on the phone, and it was just really easy to deal with them throughout. Even in the dark we could see the awesome views. A thunderstorm started when we arrived, and our cabin happened to have awesome views, and we got to watch a storm unfold over an open horizon. A great end to a long drive.
Great Smokey Mountains, Day 6
On this day there was nothing but rain all day. What I discovered about that area of TN is that the mountains and the roads are all jumbled together. If you want to go someplace, you better make sure you stop at every place you plan to stop at, and don't come back to your temporary home until you are done. There are no quick rides to the store, or to the park. To just come down from where we were staying would take 15 minutes. So we planned accordingly. Considering the rain, we decided to drive through the Great Smokey Mountain National Park and stop along the way for a bit of sightseeing, and then see where the rest of the day takes us.

There is a scenic loop for seeing the park in the car, however, due to rain, and flooding it was closed. We drove all the way to the loop through the park, and that provided some incredible views. In a few spots we were actually able to pull over and explore. The park is gorgeous. The air is wonderful. It TASTES good (I know it's an odd thing to say, but it's true).
Afterwards, we drove to the Smokey Mountains Knife Works. If Costco, Ikea, and a knife museum had a baby, I imagine that's what it would look like. It was a wonderland! Seriously. And I only use knives to make sandwiches. There was so much stuff happening. Sculptures, singing animals, dishes, toys, butterflies, rocks, historical stuff, did I mention the singing animals? And of course, knives. Thousands of different knives. It was a fun rainy day activity.
After, we headed to cook whatever food we had with us from NJ and FL, watch the sunset, and enjoy the got tub.
Great Smokey Mountains, Day 7
This was the last full day that we were spending in TN, and the weather was gorgeous. Of course we wanted to go hiking. The night before, I spent some time looking for a hiking trial. Here is what I wanted: a moderate trail, that is not crowded, has some water along the way, around 5 miles, and is known for wildflowers.
We ended up on the Little River Trail. It was perfect, and had everything we wanted. The amount of wildflowers we saw was unprecedented. There were hardly anyone on the trail besides us. 5 miles does not take most of the day, but we spent most of the day there. We explored every nook and cranny, found and identified plants, hopped over, crossed and fell into refreshingly cold rivers, stopped to catch our breath and relax, hopped along the rocks up a waterfall or two. It was a wonderful hike!
After the hike, we went to The Apple Valley Creamery for some delicious apple ice cream, and some cakes for the ride home the next day.
Final sunset in Tennessee: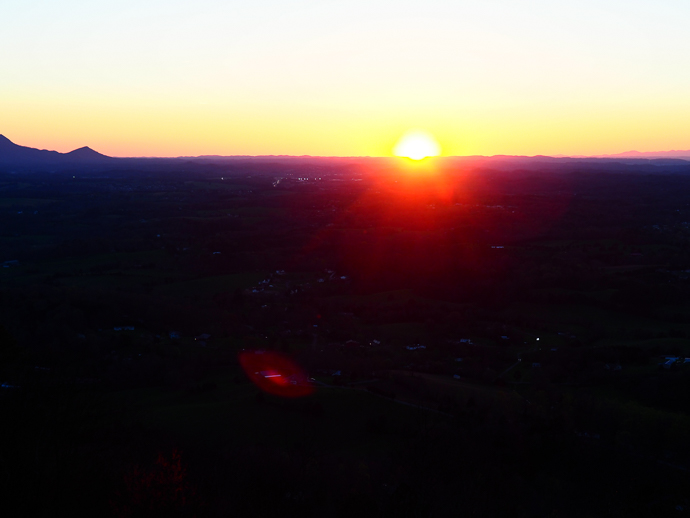 Day 8: Shenandoah National Park
Our driving day! It was time to go home, everyone was ready to get back. On our drive home we drove through the Skyline Drive, and stopped for a hike at Shenandoah National Park.

There isn't much I can say about the Skyline Drive, other than it was beautiful, and we wanted to stop at every single observation area.
We chose to hike the Blackrock Summit Trail because it was easy, short, simple, and had great views. It was all those things and more. At the end of the trail, there is a fun pile of rocks to climb.
After this hike, it was only about 4 hours home, so we were back for dinner!