Here you will find tutorials for handmade earrings of all kinds. I enjoy playing with making these because they are often easy, and don't take a lot of time.
***This page contains affiliate links.***
Lets talk about the supplies that you would need first for your handmade earrings. One of my favorite sort of earring is this kind is a French hoop earring, like THIS ONE or THIS ONE. Another must have thing is a pair of jewelry pliers. Like these right HERE. You would also need to get some thin wire, like THIS ONE HERE or THIS ONE. Be careful when purchasing your wire. Remember that the higher the gauge, the thinner the wire. So gauge 16 is much thicker then 28. To be honest I prefer to buy the wire from a brick and mortar shop where I can touch and feel it, but I also have bought it on amazon before. For earrings I mostly use thin wire, but if you'd like a thicker one look for a smaller gauge number.
I also use DOT BALL HEADPINS for when making simple earrings.
Of course you will need beads and such. For that stuff I also like to use brick and mortar stores, because I like to touch them before buying. I especially like smaller independent shops, because they have the most fun stuff, but AC Moore and Michaels have a nice selection as well. I have also used Amazon and Fire Mountain Gems before, and was very happy with them.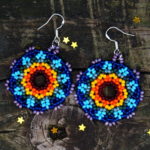 These are one of my favorites, and I would totally make them again.
Everything you own might need a tassel. These tassels make great earrings.
Everything you need to know about making your own stamped and hammered earrings.
This makes an excellent, quick and easy gift for any lady that celebrates Christmas: a friend, a teacher, a neighbor or a relative!
I made these earrings out of recycled plastic seltzer bottle. They were easy to make, and are light to wear.
Make these butterflies from aluminum cans and turn them into anything you like. I made necklaces and earrings, and already gave a many as little gifts.
These earrings were fun and easy to make. They are pretty, a good size, and light.
Here you will find how to make these simple feather earrings. If feather earrings are your thing, make some to wear, or to give to someone that would love them!
I made a batch of these earrings for the kids' craft market day. They are fun, quick and easy to make. You can make them as simple as you want, or get more creative and try different things with them.